Our Graystone Beach coastal cottage makeover is underway and we are loving the changes! So far we've completely transformed the Orchardview bedroom with coastal DIY decor ideas as well as the one and only bathroom in the small two bedroom bungalow. Next up: the Lakeside beach bedroom!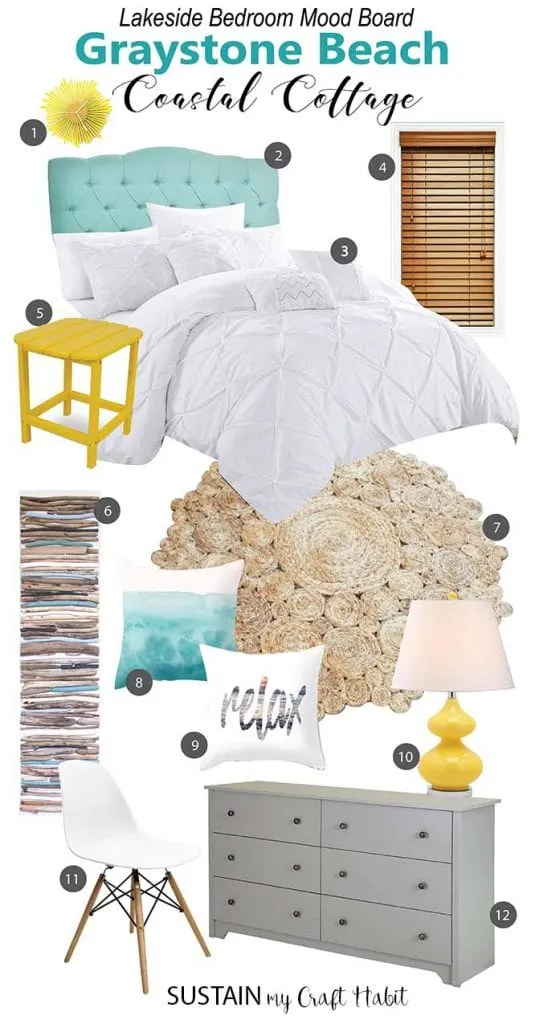 A beach bedroom has to be relaxing, so we're sticking to the soothing cool blue, gray and white color palette along with some warm browns. But we want to kick it up a notch so we'll be adding a pop of vibrant and energetic yellow to the overall beach themed bedroom.
Here is the before:
The walls will be given a fresh coat of white to match the first bedroom. You can check out our previous post with tips on how to paint over a wall with a glossy surface. All of the baseboards, window and door trim are solid wood stained with a natural oak finish and will get a fresh coat of white paint.
The keyword is budget. This is a cottage after all! To save on cost (and well, because we love a good furniture upcycle), we'll be keeping the existing furnishings: there's an old solid wood headboard and matching dresser from the 80's and an oak stained bedside table that are all getting made over.
Our DIY Beach Bedroom Décor Ideas
"*This post contains affiliate links for your shopping convenience. Should you choose to buy items through these links we make a small commission at no expense to you. Thank you!"
1. Colourful accessories like this fun yellow clock*;
2. An upcycled headboard in a vibrant seaside color similar to this gorgeous headboard*;
3. Neutral linens similar to this luxurious yet budget-friendly Egyptian cotton bedding*;
4. Keeping the existing window coverings that are similar to these faux wood blinds*;
5. An upcycled bedside table similar to a yellow nightstand such as this one*;
6. Some sort of driftwood wall art like this one we made for the other bedroom (would you expect anything different from us?);
7. A cozy area rug to place next to the bed similar to one like this*;
8. Playful throw pillows like this water colored ombre pillow* and our beachy throw pillow* from our own Society 6 shop;
9. An upcycled nautical table lamp similar to this coastal styled lamp*;
10. An upcycled dresser similar to this refreshing light grey dresser*;
11. An upcycled wood chair similar to this one*.
We may add in some other inexpensive DIY beach bedroom decor ideas such as our monkey fist balls.
In case you missed the pre-renovation tour of our Graystone Beach Coastal Cottage, you can view it here:
Be sure to join our weekly updates of all the beach bedroom decor ideas and other nature-inspired DIY and craft ideas. Members also receive exclusive freebies such as our guide to creating your own rustic tablescape.
So which is your favourite element in this coastal cottage mood board?