I have a new obsession. The obsession: pom poms. Ever since I made my very first pom pom last year to top a knitted toque, I've been looking for excuses to make more pom poms. I rummaged through my  basket of leftover yarn and found one small skein of red wool. This would be perfect for a mini sized holiday garland!
What you'll need:
Medium weight 2 ply yarn
Fine gauge single ply yarn
Fork
Scissors
To start, wrap the yarn around the fork approx. 40-50 times. No exact science here but there needs to be enough wrapping to make a good, fluffy pom pom.
Take a good strong quality yarn to wrap around the center of the wrapped fork.  Do a single knot and gently remove the wrapped yarn from the fork. Pull the center yarn tightly and add a double knot to secure in place. If your pom pom yarn is strong enough, you can use the same quality. In my case, the wrap broke whenever I pulled tightly to form the knot.
Using a pair of sharp scissors begin to clip all of the formed loops. When all the loops are clipped, you will have a unruly looking pom pom. Onto the fun part, give that pom pom a haircut so that all cut edges are about the same length. And there it is, one completed mini pom pom.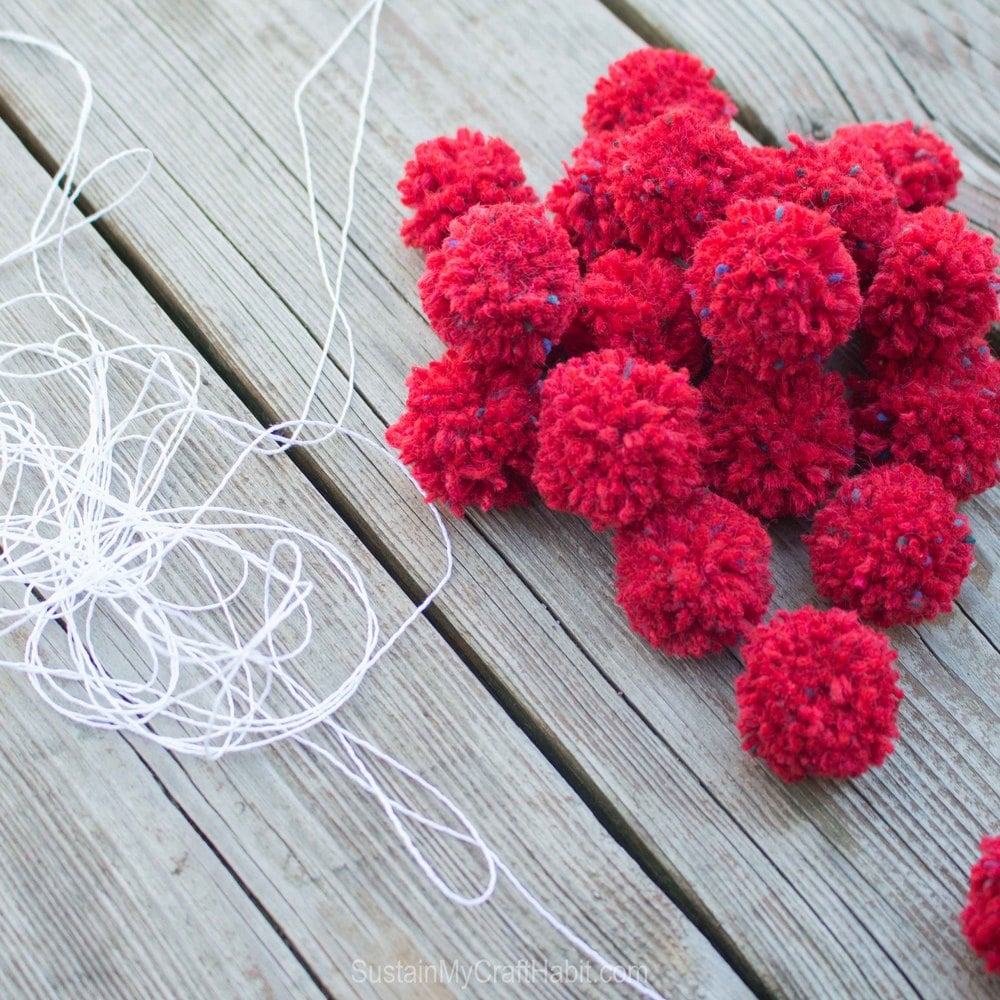 Continue these steps until you have as many mini pom poms as you need. In my case, I used up the entire skein, which made twenty-two adorable little pom poms.
To form the garland, I joined each pom pom using a fine gauge single ply yarn we picked up for virtually next to nothing at a local thrift shop. To start, unravel a long long piece of yarn – the garland will be doubled. Knot on either side of the pom and space evenly. Continue until the garland is complete.
We picked some branches from the backyard to use as our tree to hold the mini garland.
How is your holiday decorating coming along?