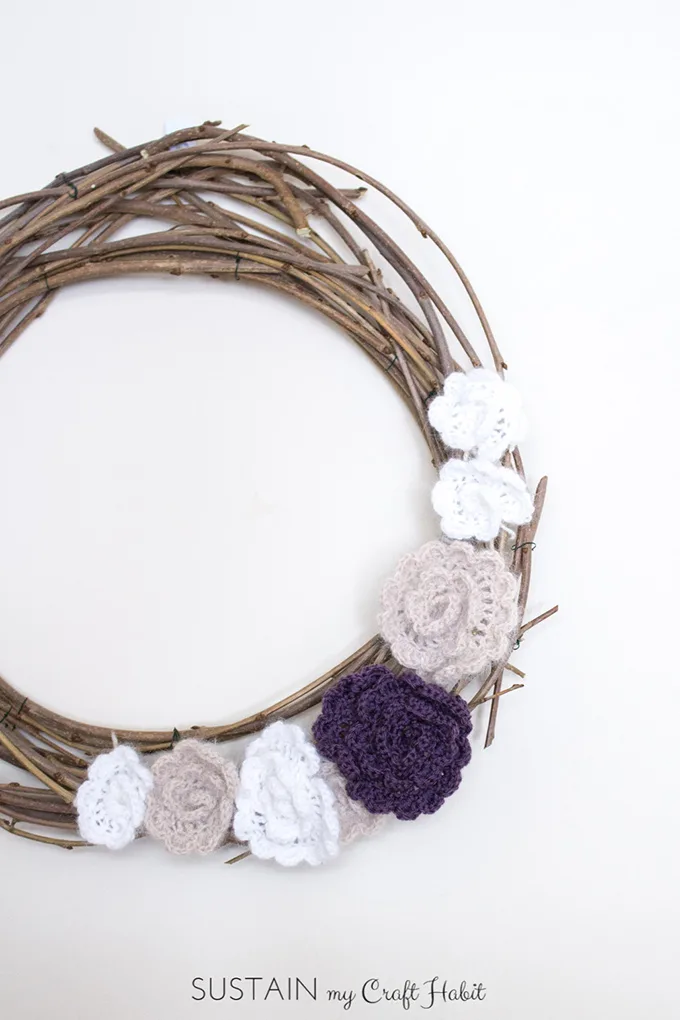 In the depth of winter I was craving a soft spring wreath to bring hope for warmer days. I crocheted the flowers in various sizes and a neutral colour palette which will work even through the summer. I wanted to see if I could make a DIY grapevine-like wreath with branches snipped from my mulberry tree in the late winter. It turned out quite well (and was free!). Any long, thin, bendable branches such as dogwood or grapevines would do.
DIY Mulberry Branch Wreath Form
Materials:
20-25 ornamental mulberry tree branches, 2-4.5 feet each;
green floral wire (I used 22 gauge);
small pliers
It is best to use the branches soon after they are trimmed, while still supple. I trimmed mine in March, before the tree started budding but have repeated it with branches with leaves (just remove them prior to forming the wreath). Cut eight pieces of wire approximately 7"-8" long for securing the branches together.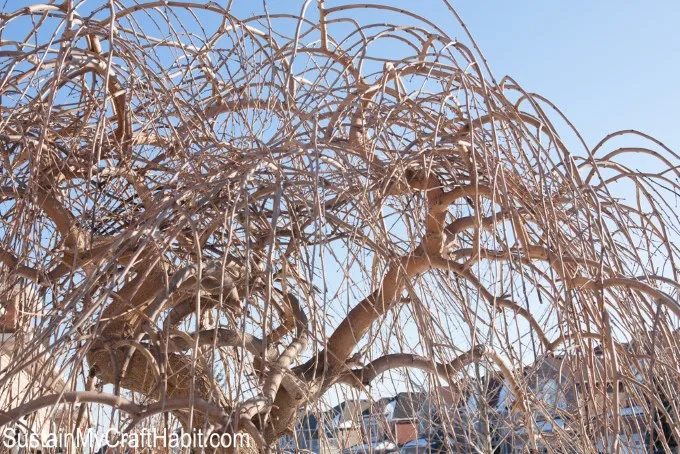 It is important to establish a good base for the wreath. Start with the longest branch (mine was 55") and working with its natural bend, twist it into a circle of the approximate size of the wreath you want to make (mine was 15"-16").
Secure it in place with the wires in a couple of places- make a couple of twists in the wire and leave the ends to secure the next branches as they are added on. At first you likely won't have a perfect circle. Twist the next longest branch in a circle in the opposite direction of the first, trying to balance and stretch out the shape into a circle. Secure it to the first circle with additional pieces of wire as well as the ones attached to the first branch.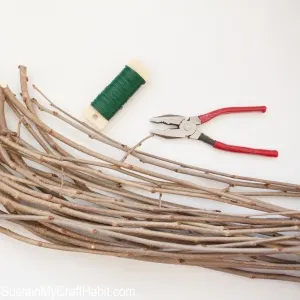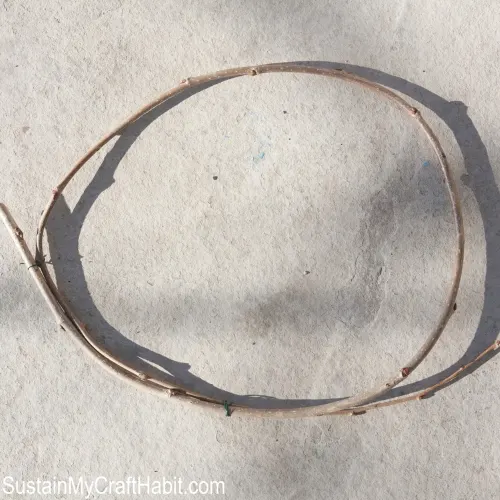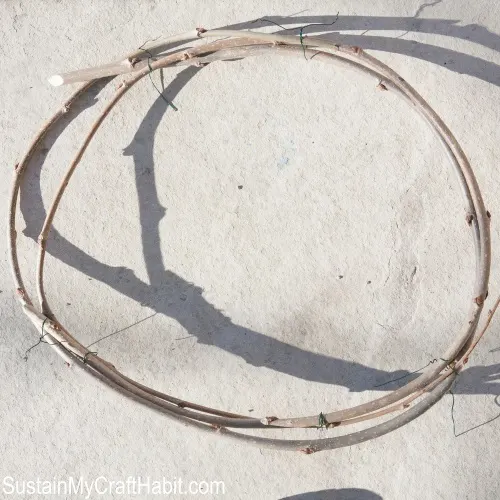 Continue adding branches, one at a time, using longer to shorter lengths and attaching with additional wires as well as those already in place. I was aiming for a "looser" wreath, so I didn't secure the branches to each other too closely.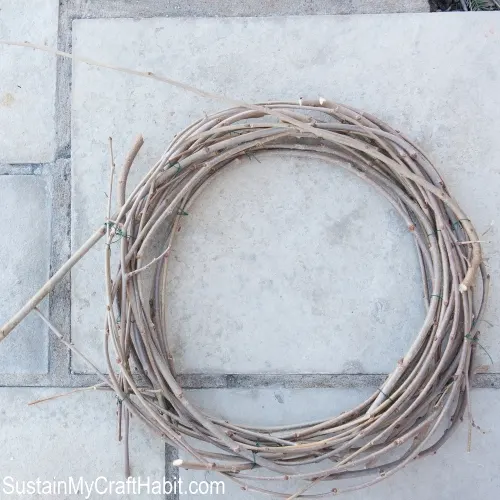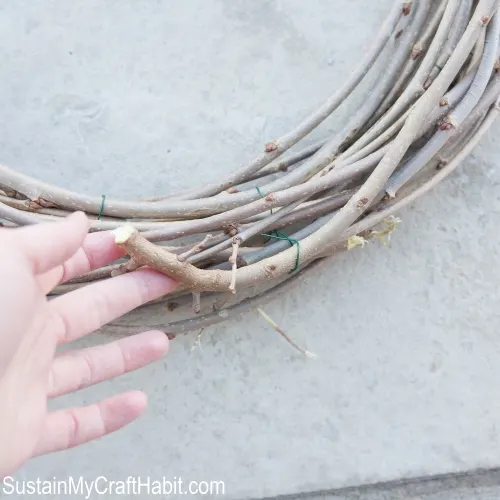 Once a strong foundation is established you can wind in the smaller, thinner branches, tucking into the ones already in place. You may need small pieces of wire to hold some of the branches in place.
Once you've reached the desired fullness, secure any loose, or out of place branches, either with wire or by weaving into the wreath. Trim off any ends that did not fit properly. Your DIY mulberry branch wreath form is complete!
Crochet Flower Pattern
I adapted the crochet flowers for the spring wreath from a great tutorial found on the LacyCrochet blog. For the wreath, I made one large purple flower, one of each white and beige large purple flowers, one medium beige flower, and three white and one beige small flowers as described below.
Large Purple Flower
Yarn: Debbie Bliss Rialto dk
Needle: US E4/3.50mm (or try different sizes to achieve the desired effect with the yarn you choose)
Chain 57 (ensure that the starting chain has an odd number of chains).
Row 1: Triple crochet in third chain from hook. Triple crochet in every following chain to end. Turn.
Row 2: Single crochet in next chain space. Triple crochet five in next chain space. Repeat pattern across to end of row. Should end with a single crochet. Fasten off, leaving tail long enough for sewing (about 4 inches).
Curl the crocheted piece around itself to achieve your desired look- a tighter curl will give a smaller, denser flower, whereas a looser curl will give a larger, more airy flower. Fix flower in place by sewing together.
Beige and White Flowers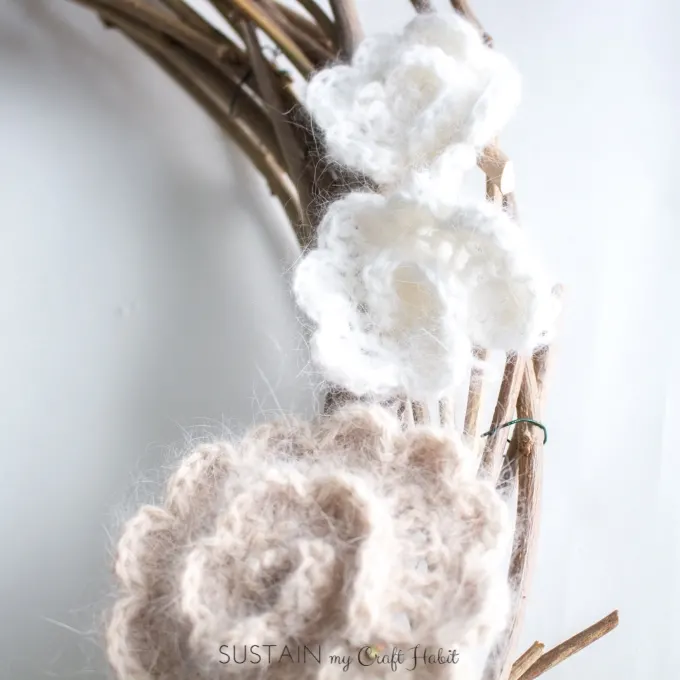 Yarn: DK weight Angora/merino wool blend
Needle: US E4/3.50mm
Large flowers: start with chain 43 then follow the same directions as for Large Purple Flower.
Medium flowers: start with chain 29 then follow the same directions as for Large Purple Flower.
Small flowers: start with chain 21 then follow the same directions as for Large Purple Flower.
Once all of the flowers are completed, arrange them as desired and sew them to the wreath.
This simple spring wreath is the perfect natural decor for an indoor door or wall. It's pretty simple to change the colour of the crochet flowers for any season or take them out completely and use the grapevine-like wreath form for other wreath projects! You may also like our neutral fall floral wreath as well as our rustic driftwood and lavender wreath.
Like it? Pin it for later!