If you are anything like us and not only love to craft but also discover trending ideas and new techniques, then you'll absolutely love the 2020 Creative Home Projects Bundle! This value-packed collection of crafty ideas is only here for 5 days (Oct 19-23). So be sure to grab it before it's gone. The bundle also makes a great gift idea for any craft loving friend.
What is the Creative Home Projects Bundle?
Bloggers, crafters and designers all around the world have digital products which they sell. These can include e-books, online courses, workbooks, patterns and printables. We, for example, have an e-book we sell called "Crafting at Home: 20 Fun and Simple Crafts to Make with Household Items".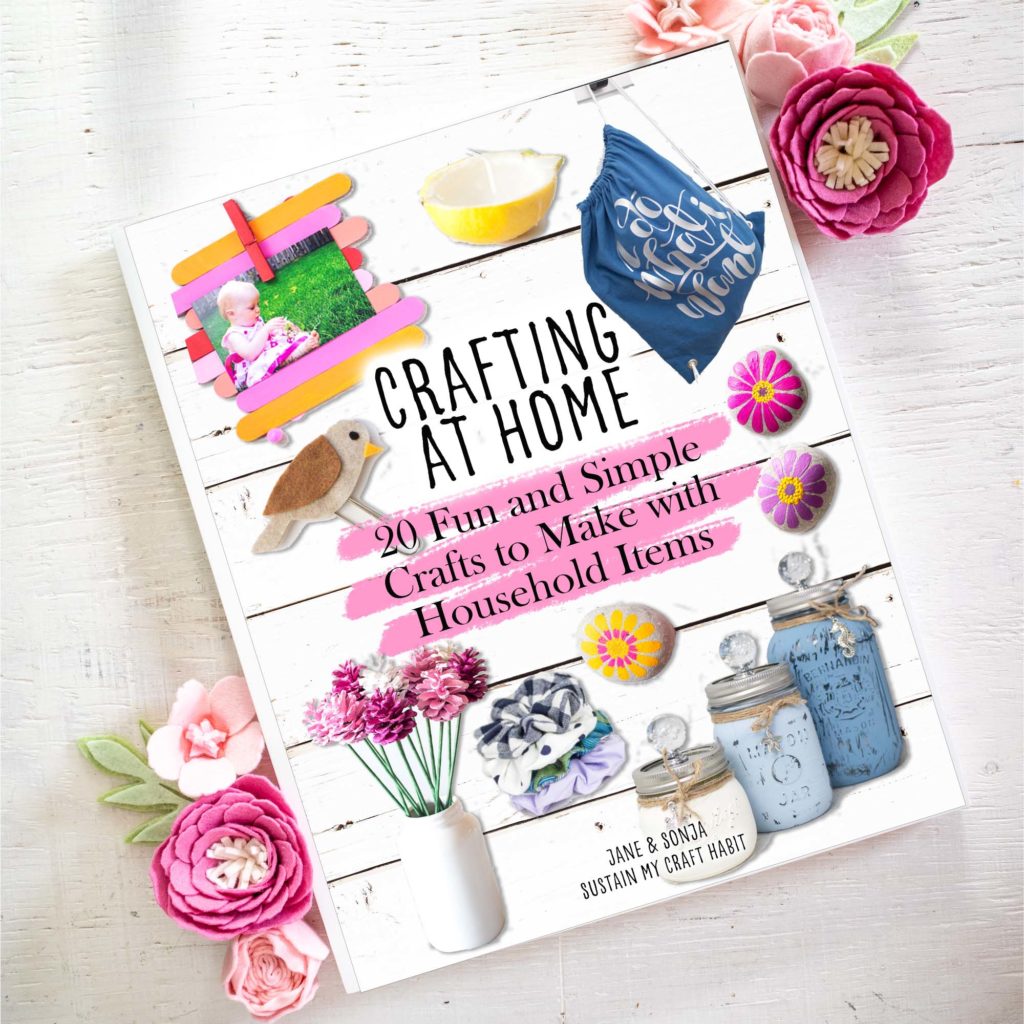 Once a year our friends at Ultimate Bundles put out a call for products to be included in a bundle sale: the Creative Home Projects Bundle!
This year, Crafting at Home has made it into the bundle! We're joining 63 other creators to bring you: 30 eBooks, 14 Tutorials & Templates, 11 eCourses, 9 Workbooks & Printables and over 275+ cut file designs at a fraction of the price of buying each on their own.
10 Things We Love About this Bundle
There are so many great project ideas in this bundle, everything from upcycling, home decor, knitting, crochet, kids crafts, paper crafts, seasonal projects, sewing and more.
Since there are so many goodies in the bundle, we wanted to highlight 10 of our favorites, to give you a sense of the breadth of projects.
Wired Word Art Project Pack by Brianna Thomas (Templates)
Detailed instructions, 81 different templates, and a reference sheet to make both seasonal and everyday word art signs for your home.

Your Creativity Roadmap: How To Pursue A Creative Life by Christen Phillips (eCourse)
The tools you need to pursue your BEST creative life!

Applique Sewing Binder for Kids, Moms & Grandmas by Victoria Martinez Azaro (Printable)
A collection of applique and embroidery patterns that can be used to create beautiful and fun fabric crafts using fabric scraps.

Easy Crochet Projects for the Home by Kristi Stone (eBook)
Crochet your own home projects in an hour or less!

Handmade Wooden Games by Angi Schneider (eBook)
Learn how to make 10 classic wooden games using common household tools.

The Craft Room Designers Toolkit: Everything You Need To Build A Joyous Crafting Haven by Claire Donovan-Blackwood (Templates)
A bundle of tools to help you transform any space into a spectacular creative space without the overwhelm.

Make It Last: Tutorials for Hiding/Fixing Stains + Holes by Stephanie Woodson (eBook)
Easy, step-by-step tutorials for how to mend and repair holes and stains in kid's clothes.

Sisters Forever Embroidery Pattern by Anne Mende (Tutorial)
The hand embroidery pattern helps you create a custom 3D portrait.

Home and Kitchen SVG Design Bundle by Javeriya Sayeed (Templates)
Designed for Cricut, Silhouette, and all other cutting machines to create vinyl crafts and 3D layered paper crafts to give as gifts or just to decorate your home.
10. The Bonuses!!!
We should have mentioned these at the beginning, but there are some amazing BONUSES! If you order by Tuesday night, you'll receive one free crate from KiwiCo (that's an actual box of goodies that comes to your door!)
And these additional goodies come with the bundle as well:
Aromatherapy inhaler (again, to your door)
Falloween craft SVG and Font design bundle
Video workshop from The Crafter's Box
We Can't Wait to See What you Make!
We hope you can tell how excited we are about this bundle. We're looking forward to exploring the hundreds of creative projects in it. If you purchase a bundle, be sure to join our Facebook Group called The Craft Habit Social, where we can create some of the projects together!
Let us know if you have any questions about the bundle at all. They offer a 30-day happiness guarantee, so there's no downside to checking it out!