Add a homemade touch to your Easter gift giving this year with a sweet little DIY Easter basket.
Making a Lil' DIY Easter Basket with Felt
Growing up I always loved receiving treats for Easter (but what child doesn't?). No matter how little or how much I was fortunate enough to receive, I'd proudly display my gifts in a row on top my headboard and slowly pick away at the yummy treats inside.
These adorable Easter baskets are just the right size to fit a small helping of candies, mini eggs and other sweets. You can easily customize each basket to suit your little one's favorite goodies.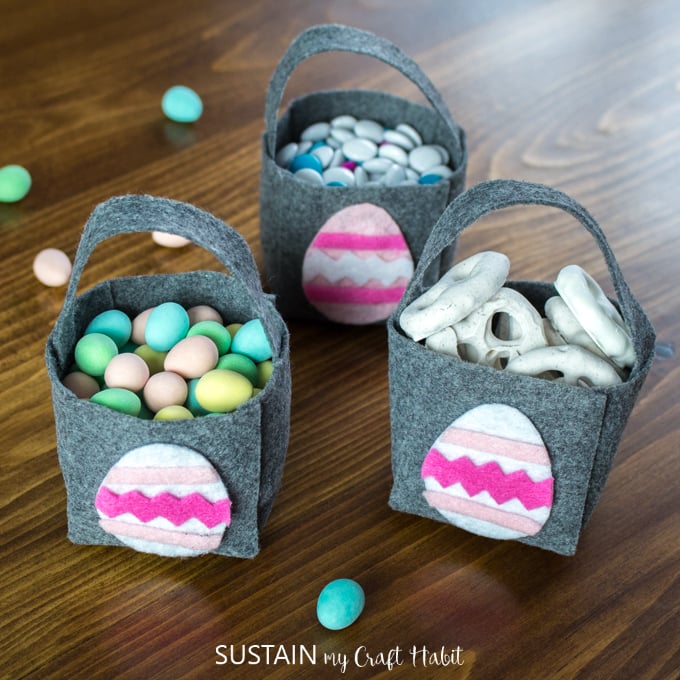 There is no sewing needed for these little felt baskets which is one of the reasons felt is such a great material to work with. Along with a variety of colors to choose from, felt retains its shape and can easily be glued or sewn. So far, we've shared these DIY felt crafts and we can wait to share some more:
Materials Needed to make one Felt Easter basket:
This post contains affiliate links for you shopping convenience. You can read our full disclosure statement here.
Instructions for Making one felt Easter basket:
Print off the free Easter basket printable template.
Using fabric scissors, cut the large box pattern and basket handle in charcoal felt and clip all four inner corners of the box pattern. Next, cut out the egg pattern in white felt. And finally, cut out the decorative pieces (stripes and zig zag) in any color of your choosing.
Preheat the hot glue gun and align the decorative egg pieces onto the cut egg shape for placement. Working with one decorative piece at a time, apply glue to the backside of the stripe and press onto the egg. Repeat for the other stripe and zigzag cut pieces.
Turn the prepared egg face down and apply glue to the backside. Working quickly and carefully, press the egg onto the top section of the cut box pattern as shown. Take care to not place it too low on the one side.
To assemble the box, work one corner at a time. Add a line of hot glue to one cut corner edge as shown and overlap with the other cut piece. Press together to form corner.
Repeat for remaining 3 corners.
Add a bit of glue to the ends of the long rectangular piece and attach it to the inside of felt box to form the basket handle.
Fill the finished felt basket with treats or alternatively you can fill a little plastic bag with treats and place it inside the felt box.
If you're looking for some last minute Easter crafts, consider making a quick and simple DIY Easter wreath or bunny-full DIY Easter garland. And if you're hosting Easter this year, impress your guests with these free printable Easter placecards!
Like it? Pin it for Later!