Once again, it's pumpkin season! If you're looking for easy pumpkin painting ideas, then you'll love this simple metallic gold painted all over leaf pattern.
An Elegant DIY Gold Leaf Painted Pumpkin
By adding a bit of metallic gold paint to some inexpensive craft pumpkins, you can easily create elegant and expensive-looking Fall decor.
This pumpkin fits in well on Jane's rustic Fall mantle next to her upcycled wicker basket, basketweave stenciled art, painted wooden birdhouses, lavender painted pinecones, glittering gold votive candles and birch slices.
These craft pumpkins come in all shapes, colors and sizes and can be purchased from any local craft store. I was able to find this pumpkin in a soft off-white color which looks amazing against the matte metallic gold paint.
But these craft pumpkins are so versatile that even the base of the pumpkin can be painted a creamy color using an everyday acrylic paint to get the same look.
For other simple pumpkin crafts and more pumpkin painting ideas, check out these fun ideas for inspiration:
Materials needed to make this Gold Leaf Painted Craft Pumpkin:
This post contains affiliate links for you shopping convenience. You can read our full disclosure statement here.
Instructions for Painting an All-Over Leaf Pattern:
Using a fine tip paint brush, paint a thin straight line approximately 4" long on the craft pumpkin.
Paint 4 evenly sized scallop shapes along one side of the line.
Next, paint 3 smaller sized scallop shapes at the other end of the same line.
And lastly, paint 4 evenly sized scallop shapes along the opposite side of the line mirroring the other side.
Allow paint to dry and repeat for additional coverage.
Continue painting more leaves all over the pumpkin in random spots and directions.
This project idea was original shared in DecoArt's project gallery.
Like it? Pin it for later!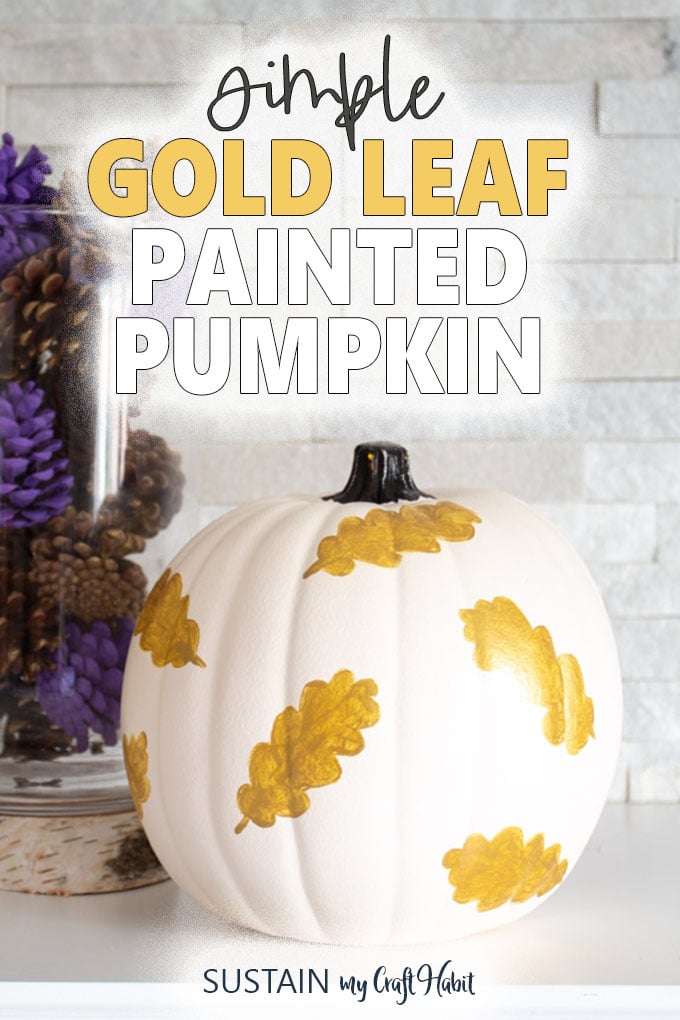 DIY Gold Leaf Painted Craft Pumpkin
Add an elegant touch to your fall decorating with this simple pumpkin painting idea.
Materials
Fine tip paint brushes

assorted sizes and tips

Americana Acrylics Matte Metallic paint

gold color

Craft Pumpkin
Instructions
Using a fine tip paint brush, paint a thin straight line on the craft pumpkin.

Paint 4 evenly sized scallop shapes along one side of the line.

Paint 3 smaller sized scallop shapes at the other end of the line.

Paint 4 evenly sized scallop shapes along the opposite side of the line mirroring the other side.

Allow paint to dry and repeat for additional coverage.

Continue painting more leaves all over the pumpkin