I am so fortunate to have a nicely growing a tree in my front yard. Even better it makes the most beautiful acorns each fall. Before the squirrels got to them all this year I grabbed a handful to make a an acorn ring silicone mold with.
Silicone Mold Making: DIY Acorn Ring
Disclosure: The post was sponsored by ETI and the Resin Crafts Blog. All opinions are our own. It also contains affiliate links. Should you choose to buy through these links we make a small commission at no cost to you. You can read our full disclosure here.
There are certain things in nature that whenever I see I can't help but thinking what I could make with it. High on this list are pine cones, driftwood and acorns. It's just the shape of the beautifully plump acorns from my oak tree that I find so inspiring.
So this year I wondered if I could make something with all those lovely acorns that I could use for my Thanksgiving table scape. This ring of acorns came to mind and I decided to try and make a silicone mold of them.
The great thing about silicone molds is that you can use them for a number of things including baking, soap making, candle making and resin crafts (see how we made a silicone ring cone recently). You just need to note that if you do end up using your mold for resin crafts (as I did) you cannot go back and use them for food later.
Although I thought it would be really fun to melt some chocolate into my new mold to make desserts for Thanksgiving, I decided instead to use the mold with my FastCast resin to make some seasonal napkin rings. Head on over to the Resin Crafts Blog for the napkin ring making tutorial.
Important! You'll want to bake the acorns for about an hour at 220 degrees Fahrenheit to kill any bugs or worms inside. Trust me, I know from experience!
Materials Needed for Silicone Mold Making
6-8 acorns with cap intact
Hot glue gun and craft glue
Clear, round plastic container, just wider and taller than the size of the planned acorn ring
Flat disc that will fit inside the container
Large mixing cup
Stirring sticks
Utility knife
How to Make and Acorn Ring Silicone Mold
Read all instructions in the package prior to starting. Cover your working surface and work in a well-ventilated area.
Start by selecting similarly sized and shaped acorns. I used seven to make a ring about 3" across.
Glue the acorns in place to the flat disc.
Be sure to add glue between the acorns as well. You'll want to have a continuous ring in your mold, rather than separated acorns.
To determine how much silicone rubber you will need, fill your container with just enough rice, small beans or popcorn kernels so that your acorns will be fully immersed when you push them in (but not touching the bottom). Measure the amount of rice you used – this will be the total volume of silicone rubber to mix up.
Once ready, combine equal amounts of the two parts of the Easy Mold Liquid Silicone rubber in a measuring cup. I ended up using the entire contents of my box.
Stir the two parts together until thoroughly combined.
Next, pour the combined liquid silicone rubber into your round containter.
Then, slowly place the acorns, face down, into the silicone rubber mixture. (Note: I placed a piece of folded tape onto the opposite side of the disk with which to hold it).
You want to go slowly to give any air a chance to escape before the acorns are fully submerged. Don't go too far – you want the disc to stay above the silicone.
Make sure that the acorns are not touching the bottom of the container (otherwise you'll end up with holes in your mold). You'll need to pull the disc up a bit if this is the case.
Set your container on a level surface and leave to cure for 24 hours.
Finishing the Acorn Ring Mold
Once cured, remove your new mold from the container. You're mold should be solid yet flexible.
If you used a bit too much silicone rubber (as I did), carefully trim off some of it with a sharp utility knife. You'll want to uncover the top sections of the acorns as shown.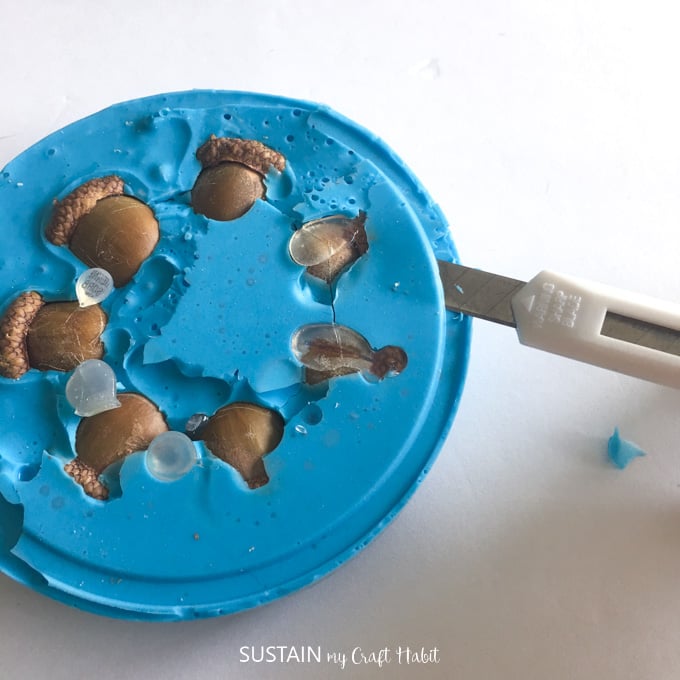 Next, slowly pop the acorn parts and glue pieces out of the mold.
Use the utility knife to cut clear "channels" between the acorns.
That's it! Your new, one-of-a-kind silicone mold is all ready to go.
Some of the debris from the acorns stayed behind in my mold. But a I used it to make these napkin rings with FastCast resin, the debris cleared out.
I wish we had these acorn napkin rings when we put together Sonja's woodland-inspired Thanksgiving tablescape a couple of years ago!
There are so many possibilities with the EasyMold Silicone Rubber. Have you done any silicone mold making?
Like it? Pin it for later!