When we jumped into blogging just over a year ago we didn't imagine some of the interesting places it would take us or some of the amazing opportunities we would get. In addition to being filmed for television (stay tuned for that!) we've also had the opportunity for one of our projects to be included in a beautiful DIY and decor magazine, Somerset Home by Stampington & Company.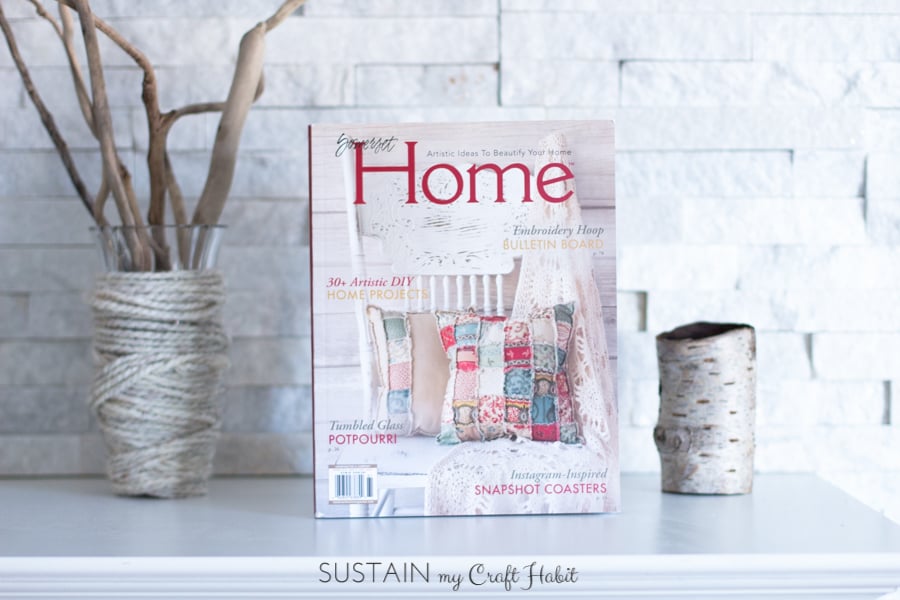 Now, be patient while I, Jane, reminisce for a moment. I'm probably not unique in my love for magazines: growing up pre-internet meant that our main entertainment came from books, cable TV and magazines. I still to this day have a tote full of crafting magazines that are now likely considered vintage (hmmm, eBay, here I come!). But, if you mention the idea of being IN a magazine, flashbacks of a 16-year old Jane, hanging out in my backyard over the summer with my BFF, preparing applications for the Sassiest Girl in America contest rush to mind! Anyone else remember those days? Anyone???
Anyways, back to the present (that was fun though)! Needless to say, we were pretty excited with the idea of one of our projects being published in a magazine and you may have caught our post on Instagram a few weeks ago sharing the surreal experience of seeing our Birch Bark Votive Holder post photos in the magazine at Michaels! Don't judge the fact that since then I may have visited Michaels a couple (OK, four) more times just to see our photos in the magazine in the store.
We must say, the Spring 2016 issue of Somerset Home Magazine is brimming with bright, beautiful and inspiring ideas for the home. Flipping through the pages you can't help but feel refreshed and motivated to create something. In today's technology-filled world, it's so nice to take a break from a screen and find a few moments to relish the feel and beauty of a magazine.
Although it was hard to choose, two of our favourite projects were these upcycled Frappuccino bottles (look at that colour!) and the Forever Roses (so simple and stunning). Both of these projects (like the majority of those in the issue) are totally doable, useful and we could absolutely see ourselves putting these creative ideas in our homes.
And great news! Stampington & Company will send one of our awesome readers a copy of the Spring 2016 issue. Just enter in the box below. Please note that the giveaway is open only to residents of Canada and the United States.
Thank you Somerset Home for letting me fulfill one of my school-girl dreams!
Did you ever dream of being in a magazine?