Remember the days when your husband used to bring home bouquets of flowers for you each week? Remember? If you're anything like us you may have to dig pretty deep to make up, we mean conjure, those memories. That's why, when I got this stunning bouquet of roses from my hubby for my birthday recently, I was determined to hold on to them for a while.
We are in general big fans of preserving flowers and using them in home decor like in our Spring Printable, Pressed Flowers Rock Vase Art project, Mason jar candles and our roundup of Five Inspiring Pressed Flowers Crafts. When Caroline from FTD contacted us to share their Guide for Preserving and Repurposing Flowers we were quite excited as it quickly inspired a number of ideas for using my dried bouquet. We wanted to share this guide with our readers and we think you'll find it quite useful and inspiring to give a second life to your holiday, birthday, Valentine's, other special occasion or everyday flowers.
Caroline shared the following with us: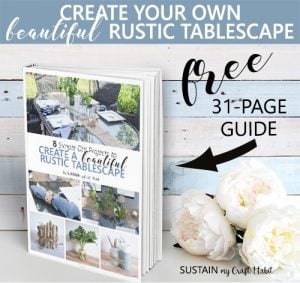 "Preserving flowers is easier than you'd think. Though the traditional methods of pressing flowers with books or hanging them to dry can take weeks, you can expedite this process with the microwave or iron. And after you press or dry your flowers, there are so many things you can do with them!
To help spark some ideas, FTD put together a guide on surprising ways to repurpose flowers. It includes great gift ideas like floral bath bombs, candles, and coasters. It also gives you some unexpected ways to decorate this holiday season. You can garnish your tree with a flower garland or embellish your gift wrap with petals.
Next time you have flowers blooming in the garden or want to make that bouquet last a little bit longer, try one of these craft ideas!"
So stop by and check out FTD's Guide then send your husband/boyfriend out to get you some flowers – you deserve it (and need new supplies to craft with).