Print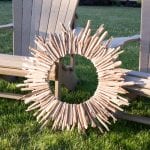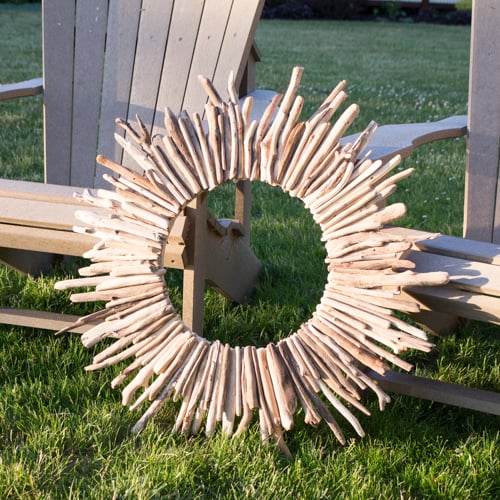 How to make a DIY Driftwood Wreath
Follow this easy step-by-step tutorial to make a large round driftwood wreath. It's the perfect DIY rustic home decor idea for the front door or cottage.
Assorted driftwood pieces - sized 4" to 9" long in various widths

Loctite PL Construction Adhesive or similar product for attaching mirror to plywood

½

" thick sheet of plywood

Picture hanging kit

Jigsaw

Sand paper

60 Grit

Nail Gun and ¾" brad nails

Glue gun and plenty of glue sticks

Wood Glue

optional

Clear spray lacquer

optional
Prepare the base: cut a ½" thick sheet of plywood in a circular shape with the center cut out (outer diameter of 20" with a 12" diameter circle cut out of the center).

Gently sand down all the edges and back side for a smooth finish using 60 grit sandpaper.

Add two sets of hooks to the back side of the base for hanging.

Using an air-gun nailer, nail longer driftwood pieces loosely side-by-side to the plywood base all around the circle.

With the shorter driftwood pieces, begin layering over top and in between the longer driftwood pieces using a hot glue gun (or wood glue) to hide the exposed plywood underneath.

Finally, apply a thin coat of clear high gloss lacquer to seal the wood and accentuate the colors.