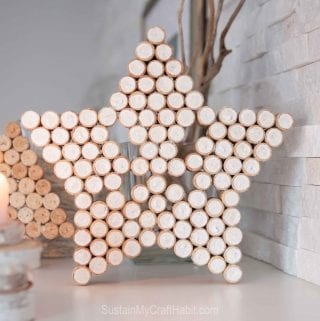 Print
Wine Cork Crafts: Sparkling Star Decor
If you're looking for wine cork crafts, this gorgeous sparkling star decor idea is easy to make and perfect for the Christmas holidays and year-round!
Start by arranging the wine corks on a flat surface to create the star pattern.

Glue the wine corks together with the hot glue. Let cool completely.

Paint the surface of each cork with white paint. Let dry.

Finally, paint on the Mod Podge and then sprinkle on the glitter while still wet (work in small sections). Let dry.