We know what you must be thinking with this DIY project… "these girls must really love their wine"! Although this is true, our collection of corks is not from our own consumption (hmmm, we did also just post a tasty peppermint shooter recipe….). Instead we grabbed a big bag of them to make wine cork crafts with from Freecycle.
In a nutshell, we are part of a community of recyclers who post items they want to get rid of or are in need of. We briefly wrote about this on our earlier post 6 Creative Ways to Sustain your Craft Habit. Back in the Spring, a fellow member sent an email advising they had a bag full of corks to give away. We jumped on this as soon as we saw it and voila, the corks were ours.
Wine Cork Crafts: Sparkling Star Decor
We wanted to make a free standing star that could sit on top of the fireplace mantle. The intention was for Christmas decor but it turns out, that the star looks great year round!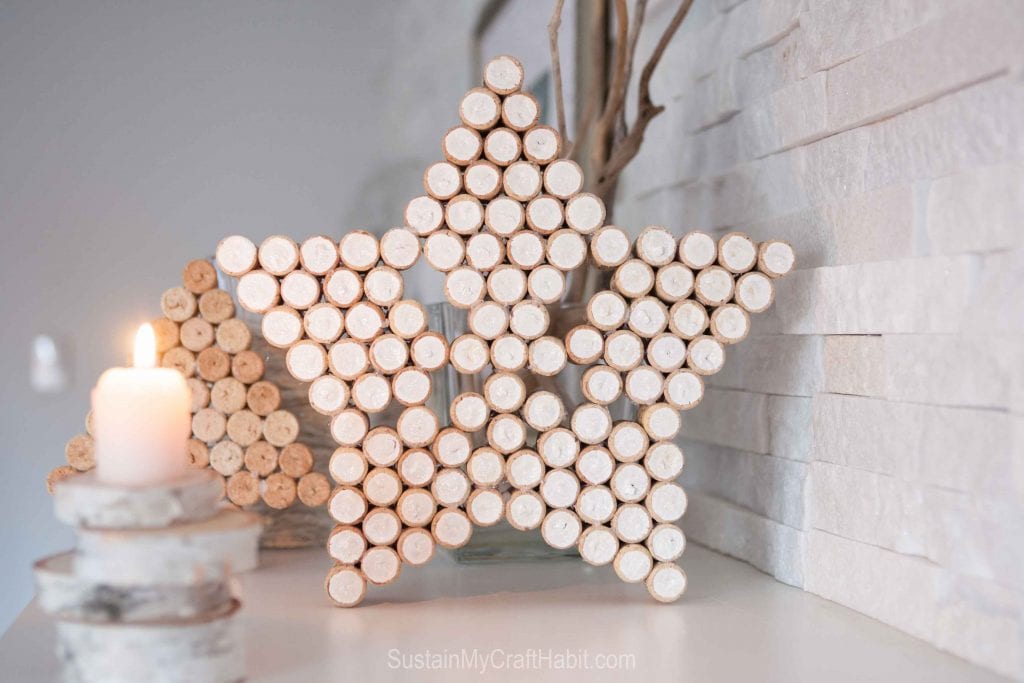 We've used it as a part of Jane's rustic Christmas mantel: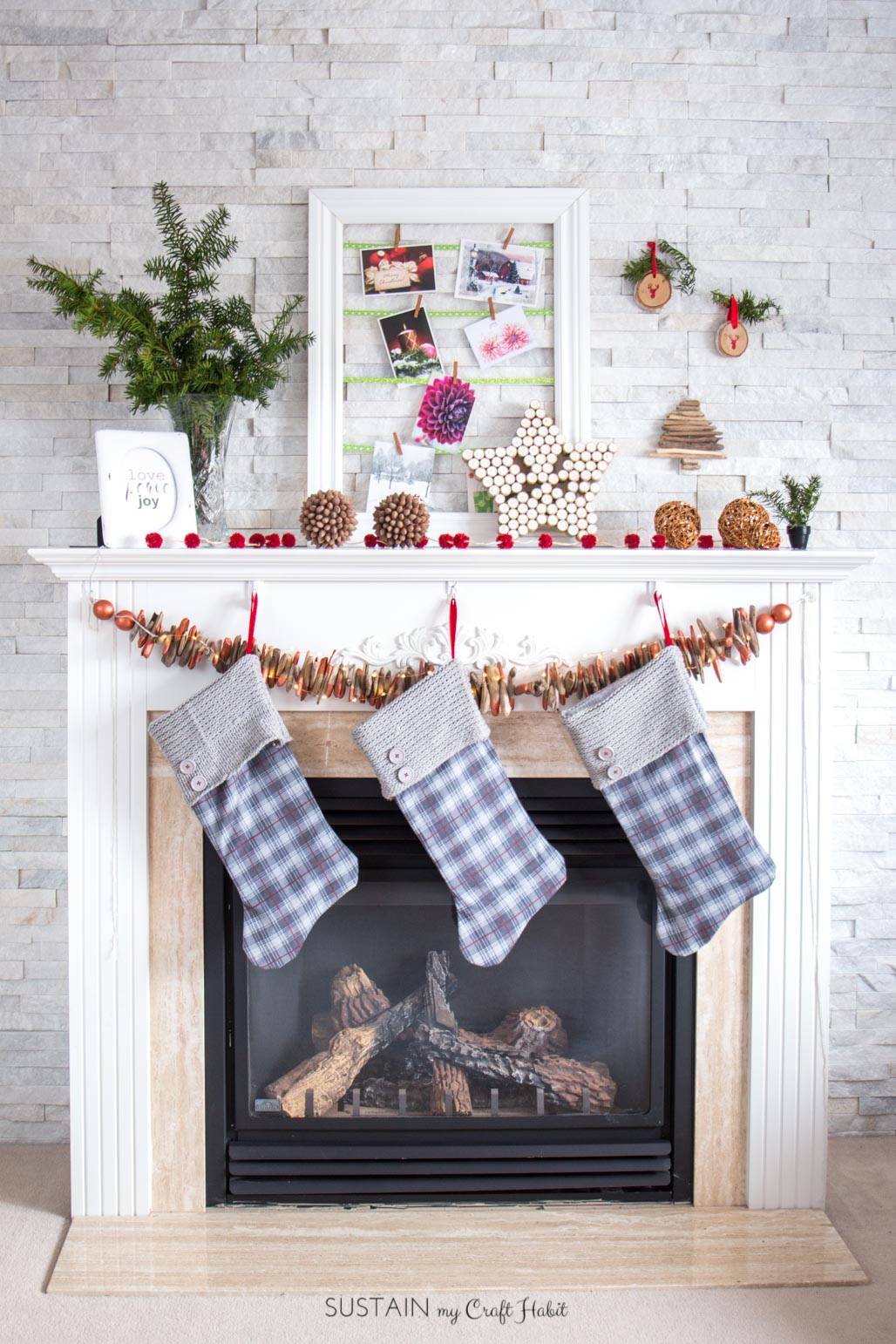 Sonja's also used it for her Rustic Chic Fall home tour decorating (see it peaking out on the shelf?):
Supplies Needed for this Wine Cork Crafts Project:
x103 wine corks (Amazon affiliate link)
Glue Gun and a good amount of clear glue sticks (you can never have too many)
Acrylic Paint, white
Mod Podge – matte finish (Amazon affiliate link)
Loose Glitter
Paint brush
How to Make this Sparkling Star Wine Cork Crafts Project:
To begin, lay out the pattern on a flat surface making sure the flat end of the corks were face down. It's pretty important to work it out before starting to glue the corks together to make sure they'll line up. This was a bit of a puzzle to figure out but I love a good challenge!
Next, with my hot glue gun, I started to piece them together making sure the flat side of the cork was at the bottom. For each additional cork, squeeze them together until the glue dries.To start, I made a bunch of mini triangles (hmmm, these look a lot like mini Christmas trees…note to self: will need to get more corks!).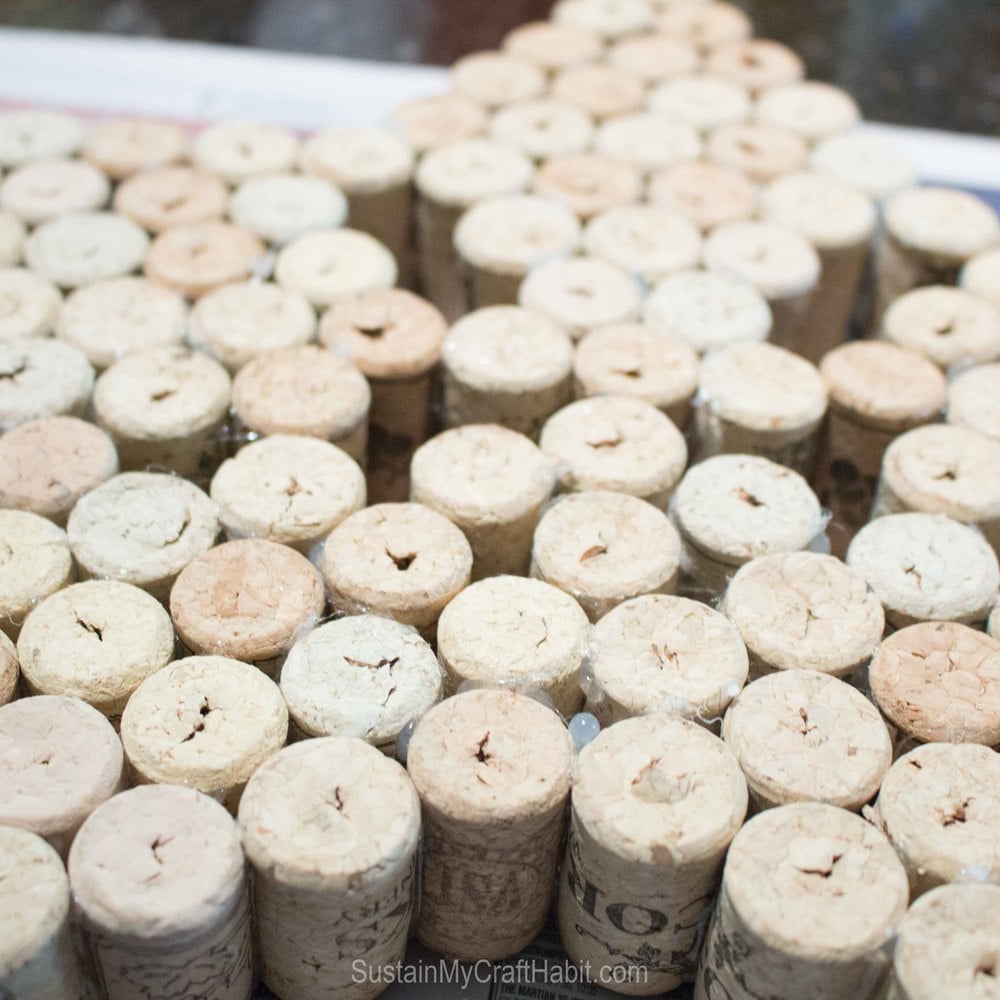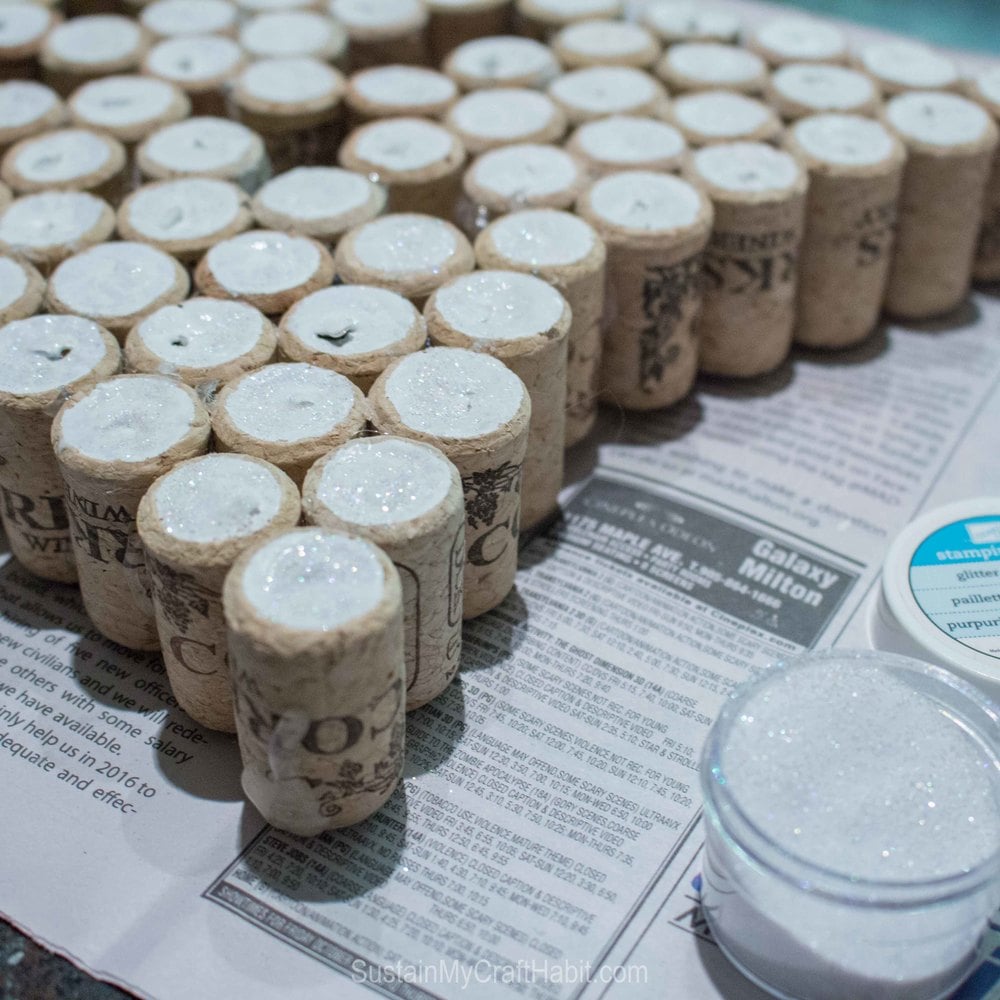 Once you have all the corks are assembled, flip the star so the flat side is facing up…aka the new RIGHT SIDE. This will be the side to paint.  Using a small paint brush, begin painting the base of each cork with white acrylic. I took care to paint only the center of each cork base because I wanted some of the cork colour and texture to show.
Finally, once dry, add the glitter. With a paintbrush, apply a thin layer of Mod Podge to base of each cork and sprinkle some loose glitter. Ensure your work space is covered to save yourself some clean up time afterwards.  Work in small sections when applying the glitter. Allow time to dry.
After finishing the star we did have some extra corks left (no, we didn't open more bottles 😉 ) and made a small upcycled wine cork Christmas tree. We just love the natural variations in the colours of the corks.
If you're looking for more DIY ideas with wine corks follow our Pinterest board dedicated to wine cork upcycling projects!
Now your turn: grab yourself a glass of vino and make a new beautiful cork star or tree to enjoy!
Have you made any wine cork crafts lately?
Wine Cork Crafts: Sparkling Star Decor
If you're looking for wine cork crafts, this gorgeous sparkling star decor idea is easy to make and perfect for the Christmas holidays and year-round!
Supplies
103 wine corks
Hot glue gun and clear craft glue sticks
Acrylic paint, white
Mod Podge - matte finish
Loose silver glitter
Small paint brush
Instructions
Start by arranging the wine corks on a flat surface to create the star pattern.
Glue the wine corks together with the hot glue. Let cool completely.
Paint the surface of each cork with white paint. Let dry.
Finally, paint on the Mod Podge and then sprinkle on the glitter while still wet (work in small sections). Let dry.