Hydrangea blooms are one of our favorite types of perrenials growing in the garden during the Spring and Summer months here in South Western Ontario. Each year they blossom into beautiful, full bushes with globes of flowers and large leafy greens. And even better, hydrangeas are one of the easiest flowers to preserve! To extend the life and use of these lovelies beyond the flowering seasons, we'll show you the best ways to dry hydrangeas for crafting nature inspired decor.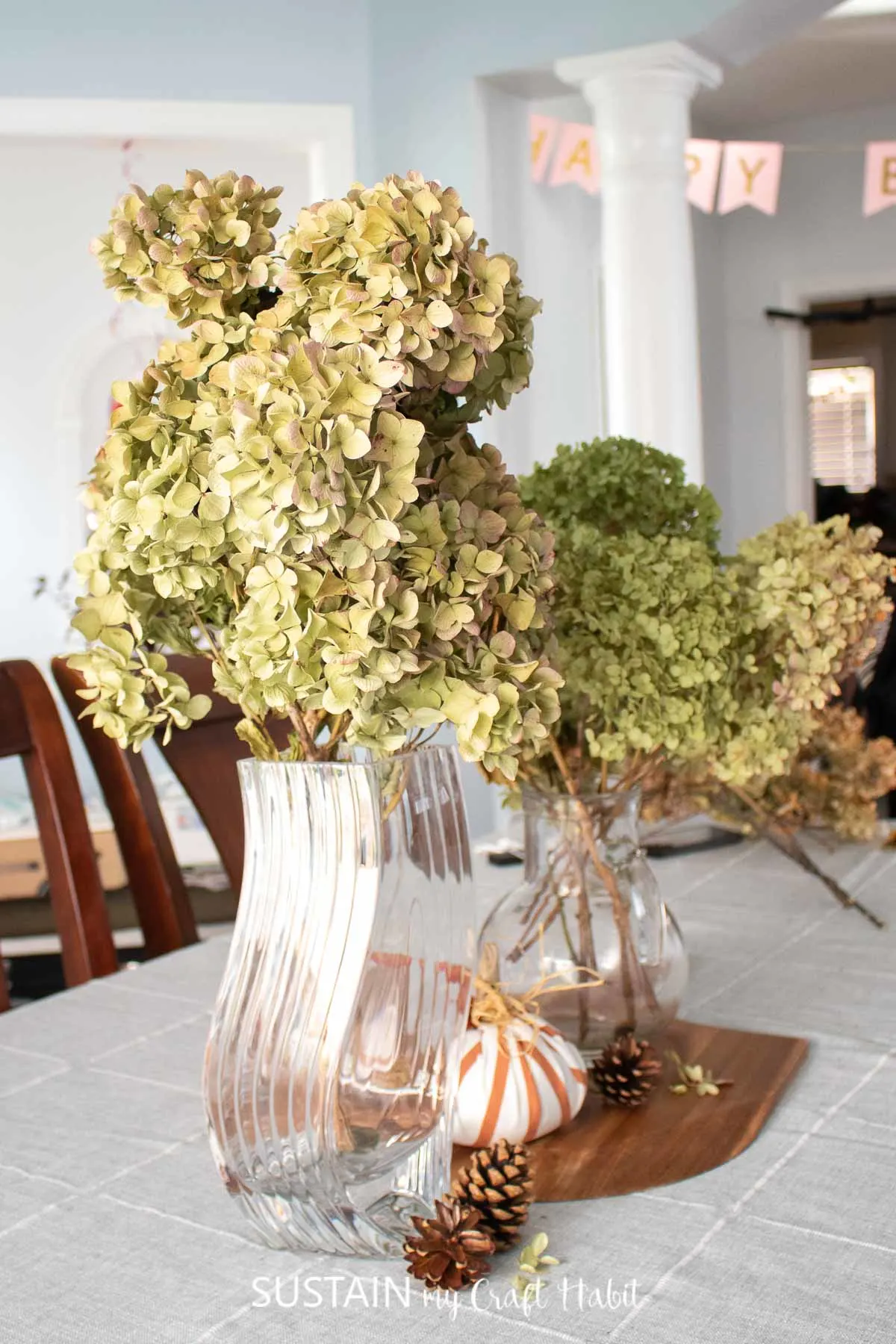 Different Types of Hydrangeas
Hydrangeas are one of our favourite perrrenials. They're one of those rare plants that produce huge, colorful blooms that last all summer and well into the fall.
There are so many different varieties of hydrangeas, each one more beautiful than the last. Regardless of the variety, the method of drying the hydrangea blooms is much the same across all types.
The three main types of hydrangeas are as follows:
Annabelle Hydrangeas also known as smooth or snowball hydrangeas – smaller petals, green to white and then back to green. Picked at the right time, they stay a pretty light green when dried.
Macrophylla hydrangeas also known as big leaf hydrangeas – larger petals, blue or bright pink in color depends on amount of acidity in the soil.
Limelight Hydrangeas – cone shape flower head, white at full boom with a blush pink tone.
Drying hydrangeas is so easy but the timing of when you harvest the blooms makes a big difference to how well they're dry. You want to wait a little longer into the growing season, when the stems are naturally starting to dry. New blooms will not dry well as they're too fragile and are more likely to wilt and brown during drying. For Annabelle hydrangeas be sure to wait until they have turned from white to lime green for the best results.
For optimal color retention, collect the blooms from inside the bush as opposed to the outer blooms, which tend to be more faded from the sun.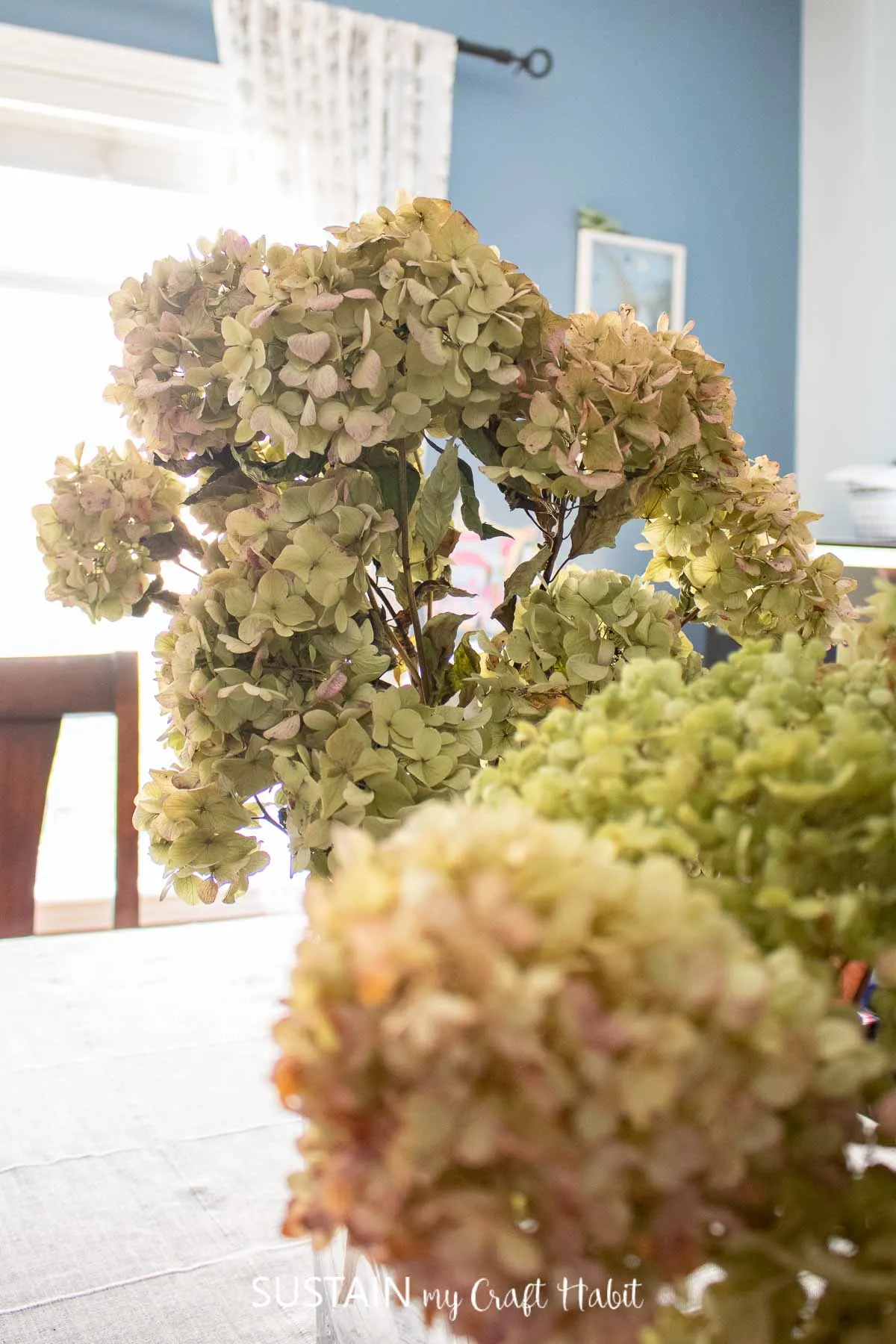 How to Dry Hydrangeas
There are two easy ways to dry hyndrangeas. The best part is that you don't need any special supplies!
Method 1: Drying Hydrangeas In Water
Cut hydrangeas close to the base of the stem and place in a vase half filled with water. Place the vase in a cool, dry place away from the windows.
Over time the water will get drawn into the cuttings helping to keep the color and retaining the shape. Once the water is all used up, the blooms will naturally dry over time (will take about 2 weeks).
Method 2: Drying Hydrangeas by Hanging
Cut several blooms of hydrangea close to the base of the stem. Tie the stems together and hang upside down in a cool, dry place, away from the window. Leave for about 2 weeks until the blooms are completely dry.
This second method works really well if you want your stems to stay straight (such as for an arrangement).
Using Dried Hydrangeas in Crafting
Regardless of which method you use, the hydrangea blooms will change color during the drying process. If collected too early in the blooming season, or dried to quickly, the blooms may turn brown. You can either spray paint them or leave them natural.
Once dried, the hydrangea blooms will keep their shape for well over a year. They may fade in color, especially if exposed to the sunlight.
You can place your hydrangeas in a large vases for an impressive display (check out these arrangements for over $1000!). Our mom uses them in her fall outdoor planters and even as ornaments in her Christmas tree!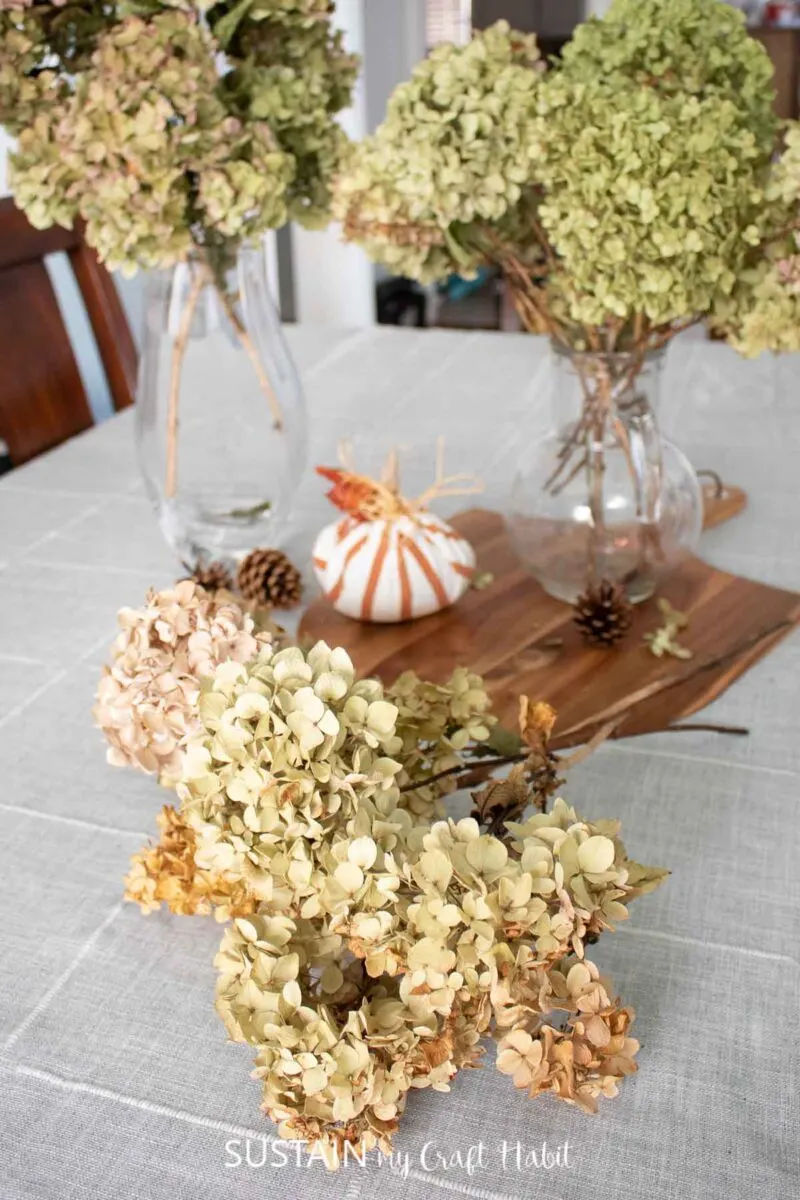 I used mine last fall to make a beautiful wreath for my dining room!
You can also use your dried hydrangeas for resin crafting or place them in a shadow box for a pretty fall craft similar this one.
Other Ways to Dry Flowers
The air drying technique will work for many types of flowers with strong structure such as lavendar, roses, cock's comb, corn flower.
For more delicate blooms, or to preserve their 3D structure and rich colors more accurately, you can learn how to dry them using silica crystals . We used silica dried flowers for the shadow box above, as well as this pretty dried flower wall art.
Pressed Flower Crafts to Make
Pressing flowers is one of our favourite ways to preserve summer blooms for crafting. I recently shared my pressed flower collection in this Facebook live video.
You can used dried Hydrangeas to make pressed flower mason jar luminaries, pressed flower fridge magnets, resin fern art or resin jewelry.
We hope you've found this tutorial on how to dry hydrangeas for crafting and decorating helpful. Let us know if you have any questions by leaving a comment below!
Be sure to subscribe for more nature-inspired crafting ideas.
Like it? Pin it for later!
How to Dry Hydrangeas for Crafting
Preserve those beautiful blooms for year-round decorating and crafting with these easy methods for how to dry hydrangeas.
Materials
Annabelle Hydrangeas

Macrophylla hydrangeas

Limelight Hydrangeas
Instructions
In Water
Cut hydrangeas close to the base of the stem and place in a vase full of water.

Water gets drawn into the bloom keeping the color and retaining the shape.
Hanging
Cut several blooms of hydrangea, tie them together and hang upside down.

Works well for keeping straight stems, ie for an arrangement.