I'm very excited to share my "rustic chic" Fall home tour with you! With life as busy (and expensive) as it is, I don't normally decorate for a specific season (other than the Christmas season, of course!) so it was a delight to give my home some love and attention.
We are joining over two dozen creative and talented blogging friends for the annual Canadian Bloggers Fall Home Tour. This is our first year joining these amazing ladies with the tour hosted by the amazing Christina of The DIY Mommy and Shannon of AKA Design. Be sure to visit some of the other tours at the end of this post for inspiring and beautiful autumn DIY and home decor ideas!
With Jane in the midst of her kid-friendly living room transformation, I was the lucky one chosen to get my home decked out for Fall. She did, however, pop over to help finish up some Fall DIYs (and naturally, some extra strong cups of coffee); "leaving now – make coffee!" was the text message I received as she was on her way over.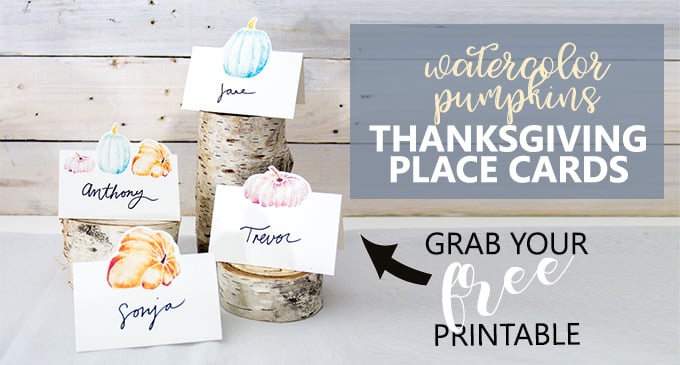 I kept the decor neutral and rustic, with a mix of textures, pops of metallic finishes and touches of rich, vibrant colors.
I love that several of the pieces are versatile enough to work throughout the year and that I can simply swap out the fall inspired throw pillows and pumpkins galore with different throw pillows and other seasonal decorations.
Rustic Chic Fall Home Tour
We're happy to share this video tour of my home, or if you'd prefer, keep scrolling for more photos!

For the newbie seasonal-decorator (like me), here are some tips to budget-friendly decorating for Fall:
Versatility: Choose decor that will look great throughout the year
So if you're anything like me and don't get around to decorating for the next season, you can rest assured that your space will still look great in the coming seasons.
These mercury glass tealight candle holders in blues and greens are beautiful any time of the year. We used them to create a beautiful beach-themed wedding centerpiece and tablescape but they're perfect for casual gatherings as well.
A set of simple and inexpensive white dishes (such as these I picked up at the dollar store for $1 each) as well as these neutral colored table linens (that I bought at Homesense) compliment any table setting.
Bargain Hunting: Grab those End-of-Season Deals
Keep and eye out for decor and accessories at thrift stores or on clearance at the end of the season (unless it's something really special!).
Make a point to buy just a couple of unique pieces each year that compliment each other. In no time at all, you'll have a lovely collection. I picked up these metallic pumpkins at Michaels last November for $2 each! Now, I call that a bargain!
As you go through our fall home tour, keep and eye out for a rustic farmhouse serving caddy I bought at a flea market recently.
Do-It-Yourself: Create your own rustic decor using materials you find from nature.
If you've seen any of our other posts on the blog you'll know that we have a thing for using materials we collect outdoors to DIY and craft with. Not only is it cheap, but we love that these items are biodegradable. So we don't have to worry where they'll end up once we're done with them!
We painted these adorable wood birdhouses in soft white and metallics and set them on top of cut birch branches. We'll be sharing our full Thanksgiving tablescape next week so be sure to subscribe to our mailing list to receive notification of our latest posts!
We also added some hand-lettered flat beach stone signs with welcoming phrases.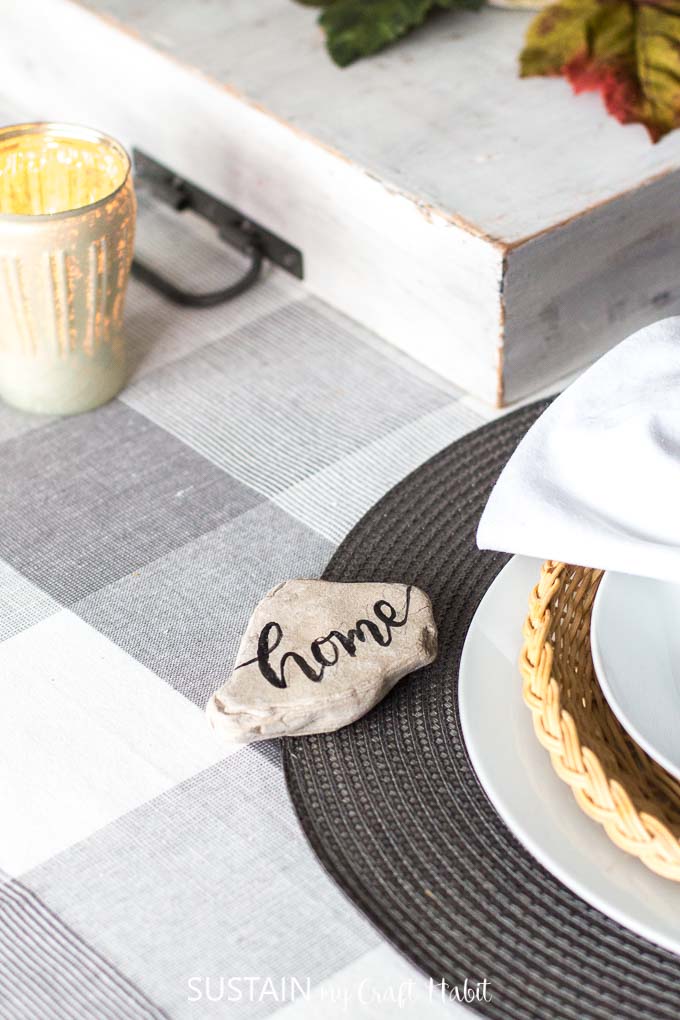 Before Jane came over, I foraged some hydrangeas, hosta leaves and other greenery from my backyard to make a natural and fresh bouquet. I love how the bright green picks up the colours in the new birch art canvas I picked up at HomeSense for the dining room.
And of course, our Fall home tour wouldn't be complete without some driftwood decor, such as this large driftwood pumpkin art (available in our Etsy shop) that we've propped up against the wall in the dining room.
If you want to give any of these DIYs a try, we'll be sharing the how-to's for these projects on our blog soon.
Invest: Spend the money on the things that make the most impact
Although I don't go nuts with Fall decor, I do love to change out my throw pillows with the seasons. I suggest buying a few different ones at one time, taking them home and trying them out in your space. Return the ones that don't work and keep the ones that do. It's amazing what a difference simply swapping them out makes in changing the look. This wheat throw pillow is available on our Society6 shop, it just screams Fall, doesn't it? And if that's not enough wheat decor, we have other wheat wall art available as well.
I did splurge a bet on the teal velvet throw pillows from HomeSense. I just think they tied the rooms together perfectly. Don't be surprised if you see them on my couch over the holidays as well ;). Finally, I've had this sheepskin rug for a while now: it's so soft and cozy, I basically leave it out all year long!

Reuse: Hold on to favourite items and display them each year.
I had a chance to reorganize the two bookcases in my living room which were until then overloaded with Barbies, puzzles and my daughter's books. On one of the bookshelves I added our DIY fall string art sign, a decorative orb made with nuts and a small driftwood Christmas tree* (that will be staying put for a while!).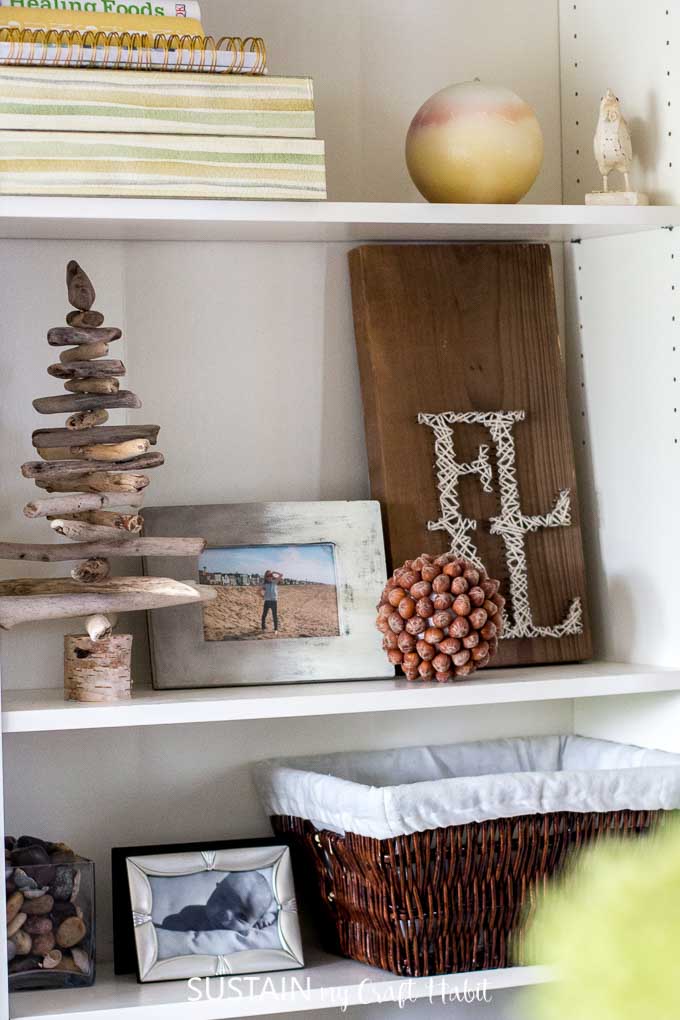 This is the bookcase on the opposite wall. Can you see our sparkling wine cork star peaking out from behind a few more driftwood trees?
I perched these friendly owls we received last year from UncommonGoods on my newly upcycled retro student chairs. They just seem pretty happy here, eyeing the Thanksgiving table for any leftovers 😉 .
Although it's not particularly fall-themed, I wanted to show you the driftwood blanket ladder Jane and I made last summer. I use it all the time to store my blankets and last Christmas I even strung some lights over it.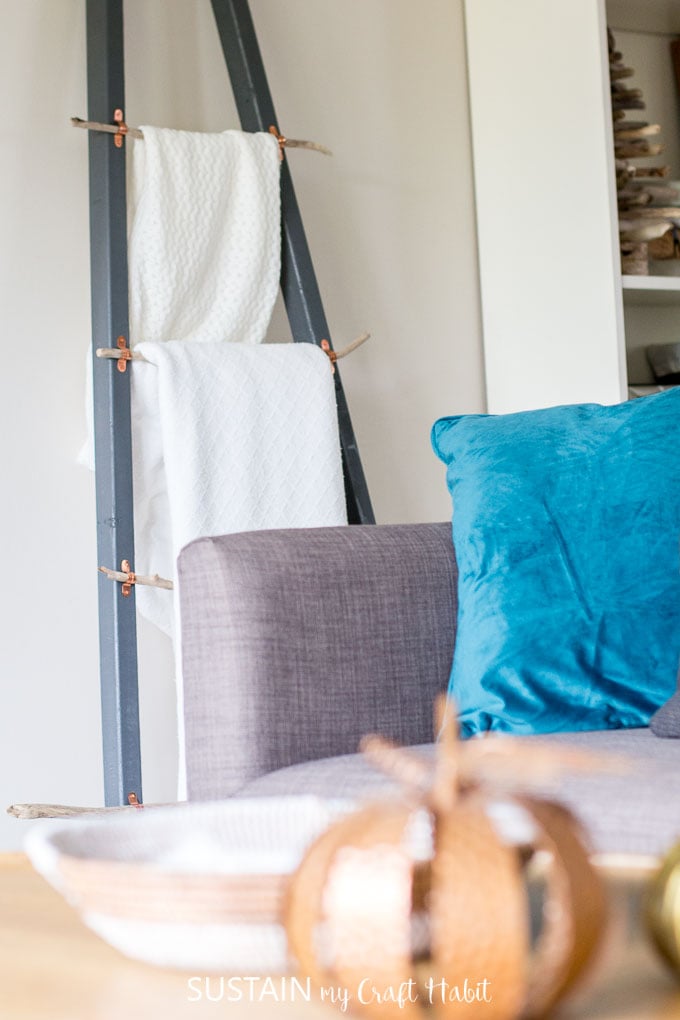 I made several of these adorable felt owl stuffies with the kids last year and am realizing we never posted the how-to tutorial. Stay tuned!
Think Small Scale (at first): stick to one or two rooms at the most
Tackling an entire house can seem overwhelming and expensive! To help with this, focus on one or two rooms in your home at first and work on the other rooms later. Slowly over time, you can tackle the other spaces as you collect more decor and accessories. I'd love to include my kitchen in next year's tour as well 😉 !
I hope you all enjoyed my Fall Home Tour as much as I did putting it together! Thank you so much for stopping by for a visit. Head on over here for all the details of our woodland inspired Thanksgiving tablescape.
Now head on over and enjoy these stunning Canadian bloggers' Fall Home Tours!
Monday
AKA Design
Amidst the Chaos
Lemon Thistle
Love Create Celebrate
So Much Better With Age
Tuesday
The Learner Observer
Woman in Real Life
Life is a Party
Clean and Scentsible
Wednesday
Satori Design for Living
The Happy Housie
Rambling Renovators
Craftberry Bush
The Sweetest Digs
Thursday
The DIY Mommy
Home To Heather
White Wood
A Pretty Life
Vin'yet Etc
Friday
Kim Power Style
PMQ for two
The Creek Line House
Sustain My Craft Habit
northern style exposure
Like it? Pin it for Later!