Have you ever noticed how interesting and unique glass liquor and wine bottles are? We recently had a little gathering with our friends and they left behind a bottle of Hendrick's Gin. Looking at the bottle got my mind racing over different wine bottle crafts we could try (or it could have been the Gin… 🙂 ).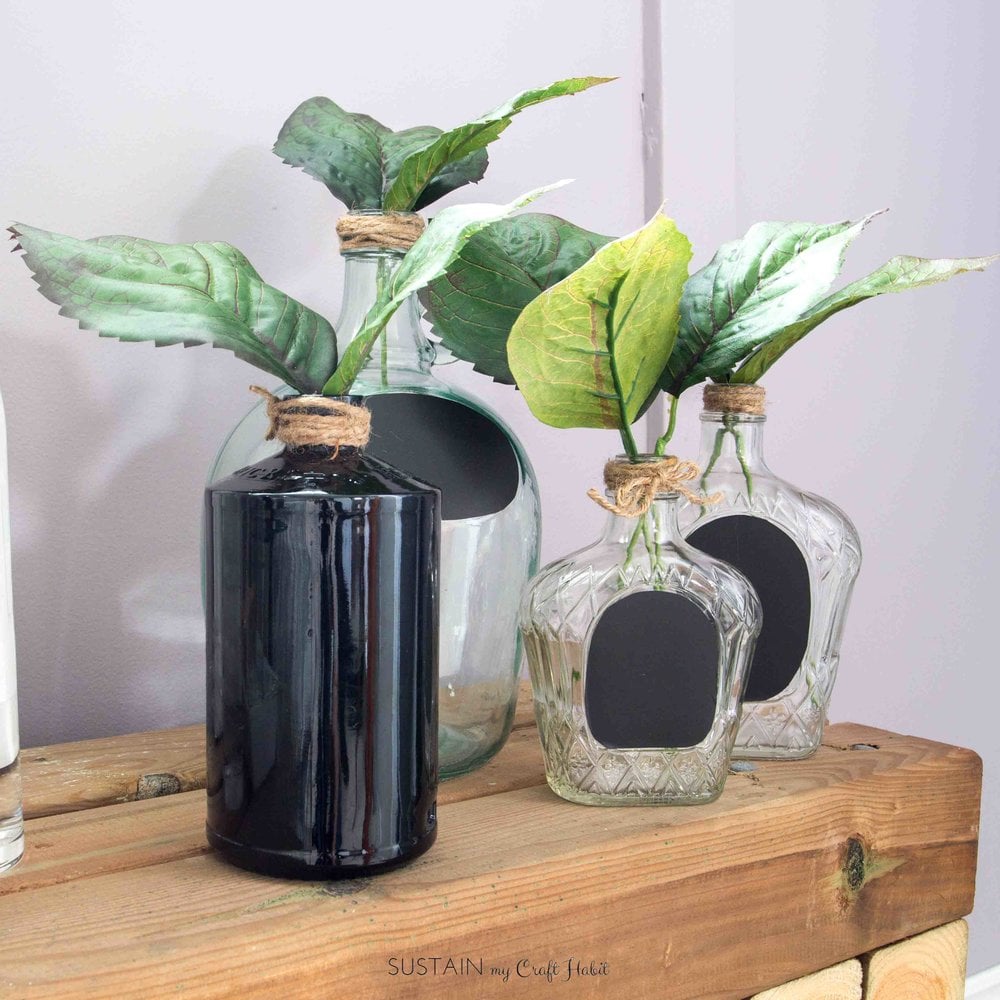 This DIY is as simple as it gets. In fact, I have no photos of the steps since I did it without taking any (I know, I know, bad blogger). In truth, I created this upcycled glass bottle arrangement as a way of decorating our guest bedroom on a budget. You can check out the other simple and inexpensive guest bedroom ideas here.
Collecting all the bottles may require you to throw a party or two! Oh the sacrifices one makes to craft and DIY! Be sure to let us know in the comments what you think of these wine bottle decorations! Oh, and check out our Luscious Peach Bellini Recipe which may help to replenish your supplies for glass bottle crafts 🙂 .
Materials Needed for this Easy Room Decor Idea:
"Disclosure: We received some of the products used in this post free of charge (no additional compensation was provided). Also, this post contains affiliate links which means if you buy any products through these links – at no additional cost to you – we make a small commission. "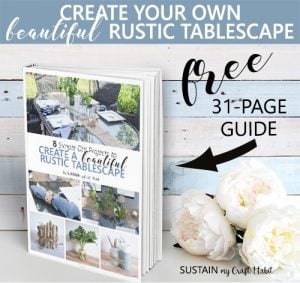 To Make Your Own Repurposed Wine Bottle Crafts:
1. Wash and dry liquor and wine bottles. To remove the labels and glue residue, you can use Goof Off (a multi purpose remover that's safe for the environment) and follow the instructions on the bottle. Side note (and completely unrelated to this DIY): Goof Off works really well to remove nail polish stains from carpet – had to learn this tip the hard way!
2. Wrap twine around the top opening of all the bottles and secure in place with a knot.
3.This next step is completely optional: Add a black chalkboard vinyl label to all the bottles. If you don't have a Cricut machine (like myself), you can create a paper pattern first to be sure the shape is correct then trace it onto the vinyl. Stick the labels onto the bottles. The vinyl from Expressions Vinyl is really versatile. We also recently used it to achieve a faux mosaic tile look on an upcycled serving tray.
4. Stick one sprig of hydrangea leaves inside and voila!
Assemble them in groupings like we did here as part of our Mauve-lous Guest Bedroom Refresh, or style them on their own. This empty wine and liquor bottle decoration idea adds a perfect rustic farmhouse style touch to any vignette.
Like it? Pin it for later!
And if you like this glass bottle crafts idea, check out our beachy air plant terrarium using a jumbo brandy snifter!
What are some of your favourite spirits and wine bottle crafts? As they say, bottoms up!