Air plants, sand and itty-bitty furniture? We just couldn't resist making this beach-inspired mini garden terrarium for the summer.
We recently joined Maria over on her blog, Pastels and Macarons as guest contributors. We've ogled Maria's beautiful blog filled with inspiring and practical ideas for years and were thrilled to jump on board when she invited us to join her team. We'll be sharing new crafts and home decor ideas there each month. This beach-themed DIY air plant mini garden, or terrarium, was our first project.
Supplies Needed to make your Own Beachy Mini Garden
*Disclosure: This post continues affiliate links for your shopping convenience. You can find our full disclosure policy here.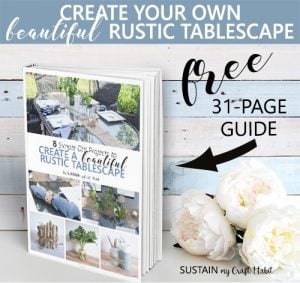 Head on over to Pastels and Macarons and see how we made all the cute little furniture and accessories. While you're over there, be sure to look around Pastels and Macarons – Maria has tons of great DIY ideas to explore and try.
Here we have a fun little video tutorial on how to assemble this DIY air plant terrarium!
You can find a separate tutorial on how to make the adorable mini Adirondack chair (a.k.a. Muskoka chair) for the mini garden here.
We should also mention that this project is very similar to our recent simple beach themed centerpiece idea. In case you missed it, here is the video tutorial:
Have you ever made an air plant mini-garden?
Like it? Pin it for later!