A small backyard garden is a great way to enjoy fresh seasonal veggies. Learn how to make your own raised garden bed with just a few supplies.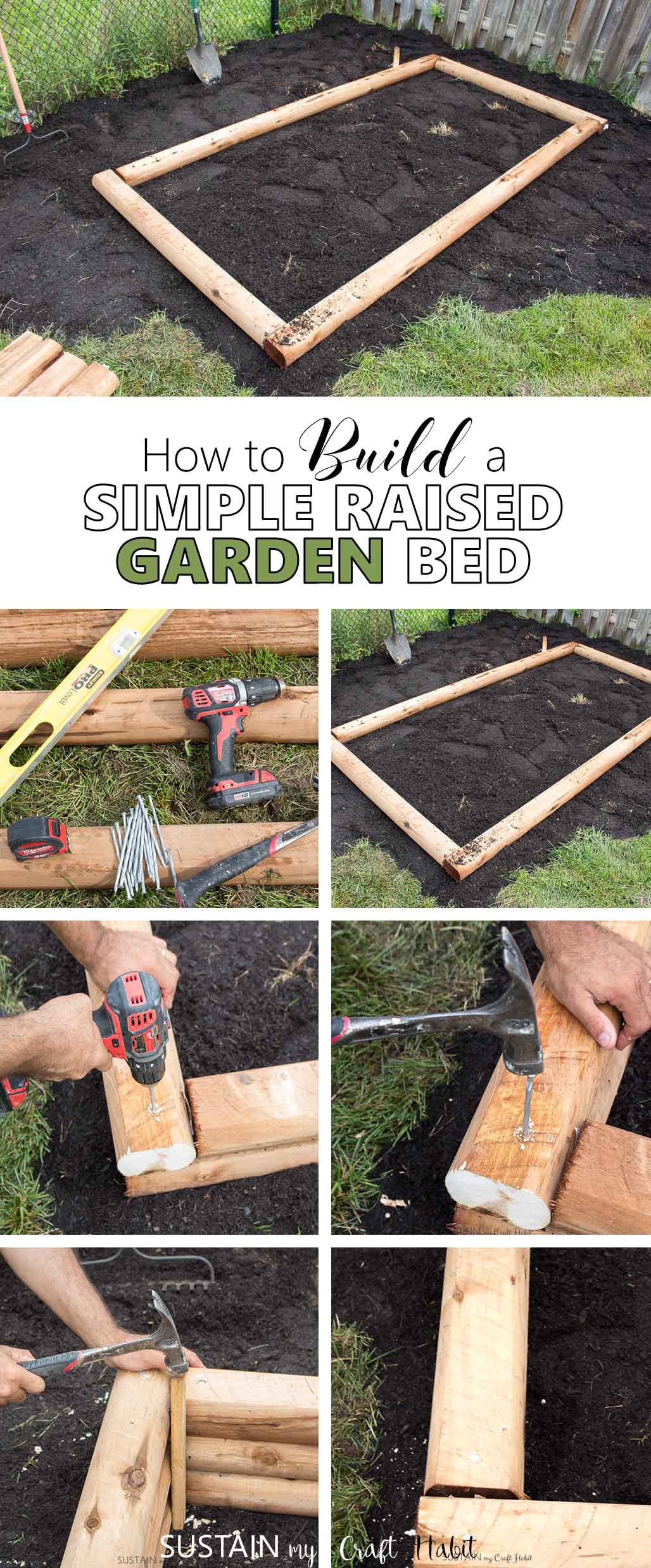 Growing up, our parents always maintained a vegetable garden in our backyard or in the later years, at the family cottage. I can only speak for myself when I say, I never truly appreciated the fresh, organic vegetables that we enjoyed from those gardens. Wonder if my sister would say the same?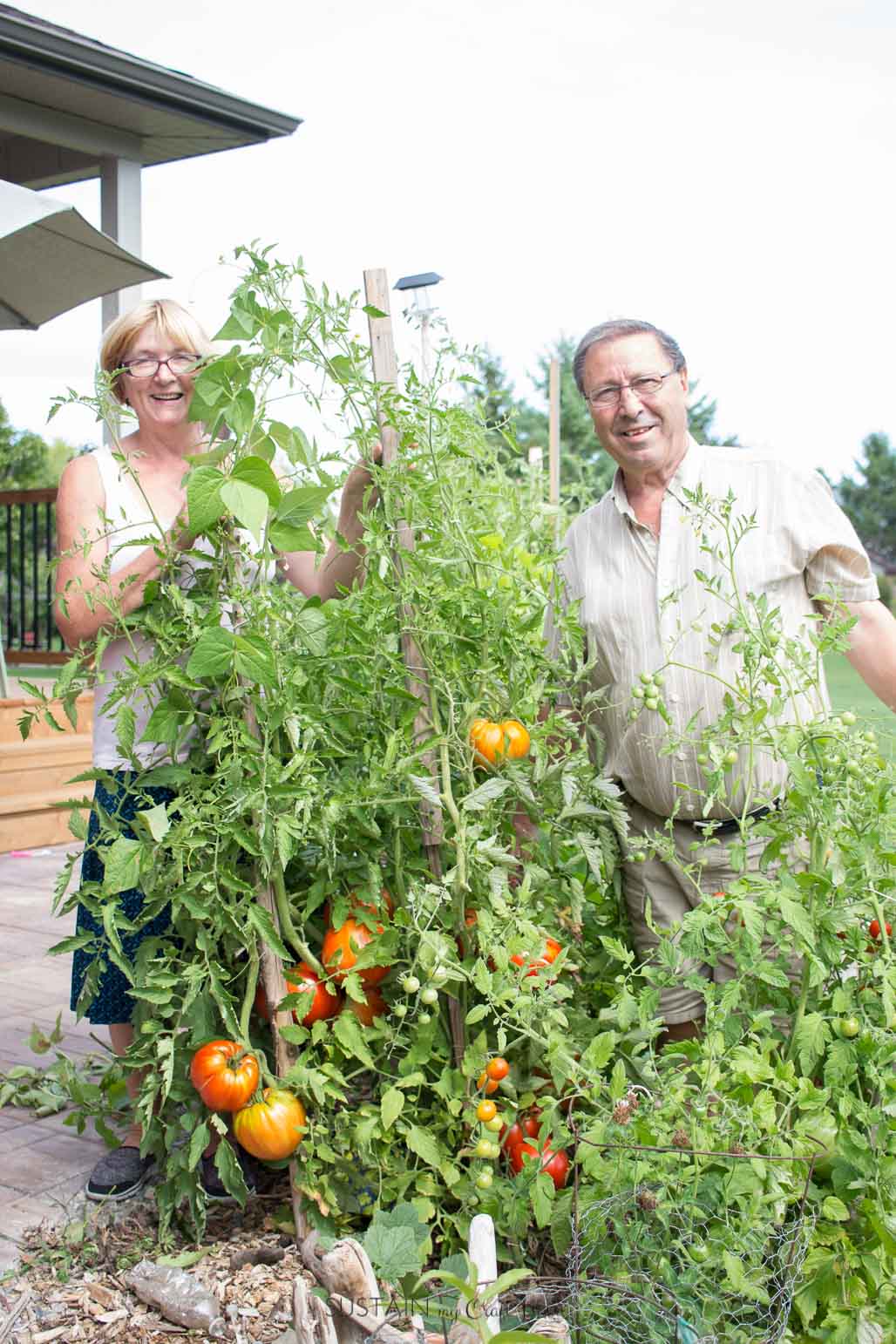 Our parents playing peak-a-boo in their tomato garden. You can see we've learned from the best!
Having our own vegetable garden is a tradition we want to pass on to our children. It's not only because of the increasing prices of produce at the grocery stores (and I'm not even talking about the organic stuff), but simply, there are some really cool life lessons in growing your own veggies.
You can see how my daughter showing off the zucchini from grandma's garden that was almost as big as her head! We use these monsters to bake our favourite and easy zucchini bread recipe.
One small problem is that we don't have a lot of time or space to devote to a large garden in my backyard in the suburbs. The best solution for us was to build a raised garden bed. We were able to custom make the garden to fit our needs and an additional perk was that we didn't need to dig into the ground (which, in our region, is back breaking work to say the least!).
Benefits of raised bed gardening
Great for small plots of veggies and flowers
Takes up very little space, making them ideal for smaller yards
Can build directly over concrete patios
Digging into the ground is not needed
Keeps roots away from contaminated soil
Fewer weeds preventing garden soil from getting over run
Better drainage than with in ground garden beds
Prevents roots from getting water logged in wetter climates
Barrier for pests such as slugs and snails
Soil warms up more quickly in Spring so planting can be done earlier
Cons against making a raised garden bed
Limited space for gardening so smaller crop
Easy to over plant causing soil to be over run with roots
Soil dries out more quickly than in ground soil
Requires materials and tools to build
Need to buy soil to fill up garden bed (in ground soil is free)
Lack of mineral content in bagged soil
Use of peat moss in bagged soil
Swapping out the soil every few years is recommended
The depth of the bed can vary, but garden experts advise 6" depth is the minimum since plants need at least 6"-12" rooting zone.
Materials Needed to Make Your own Raised Garden Box (sized 8' long x 4' wide):
"Disclaimer: This post contains affiliate links (indicated with *). Should you choose to purchase items through these links we will make a small commission – at no expense to you. "
Mini Lumber Ties (x9 at 8' long each), pressure treated
Hammer
Screws
x4 10" Nail Spikes and x8 5″ Nail Spikes
Measuring tape
Level
Pitchfork
Soil / Compost / Manure
Garden blanket* (optional)
How to build a Simple Raised Garden Bed:
Step 1: Decide on the Location
Location, location, location…
Vegetable gardens grow best in a sunny location so vegetables are getting at least 6 hours of direct sunlight per day. Also, consider ease of working the garden from all sides.
Step 2: Prepping your Location
Measure and mark the perimeter for the garden bed using a spray paint (if building over top of grass) or some other form of marking (if building over top of a patio). If building over top of grass, than break up and loosen the soil using a garden fork so that the soil is not so compacted.
Step 3: Preparing your Materials
Maintain 6 of the mini ties at 8' long and cut the remaining 3 mini ties in half so you have 6 at 4' long each.
Step 4: Assembling the DIY Garden Bed
Position one 8' long mini tie lengthwise. Position one 4′ long cut mini tie at a 90 degree angle from the end of the longer mini tie. Continue with placing the second 8′ long and 4′ long tie to form an evenly shaped rectangle. Stagger the placement as shown in the photo. Check and measure to ensure that the first round of ties are level and squared at all corners.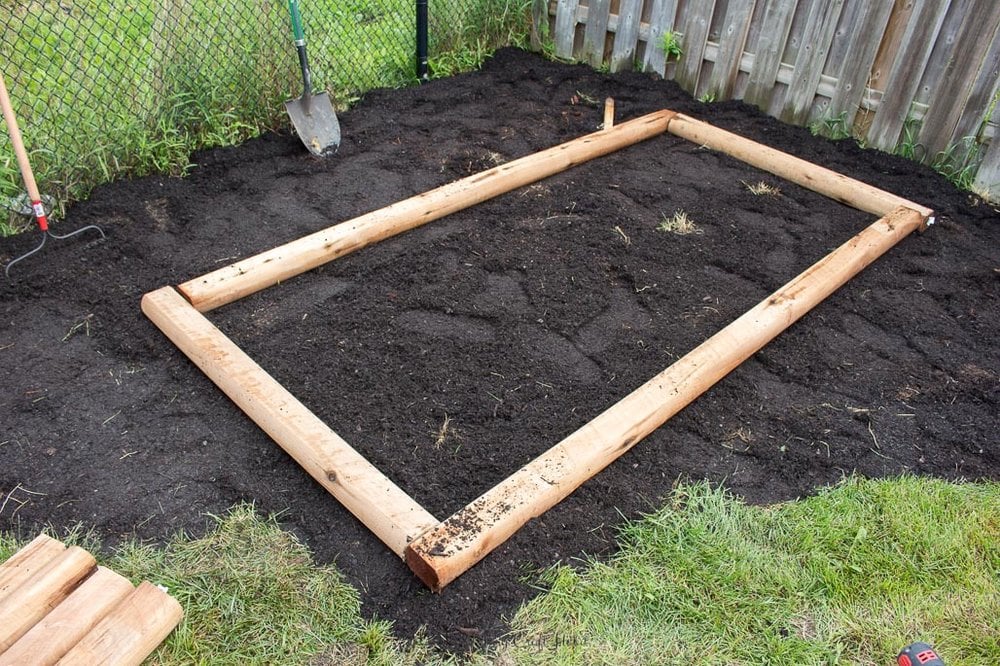 Add a second row of mini ties, overlapping the ends as shown. Using a large sized drill bit, pre-drill holes through both ties close to overlapping ends. Hammer long 10" spikes into all 4 corners to secure to ground.
Add another round of mini ties and stagger the railway ties as was done in the 2nd round. Pre-drill holes at all 4 corners and hammer shorter spikes through the pre-drilled holes to secure ties together. For additional security, you can add a wooden spike at all the inner 4 corners as shown below.
Step 5: Filling the new Garden Box
Fill the garden bed with a mix of topsoil, compost, and other organic material, such as manure, to give your plants a nutrient-rich environment. Your raised garden bed is now ready for planting!
We actually built this simple raised garden bed two years ago and is holding up great! I can't believe I didn't take any pictures of it all filled with veggie plants last summer. I'll be sure to update this post as we fill and grow it this year.
What will you plant in your garden bed this year? If you're looking for an idea, learn how to grow peppers from seeds. Happy Gardening!