When we started painting rocks a few years ago we didn't realize how addictive it would be! Painting these adorable woodland animals rocks got us completely hooked. If you have a rock painting problem like we do, here are over 60 of the best painted rocks tutorials to satisfy your habit!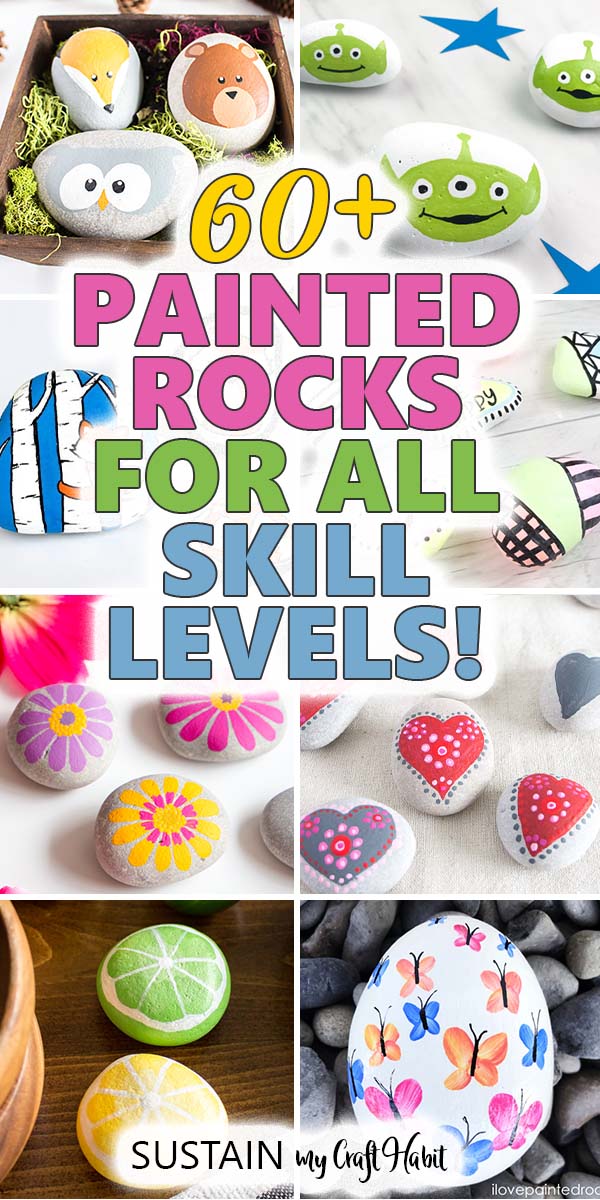 Painted Rocks for any Style
There are so many reasons that rock painting continues to be a popular craft:
Below you'll found over 60 of the best painted rocks tutorials we've found on the internet! And we'll keep adding as we come across creative new ideas. From animals, flowers, holidays and more we hope you find plenty of inspiration to get your rock painting on.
Woodland Animals
These adorable woodland animals make perfect additions to your garden or indoor plant pots.
Ocean Animals
Ocean animal painted rocks are a creative to play with, especially at the beach.
Flower Rocks
We can't get enough of colourful flower painted rocks, especially in the winter when everything is gray and brown outside.
Garden Rocks
Who said you can't play with food?
Rainbow and Butterfly Rocks
Add a magical and happy touch to your garden with some rainbow and butterfly style stones.
Christmas and Winter Rocks
Christmas and winter in general provide so much inspiration for rock painting designs and ideas. From snowflakes, snowmen, Santa and more, these little bits of art make great gift and decorating ideas.
Rocks for Other Holidays
From Valentine's Day, St. Patrick's Day, Halloween and more, no holiday is out of bounds when it comes to painting rocks!
Character Rocks
Cactus pet rocks? Yup! These painted rock designs inspired by various characters are absolutely adorable.
Painted Rocks for Kids
This is one of my favourite things about painting rocks – the kids can join in and make their own creations! Or make the rocks for them to play with.
Art Painted Rocks
OK, so there a bit of cheating in this group. These artistic rocks use all sort of different techniques in addition to paint just to give you some addition ideas for crafting with stones.
We hope you enjoy this round-up of adorable and creative DIY painted rocks. Let us know if we're missing any great tutorials you've found so we can add them to the collection!
Which ones would you paint first?
If you're looking for more nature-related crafts check out these free printable adult coloring pages.
Like it? Pin it for later!