Ever since we painted our first rocks, we quickly discovered the many benefits of rock painting. It's crafting with nature at it's best: relieves stress, promotes relaxation, encourages creativity, and is ultimately a lot of fun. We want to share this craft with others so what better way than to give a DIY rock painting kit as a gift.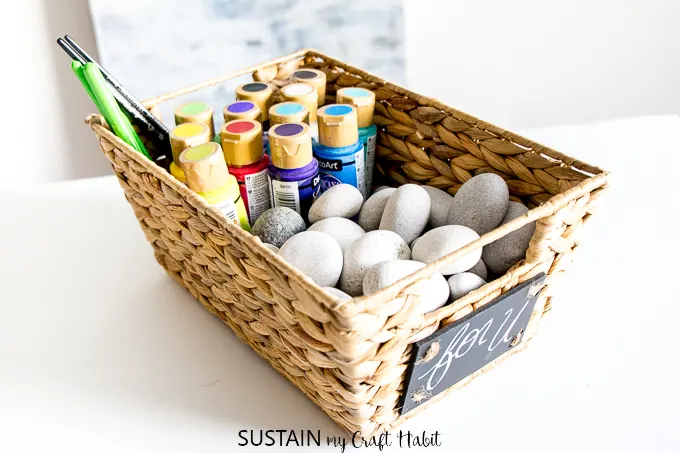 Take it from us, rock painting ROCKS (pun very much intended)!
We started painting on beach stones a couple of years ago and use them in our gardens, flower pots, as napkin weights, fridge magnets and more. For ideas and instructions on painting rocks check out our roundup of 60 painted rocks for all skill levels, or you can refer to our many rock painting posts here:
Colorful Painted Flower Rocks * Hyacinth Flowers * Shark Painted Rocks
Woodland Animal Rocks * Mandala Heart Stones * Blue Bird Painted Stones
Christmas Rock Painting Ideas * ShamROCKS * Painted Rock Pumpkins
This how-to really can't get any easier than this: simply gather the supplies needed and package them together nicely in a cute little wicker or wooden basket. Wouldn't this make an adorable and thoughtful gift giving idea?

Supplies Needed to Make your Own Rock Painting Kit:
Disclosures: We have not received any compensation for this post. However, we have (and continue to) receive products from DecoArt.
Place and stack the rocks on one end of the basket.
Place the paints on the opposite end of the basket.
Insert the paint brushes.
To get fancy, add in one or two rock painting books for ideas and inspiration. Here are some of our favourites:
Hand letter a pretty gift tag and your rock painting kit is all ready to go!
We hope you like this DIY rock painting kit idea. If you're looking for other nature-inspired gift giving craft kit ideas, check out our list of craft kits for adults as well as needle felting kits for all skill levels. The kits include full supplies and instructions for anyone to jump right in and get their crafting on!
Have you ever tried rock painting?
Like it? Pin it for Later!