Hi friends! If you're looking for needle felting projects, you've come to the right place. We've compiled a list of needle felting kits to choose from that range from beginner level to the more expert level.
What is needle felting?
Needle felting is the process of tangling one piece of wool to another using special barbed needles. The needles take the wool fibers from one piece and drag them through the other piece where they entangle and attach to form felt.
Ever since we shared our post on the best craft kits for adults, we noticed that needle felting kits have been one of the most popular crafts to do. If you're new to needle felting, it's best to stick to simpler shaped felting kits, such as Christmas bauble ornaments or rounded owl shapes. And with some time and practice, you'll be able to move on to the more challenging felting kits, such as the hedgehog or the lazy cat.
What supplies are needed for needle felting?
Felting is a fairly inexpensive craft, requiring only a few felt tools including wool, felting needles and a cushion or pad to work on. Needle felting kits takes the guesswork out of felting, leaving you to just jump in and create.
Wool – with so many variations of wool, it can be tricky to know which one is right for you. Keep note of the type of wool used when experimenting to become familiar with what works best for you. Wunder Label suggests to select a mid length wool fiber when first starting out.
Felting Needles – are a specific type of needle with barbs at the ends and needle sizes vary according to the project at hand.
Felting Cushion – used as a surface to work on instead of the table top or your lap. This will protect the surface from repeated stabbing motions as well as protecting the needle ends from breaking.
Needle Felting Kits for all Skill Levels:
This list includes mostly sculptural felting projects to create three dimensional pieces from wool roving, as opposed to applique felting which attaches wool to a flat piece of wool fabric or felt. The list is loosely sorted by beginner levels up to more skilled levels.
Disclosure: This post contains affiliate links for your shopping convenience. You can find our full disclosure here.

Loving these little potted felted succulents! And there's no need to water these beauties.

How perfect would these Christmas bauble ornaments look hung on a tree or strung on a garland for the holidays? They would add just the right amount of coziness and charm!
No need to dye your eggs this Easter, when you have these colorful needle felted Easter eggs as part of your home decor.

Needle felting and the holiday season seem to go hand in hand. These Christmas ornaments are simply beautiful.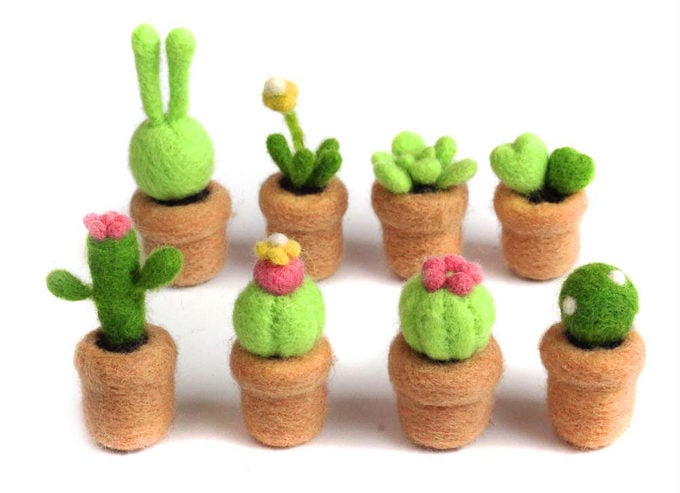 No need to worry about caring for these succulents and cacti, making felted varieties might just be the way to go! Wouldn't they make a sweet gift giving idea?

Owls make great beginner felting projects because of their simple round shapes. If you're new to felting, give this one a try.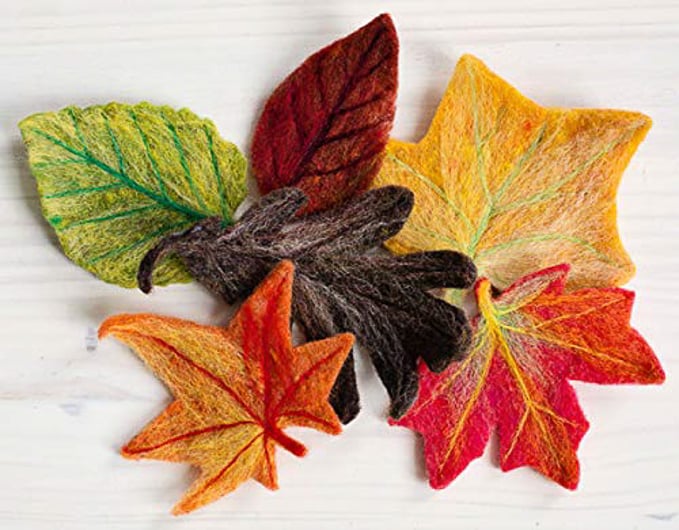 This detail on these felt applique leaf patterns are truly beautiful. I can just imagine all the different ways to style these pretty leaves for Fall.
Pick any two out of a dozen possible felted animal kits! My two would be the cockatiel and the bunny. What about you? With so many options to choose from in this kit, it's hard to pick just two.

How fun are these? Make a set of silly faced monster cacti (little pots are included) just for fun.

I just can't get enough pumpkin decor in the Fall and a set of needle felted pumpkins is a must!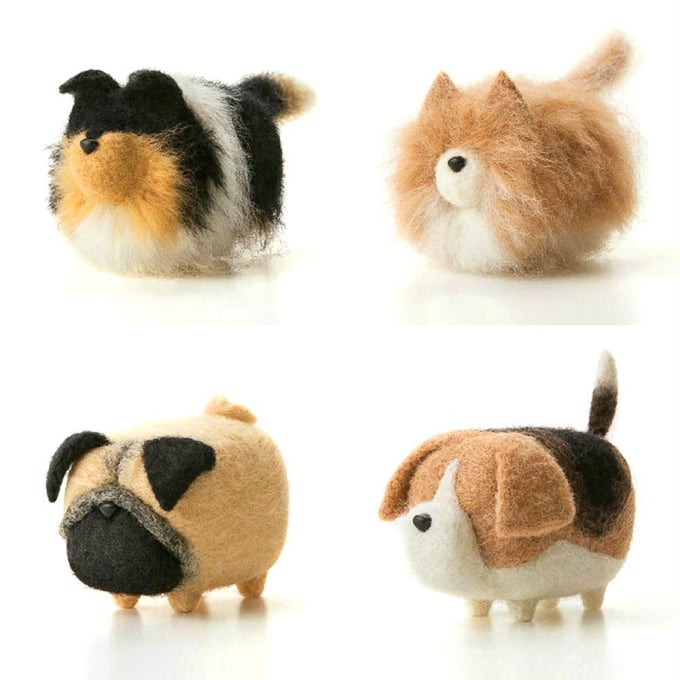 Are you a dog lover? Well I doubt these kits could get any sweeter. There's an option to buy the 4 pack or individual kits are also available if you dog breed preference.

This little guy makes me smile. He is just too cute!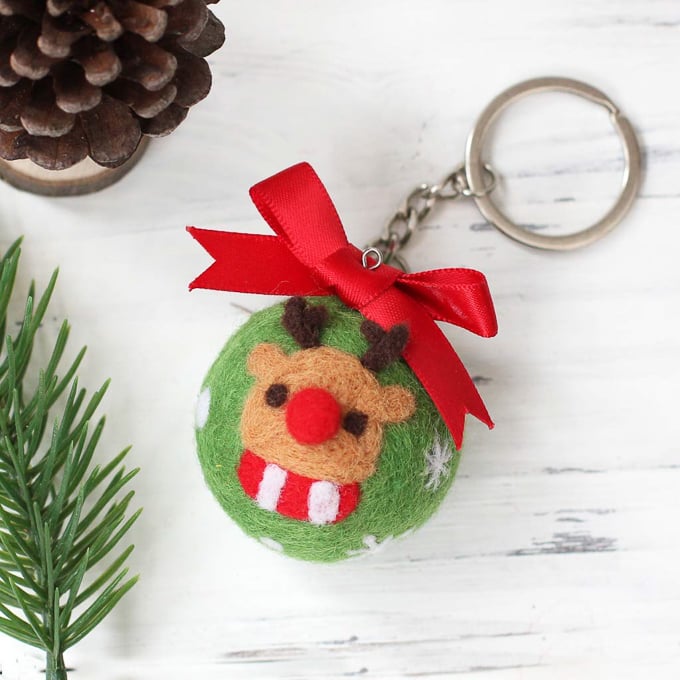 Love how this ornament can be turned into a functional key chain for the holidays. Great stocking stuffer!

This felted deer would be great for the holidays or even for year round.

Nothing says Spring time like seeing the first robin. And this kit includes materials to make 5 little felted robins…I'm IN-LOVE!
How adorable would this hedgehog look as part of your woodland themed decor? (He'd look perfect alongside our woodland animals felt ornaments). This felting kit is considered slightly above beginner level.

Being a Canadian, I especially appreciate this adorable needle felted moose kit. Go Canada go!

Who doesn't love sloths? Ever since I watched Zootopia, I've been a little obsessed. Take your time making this adorable felted sloth.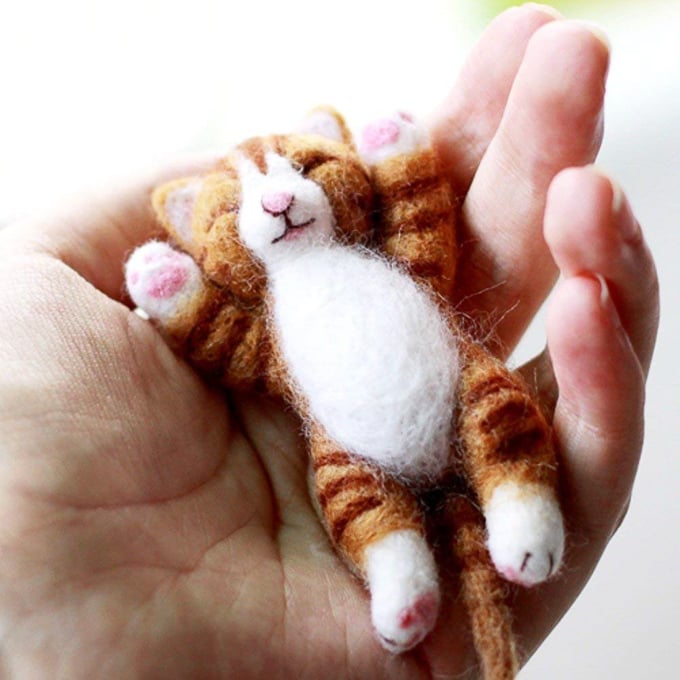 Oh my goodness! I just can't get over the amount of the detail in this felted lazy cat.
Needle Felting Supply Starter Kit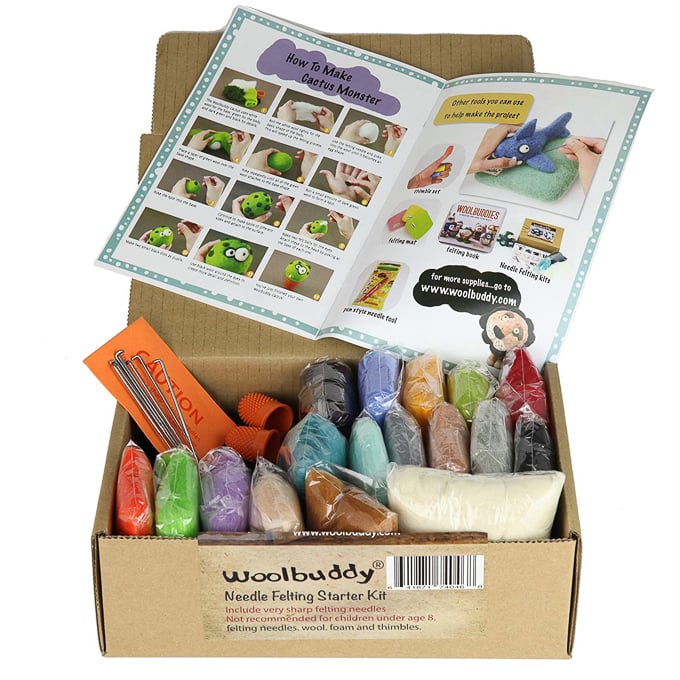 It includes 16 assorted hypoallergenic wool colors and step by step instructions to make a fun cactus monster.
Now for the tough part…deciding which felting kit to do first!
If you're like us and also enjoy knitting and crochet projects, we've also rounded up 21 of the best scarf knitting patterns to help get you started on your next project.