I am always on the lookout for new scarf knitting patterns that I would love to knit up. So I scoured the internet to create a one-stop shop of some of the most stylish, beautiful and cozy knitted scarf patterns to refer to when the urge to knit strikes!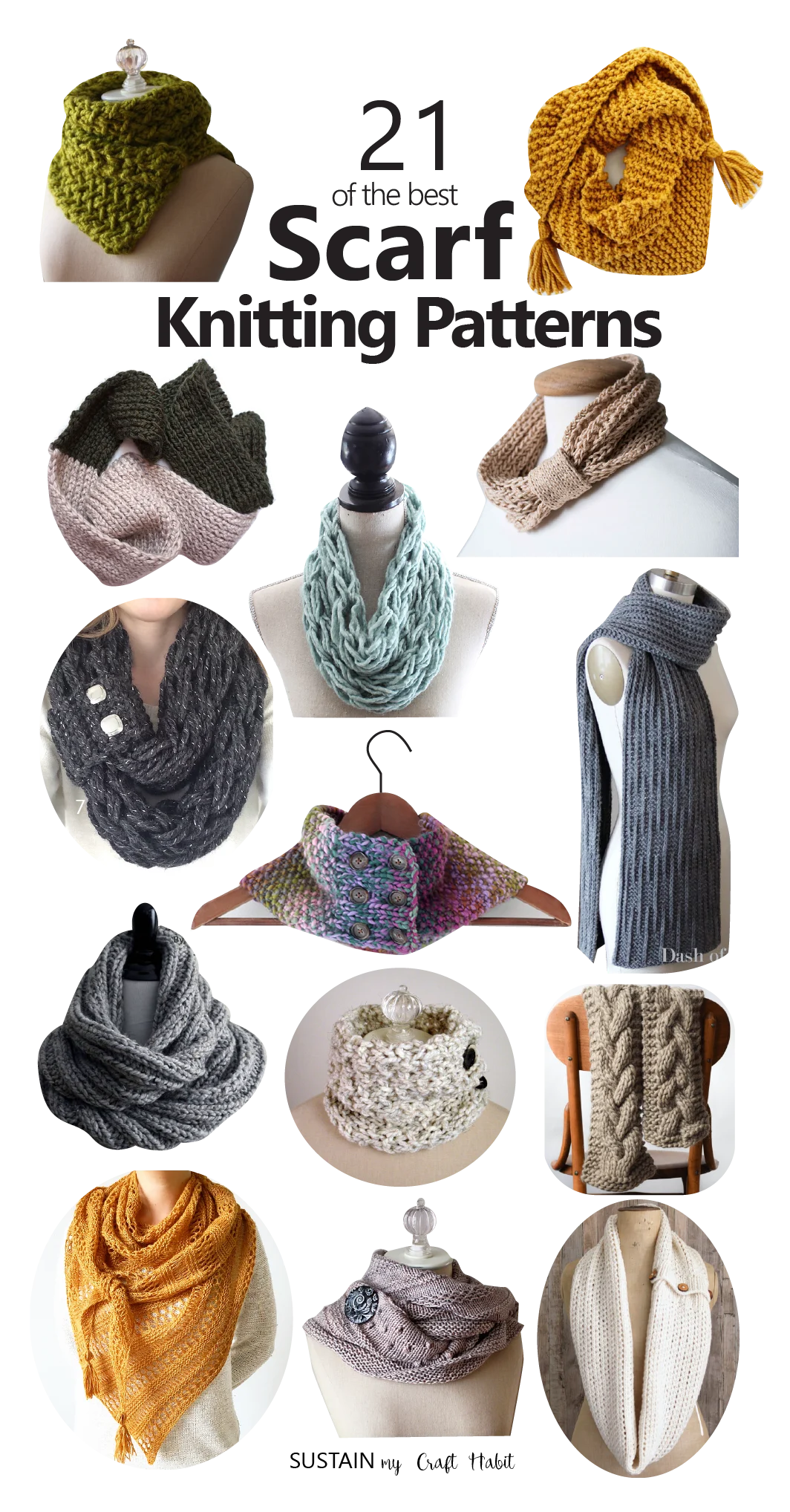 There are countless reasons why knitting scarves is a MUST. Here are just a few that come to mind:
A girl can never have too many scarves! They really are the perfect accessory to any outfit. And depending on the yarn you use, you can wear them all year round, inside and out.
Knitted scarf patterns are ideal for all types of knitters, ranging from beginners to the most advanced. In fact, my very first knitting project was a super skinny, extra long scarf that wrapped around my neck about a dozen times.
Handmade scarves make for a really great and thoughtful gift giving idea. Many of the scarf knit patterns are very quick to knit and will only cost you the price of the yarn.
With so many knitting patterns available for purchase with instant downloads or available for free, it can be overwhelming and even time consuming to find just what you're looking for.
Here is where I come in: I've searched high and low looking for a variety of scarf knitting patterns. Take a look through these scarf knitting patterns, I'm sure you'll find one that meets your creative knitting needs.
21 of the Best Scarf Knitting Patterns
Disclosure: This post contains affiliate links for your shopping convenience. You can find our full disclosure here.
1. Dash of Brioche with it's texture and wide width, make it a simply elegant scarf with classic beauty. Perfect for both women AND men!

2. This infinity scarf knitting pattern will leave you feeling all wrapped up in a warm cocoon.
3. Get me some tassels! This versatile triangle tassel scarf can be worn as a scarf or as a shawl wrapped over your shoulders. This easy scarf knits up quickly in a super bulky yarn and the tassel tutorial is even included in the pattern.

4. This Helene triangular scarf is too beautiful to pass up! The pattern is knitted in 3 parts giving you a gorgeous combination of colors, textures and style in one go-to accessory.
5. This chunky knitted cowl neck warmer is so cozy and stylish. It's a surprisingly super easy knitting project, making it perfect for beginners. The buttons really make a nice touch, don't they?

6. The pom-poms are just the right touch to this chunky knit scarf.
7. Cable knit stitching? Yes please! This chunky braided cable scarf is simply dreamy.

8. Make your own quick and easy knitted infinity scarf with this free pattern. The simple alternating garter stitch creates a really pretty striping detail throughout.
9. A classic scarf design elevated with it's use of contrasting colors. It's perfectly suited for both women and men. And did I mention it's free? I'd call that a win all around.
We are at the half way point! Get ready for some more gorgeous scarf knitting patterns…
10. I'll definitely be adding this free lace scarf pattern to my "to-knit" list. It's full of dropped stitches and yarn over stripes creating a beautiful textured design.
11. Our very own multi-wear neckwarmer is available for purchase on our Etsy shop. Looks fabulous worn around the neck or as a trendy headband. And yes, that's me attempting to model!

12. How cool is this? You can make your own infinity scarf with loom knitting following this free tutorial.
13. You can't get much sweeter than this free buttoned up cowl pattern! And that marbled color yarn is just heavenly.

14. I love the look of the stitching in this free infinity scarf pattern. It's so chunky and textured that it almost resembles crochet. Wouldn't this stitch pattern also look great as a throw blanket as well?
15. We can't forget the kiddies! They need scarves too and this kid's striped scarf in a simple garter stitch is the perfect addition to your kid's wardrobe.

16. Knit-on-the-go with this finger knitted ruffled scarf pattern. I love the idea of not fussing with needles, which I always seem to misplace!
17. Who needs knitting needles anyway? Check out this free single wrap arm knit infinity scarf pattern that can be completed in just 20 minutes! I'd say that's a perfect handmade gift giving idea, wouldn't you?
18. Only a knitter could appreciate the detail in every stitch type used in this delicate scarf pattern.
19. Although this is technically a shawl pattern, I couldn't help but include it in the round up. It can be worn in so many different ways and the delicate mix of stitches make this a truly elegant, yet rustic scarf option.
20. They may refer to a seed stitch as simple but the overall textured effect is really something else. If you have yet to knit a seed stitched infinity scarf, then I would recommend this is the great place to start!
And last but not least…
21. This strikingly beautiful fisherman's rib scarf with classic fringe. It'll leave you feeling cozy and fabulous on a cold Winter's day.
Helpful Resources for all types of knitters (and crocheters):
We hope you enjoyed this collection of paid and free scarf knitting patterns.
Whether you're an experienced knitter or only a beginner, we all need help from time to time. If you get stuck with a stitch, you can easily search for helpful tutorials or videos on YouTube or on knittinghelp.com. Additionally, there are amazing online communities for people who love to knit and crochet, such as Ravelry or Craftsy.
Some of these require signing up for an account but depending on your specific needs, they have a lot of valuable information and it's great finding a group of like-minded makers.
Finally, if you're interested in some non-scarf knitting patterns, check out our free simple sunrise shrug pattern and our free kid's knitted headband pattern or the Balos beach cover up.
Kid's Easy Headband

Simple Knitted Shrug
OK, so which of these gorgeous scarf knitting patterns will you start with?
Like it? Pin it for later!