Are you looking for something to keep your little munchkin's ears warm, yet she's not ready for the full winter hat? Well, we've got the solution: a super quick and easy knit headband pattern! It takes less than one hour to knit…that's it! In fact, I actually made it while sitting in the passenger seat during a mini road trip…I love multi-tasking!
Free Knit Headband Pattern
Aside from it being quick and easy to knit, another reason I love this pattern is that our very own small driftwood buttons are the perfect size and shape for this headband. You can check out our Etsy shop for more info on these handmade buttons.  And lastly but most importantly, the headband is absolutely adorable on our little Top Model!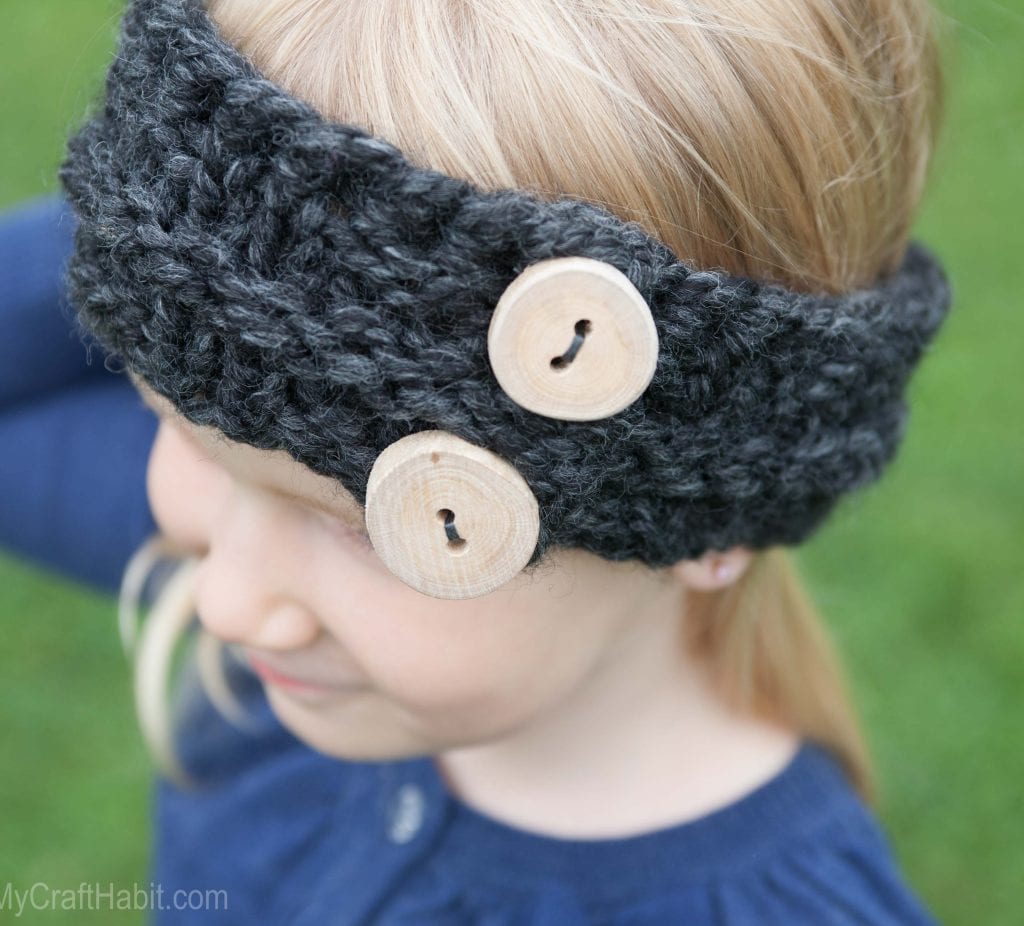 And if you are looking for more knitting inspiration, we have a collection of the best scarf knitting patterns around, a knitted neck warmer pattern and additional knitting and crochet patterns.
Materials Needed for this Knit Headband Pattern:
Disclosure: Some of the links in this post are advertisements and will be (indicated with *) for your shopping convenience. You can find our full disclosure here.
Straight Needles, US 13 (9mm) – Love this bamboo knitting needle set*!
Wool-Ease Thick and Quick Lion Brand Yarn, Super Bulky, 170g, Granite
Darning needle for finishing purposes
x2, 1″ diameter decorative buttons; sewing thread and needle
The Pattern: 
Sizes: XS-4 (S-5/6, M-7/8, L-10/12)
Worked back and forth on needle and sewn together at ends when finished.
Long Tail CO 36 (38, 40, 42) Sts loosely.
K2, P2, repeat 2×2 ribbing to end of row.
P2, K2, repeat 2×2 ribbing to end of row.
K row (RS).
P row (WS).
P row (RS).
K row (WS).
K row (RS).
P row (WS).
K2, P2 repeat 2×2 ribbing to end  of row.
P2, K2, repeat 2×2 ribbing to end of row.
BO loosely.
Weave in yarn ends.
Assembly:
Overlap the ends by approx. 1" and fasten buttons through both layers using needle and thread to secure headband in place.
This pattern is ideal for the beginner and great for more advanced knitters too!
Now you're ready to keep those little ears warm!
Like it? Pin if for later!