A knitted neck warmer and headband in one? Yup! This cowl knitting pattern is a perfect, lightweight fashion accessory to keep your ears and neck warm as the days get colder. They'd make lovely Christmas gifts as well!
Multi-Wear Cowl Knitting Pattern
It's that time of year again when those beloved knitting needles get pulled out of storage. Even though my intention was to start knitting earlier in the year, it NEVER happens! So much for all those knitted gifts I planned to make for friends and family after last year's Christmas [Jane's inserted this big frownie 🙁 ].
I started this making this cowl knitting pattern a few weeks ago using a ball of cotton yarn I had from a leftover project. I've always loved the texture and fullness of the fisherman's rib stitch. It's really one of my favourite types of knits. And I love how this neck warmer turned out!
Once my knitted cowl was finished, I realized that it could also be worn as a trendy knit headband. It gives off a glamorous twenties vibe, no? I was so excited to discover I had unintentionally made something that could be worn two ways!
You can find this pattern in our Ravelry store or Etsy shop .
---
For more knitting inspiration, we have a collection of the best scarf knitting patterns we could find on the internet, a child's knit headband pattern and other knitting and crochet projects here.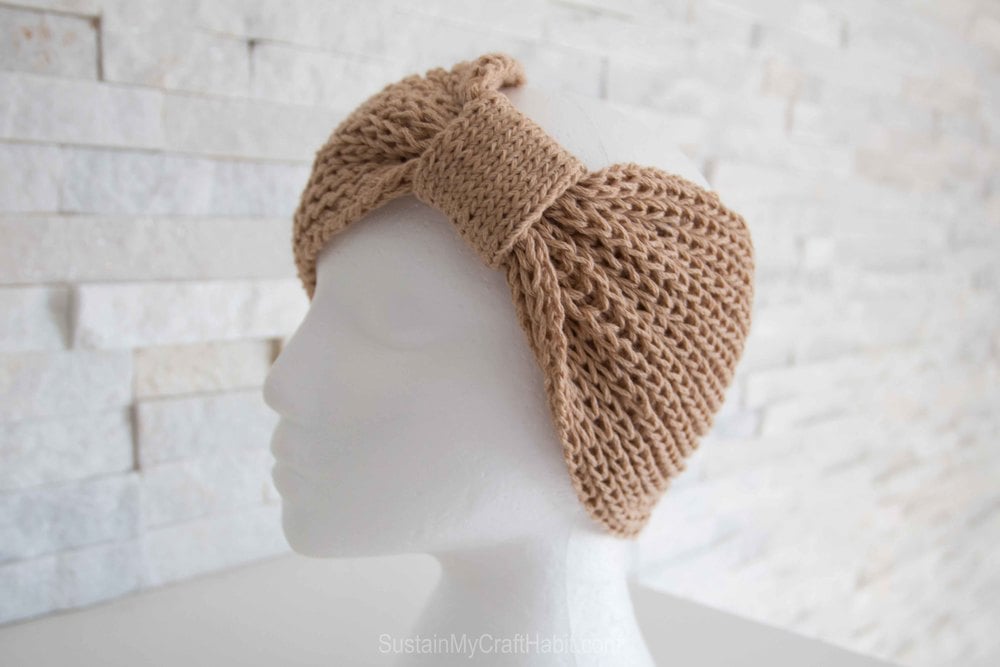 For those who may not be familiar with the Fisherman's Rib knit, we've created a little video tutorial on our YouTube channel.
Hmmm, thinking about it now, I wonder, how many of these neck warmers/headbands can I still finish in time for gift giving [Jane's inserted this hopeful happy face :D]??
Oh, and that white mannequin head? Jane went into Value Village a few weeks ago and found row upon row of these heads staring at her and just couldn't leave without buying one. It's been a challenge to keep the 3-year old from painting the face with makeup. We think she looks quite stylish with her new head band.
I'm foreseeing more fisherman's rib patterns to come for sure! What is your favourite type of knit?
Like it? Pin it for later!