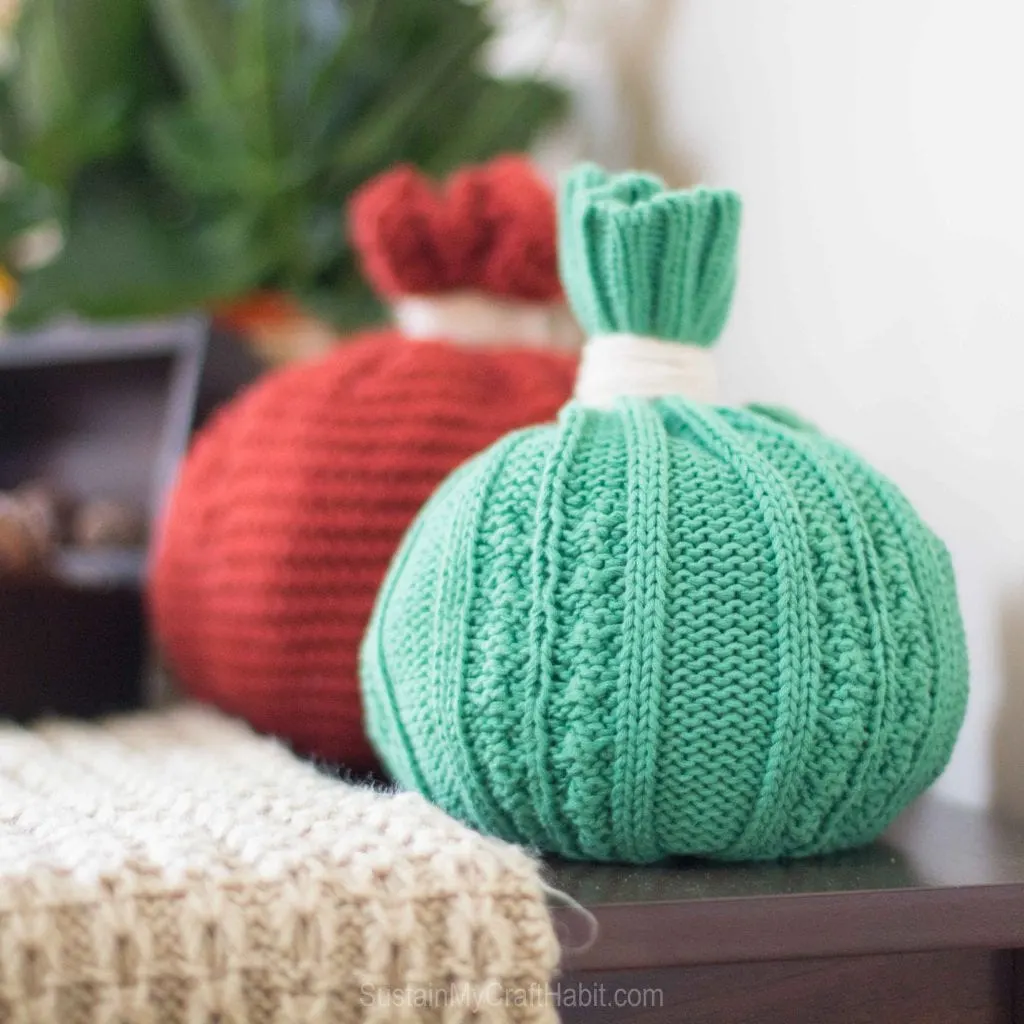 Last weekend I finally caved and pulled out the totes with all of our winter mittens, hats and scarves (no, it had nothing to do with the note from the school that parents should be dressing their kids in warmer clothing 😛 ). Over the years we've accumulated A LOT of these winter accessories and over time they tend to find their way all over the house. Some items the kids have grown out of, others they just won't wear. In any case I was determined to just take out a few of each per child and put the rest back away.

But there were a lot of beautiful leftover items. At the same time I've been enjoying all the eye-candy autumn-inspired vignettes and tablescapes over the past weeks on Instagram. Although I would just love to deck out our home to look like the amazing ones of Dandelion Patina or Craftberry Bush (you have to see her driftwood deer head!), 1) I don't really have the extra funds to spend, and 2) I don't have the space to store it all once the season's over.
So, just as I was about to put away a beautiful deep orange hat and scarf an image of a pumpkin flashed through my mind. I also had Sonja's words in my head from the previous weekend that we "have to use that acorn squash in a photo!". So off I went to pull some items together to create this colourful and rustic-ish vignette for our front hallway. The best part is that once the season is done the winter accessories can go back to keep our noggins and hands warm.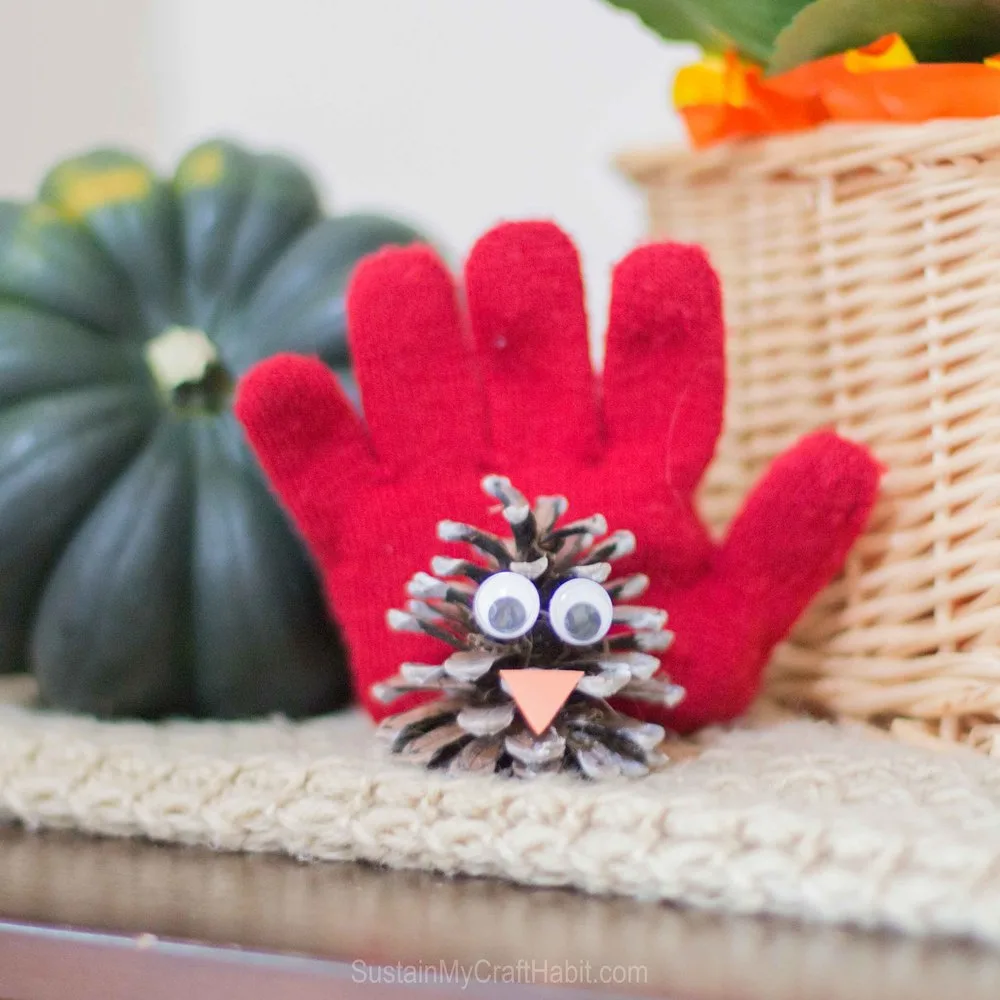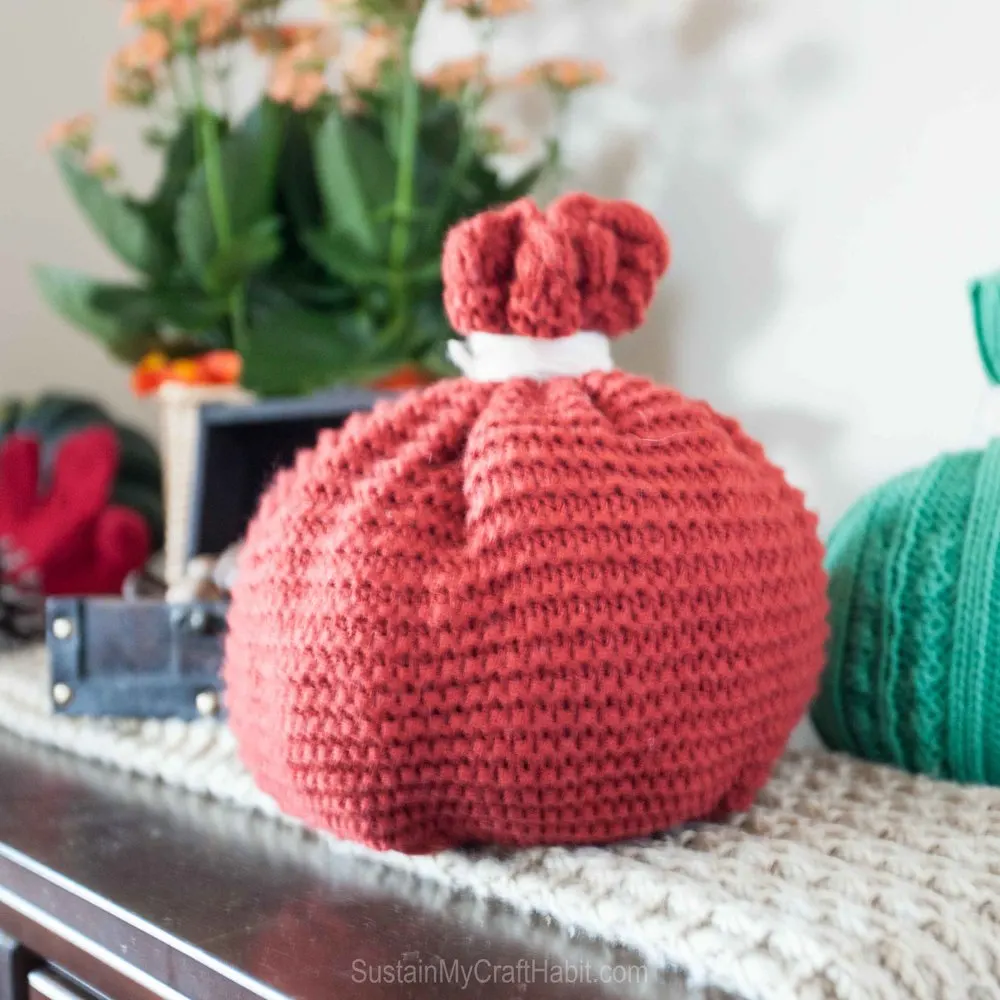 To make the toque pumpkin you'll need:
knitted toque in fall-like colours
a large sweater or tshirt to fill the toque with
elastic band
brown or tan yarn for the stem
You can see how to make it in this (sped-up) video.
To make the glove turkey you'll need:
a pair of orange or red gloves
pinecone
googley eyes
small piece of orange paper cut into a triangle for the beak
Glue the googley eyes and orange beak onto the pinecone with a glue gun. Although it's pretty straighforward, here's another little video of the making of the turkey.

To finish off the vignette, use whatever fall-like decor you have on hand. I used one long scarf as a table-runner and wrapped the second one around a plain pinecone wreath we made last year. I filled a miniature treasure box (a favour from a wedding I attended a few years ago) with some acorns from outside (make sure to bake them at 200F for at least one hour to kill any bugs). I placed an inexpensive plant into a small wicker basket. And I couldn't forget that acorn squash!

We hope you have a wonderful Thanksgiving weekend with family and friends!
Do you decorate your home for the fall and/or Thanksgiving?