Alright, so it might be true that we may have a slight obsession with rocks. This thought came to mind as I was rummaging through my stash of rocks looking for the perfect shape and size to use for making these picture magnets from some easy painted rocks.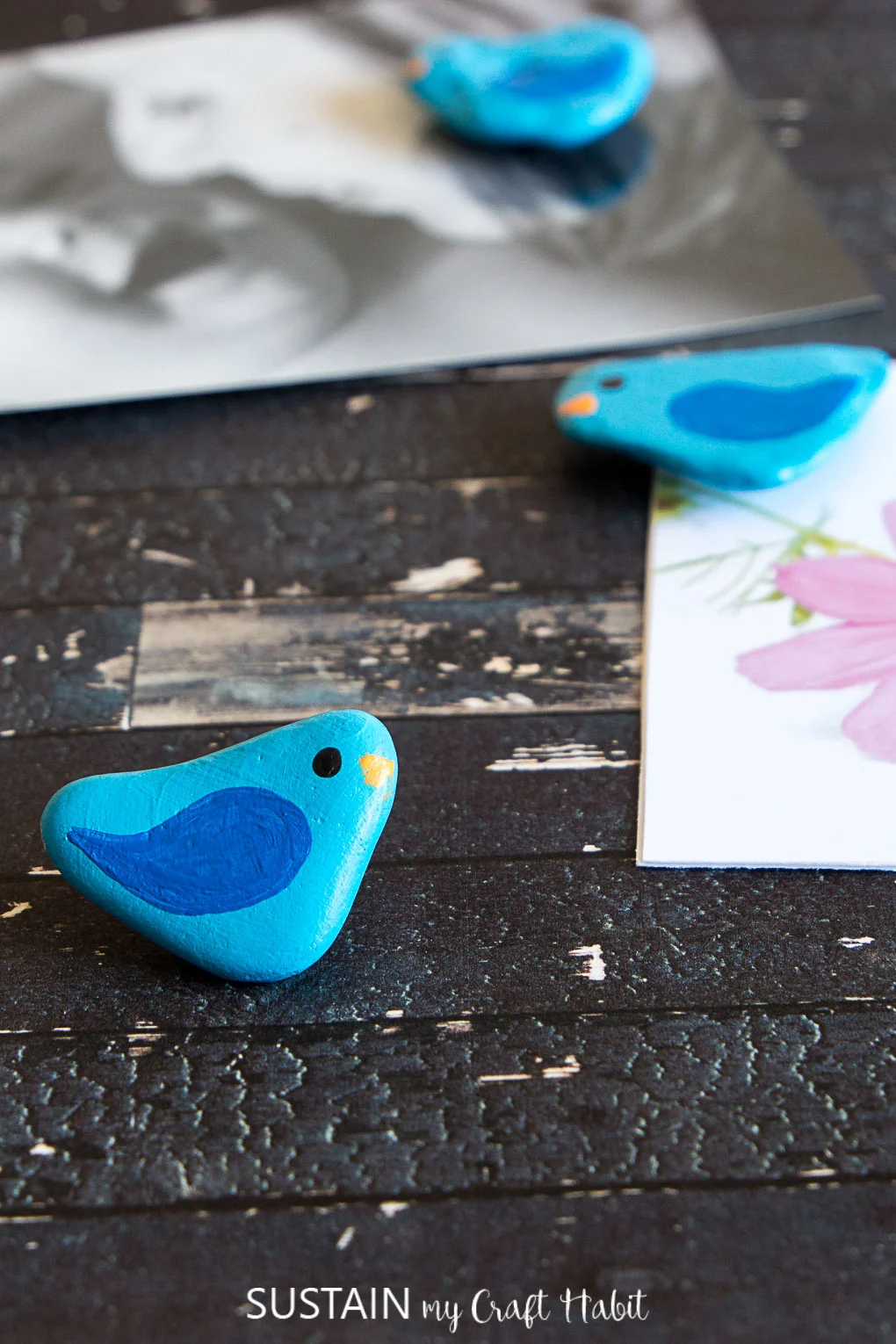 I was inspired by the shape of these, which loosely resemble a bird (in my opinion, that is). They are small, lightweight, smooth surfaced and flat on both sides making them the perfect option to turn into magnets. They have a small curve at the top so they kind of also resemble a heart shape.
These painted rock magnets would look adorable on the fridge or on a DIY magnetic board like we've done here. For the full how-to instructions for upcycling an old cookie sheet into a magnetic board, check out the post here.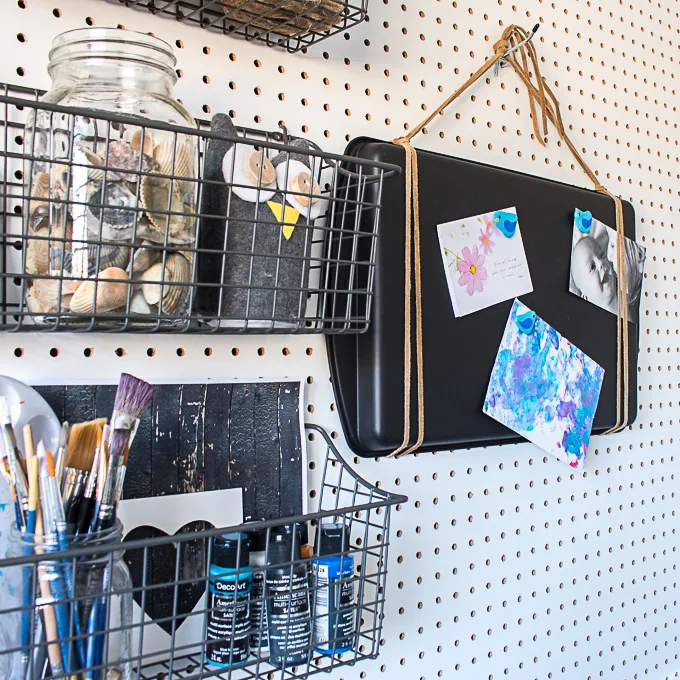 Materials needed for making painted rock magnets:
Disclosures: We have not received any compensation for this post. However, we have (and continue to) receive products from DecoArt. Also, this post continues affiliate links for your shopping convenience. You can find our full disclosure policy here.

Instructions for making these easy painted rocks:
Dip your paint brush in Blue Lagoon color and paint the rocks so they are fully covered on all sides. Apply as many coats as necessary to achieve desired coverage. Leave paint to dry fully between each coat.

Using a fine tip paint brush, paint a wing shape onto the rocks in True Blue as shown.

Using a fine top paint brush, paint the small triangular shaped beak in Orange Sherbet as shown.

To paint the bird eye, dip the end of the paintbrush in black tie and lightly press the end onto the rock.
Leave the paint to dry fully before moving on to the next step.
Instructions for turning painted rocks into picture magnets:
Once the painted bird rocks are fully dry, you can attach them to the magnets.

Using gloves to protect your hands, carefully apply a generous amount of Krazy Glue to one side of the magnet.

Press the back side of the painted rock on to the magnet. Hold for 10-20 seconds before releasing your finger.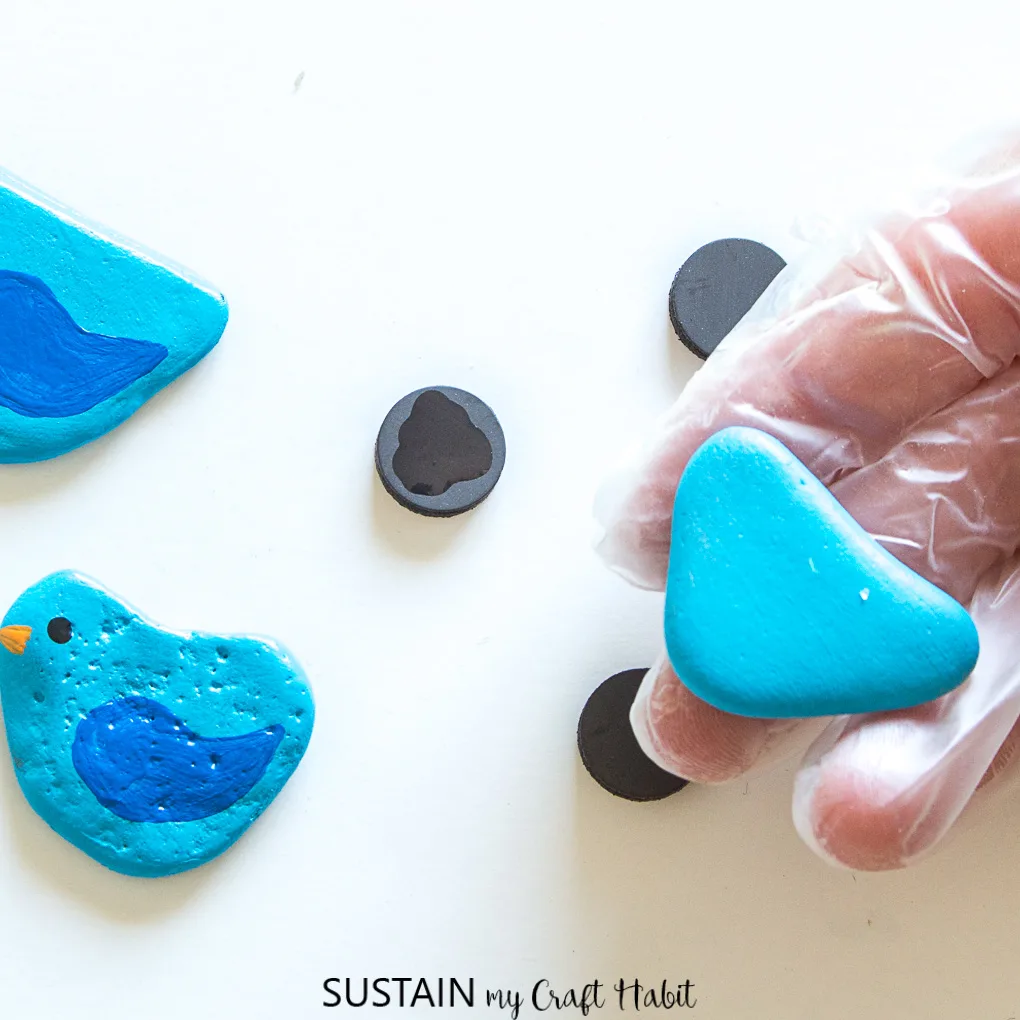 Put aside to adhere fully for about an hour before using.
You can turn any small, flat painted rock into a picture magnet. We have over a dozen more rock painting ideas to try!
And rocks don't always have to painted, in fact, they also look beautiful just as they are, like these earthy rock and fossil fridge magnets or even simply displayed as a rock'n wall art.
Enjoy your newly painted nature-made rock magnets! What is your crafting obsession?
Like it? Pin it for later!