It's been a week of musical beds in my home. With three of the four kids sick, I've spent a significant amount of time in each bed but my own.
But honestly, my cozy bed is one of my favourite spots in the house.
Disclosure: This post was sponsored by Sleep Country Canada. All opinions expressed are our own.
Our queen sized-mattress from Sleep Country Canada was the first large item my husband and I purchased together after getting married. Now, almost 15 years later it's still the best mattress I've ever slept on.
However, with four kids (each of whom love to crawl in beside us at night) we've had our sights on a King-sized bed. We tested a few at Sleep Country Canada a couple of years ago when we bought our youngest her big-girl bed. Our budget didn't allow it at the time, but now that I'm back at work we're planning to revamp our bedroom in the coming months. Actually, many of the linens are those from our wedding registry and are starting to look worn (new rag rug, here we come)!
As we refresh our bedroom furnishings, I'll be looking to invest in more natural fabrics and materials. I'm slowly trying to reduce the amount of plastics and toxins in our home and transition us to more natural and biodegradable alternatives. I've got a long way to go, but here are some of the things I'm looking for as I shop now:
Natural Bedding Shopping Tips:
Search out items made from natural fibers such as organic cotton, silk, bamboo, linen and wool. Although each material possesses its own manufacturing challenges with environmental impacts due to water waste, treatments and chemical processes, they are a good starting point for sustainability.
If you have specific needs (e.g. allergies, temperature regulation) look for natural features of these fibers (e.g. hypo-allergenic, breathable) to help you narrow down your search. You can explore this post of ours on the natural benefits of wool, or this one about linen to begin with.
As described in this helpful article on buying an eco-friendly mattress, ignore words like eco- and natural when shopping. Instead, seek out companies that explain ingredients clearly and can point to where materials are sourced. Even better, look for third-party certification such as Oeko-Tex Standard 100 (certification for textiles free of harmful substances), and Global Organic Textile Standard (certification for organic and sustainably processed natural fibers).
We've always appreciated Sleep Country Canada's commitment to the environment through initiatives such as the Bed Donation and Mattress Recycling programs. And it's great to see that they have a good selection of natural bedding options.
From mattress pads, sheet sets, pillows and more, here are some of the most eco-friendly items we found. If you're also looking to revamp your bedroom, or to fill your wedding registry with natural bedding options, download our handy Natural Bedroom printable checklist. And be sure to grab our "Dream a little dream of me…" art printable at the end of the post.
PILLOWS:
Sunset Sleep Products™ Wool Pillow
Made with an outer shell of 100% pure Australian wool and micro-gel filled core. They are durable and possess excellent moisture management properties for a comfortable sleep. They are naturally hypoallergenic and dust mite resistant
LuxeSilk Pillow
Exclusive to Sleep Country, these pillows are made from silk, making them naturally breathable and soft.
White Down Pillow
These pillows, exclusive to Sleep Country, are made from cotton and blended with hypoallergenic down. The natural fibers make them breathable and comfortable for sleeping. Oeko-Tex Standard 100 certified.
PILLOW and MATTRESS PROTECTORS:
I never truly appreciated the value of mattress and pillow protectors until my kids came along! These affordably priced Classic Cotton Mattress and Pillow Protectors are made from natural cotton fibers. Better yet, they're designed to extend the life of your pillows and mattress meaning you have a longer time until you'll need to dispose of them.
SHEET SETS:
Although the Egyptian Cotton Sheet Set sounds quite luxurious I'm looking forward to trying a bamboo-based sheet set next. The Egyptian Cotton sheets are made from 100% cotton fiber in a soft sateen weave which is durable and naturally breathable. The Bamboo Nights Sheet Sets are made from rayon that is derived from naturally sustainable bamboo. They feature anti-bacterial and hypoallergenic properties.
DUVETS:
My down duvet is seriously the.best.thing.ever. I use it year-round! It's a big part of why my kids love sleeping in my bed too. I'm thinking it's time to get each of them their own.
This duvet is made from a combination of all-natural wool and down materials. Wool is an anti-allergen and naturally manages moisture making it perfect for all seasons. It's machine washable and dryable and surprisingly affordable.
The LuxeSilk Duvet is a combination of pure soft silk and polyester, and features hypoallergenic and antimicrobial properties. It's environmentally friendly, made from eucalyptus trees grown without pesticides. It's also machine washable and dryable.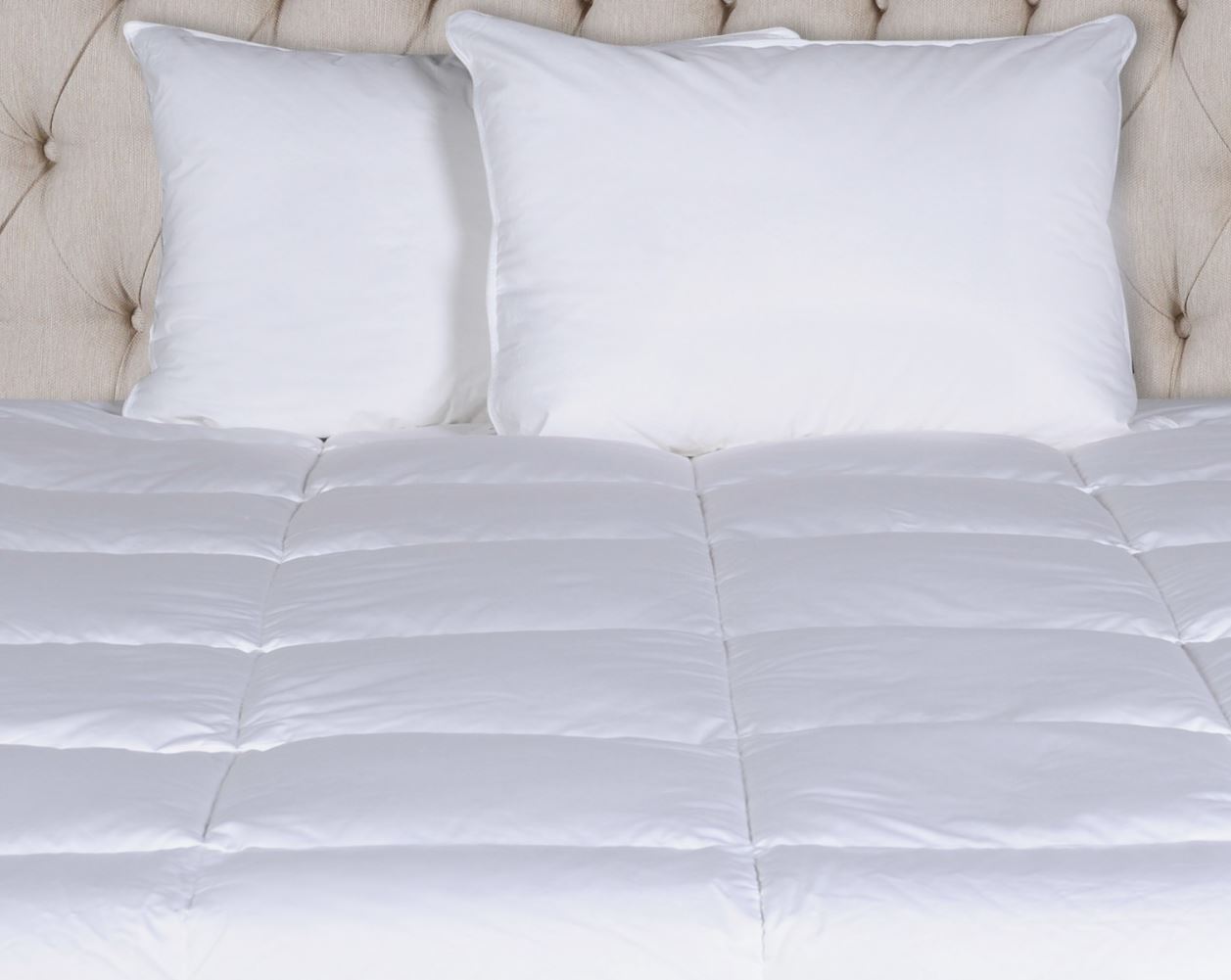 Made from 100% pure premium hypoallergenic white duck down fill. It's a natural insulator keeping the cold air out and warm air in. It comes with a durable cotton shell cover with silk piped edges, making it a worthwhile investment. It's also machine washable and dryable.
DUVET COVERS:
Last but not least, a duvet cover helps to keep your duvet cleaner for longer. The Sateen Cotton Duvet Cover is made from durable and breathable cotton fibers in a soft sateen fabric. Conversely, the Bamboo Nights Duvet Cover also super soft and luxurious are made from rayon derived from bamboo. They're antibacterial and hypoallergenic.
We hope you enjoyed this run down of some natural bedding options from Sleep Country Canada. As promised, be sure to grab our dreamy free art printable for your cozy and calming bedroom.
And if you are interested in more natural items to stay warm this winter, check out this post on 40 of our favourite cozy finds on Etsy.
Sweet, natural dreams friends!