We are so happy to be working with Topsy Farms in Ontario, a producer of naturally-raised and chemical-free wool products. Although we haven't received any monetary compensation from Topsy Farms for this post, we have received free product from them. All opinions are our own: we wouldn't be collaborating with this company if we didn't feel so strongly about the value they potentially provide to our readers.
Returning home from work at the end of a long day, I walk through the front door and am greeted by a large box. I'm suddenly very excited! I know that inside that box is the 100% pure wool yarn Jane and I ordered from Topsy Farms. It was a similar feeling, I'm sure, of what kids feel on Christmas morning, but better, I think. I already have a sense of appreciation knowing that inside the box is yarn from an environmentally conscious local Ontario family farm. I get that same surge of energy that all us crafty people feel when you're inspired to create something new.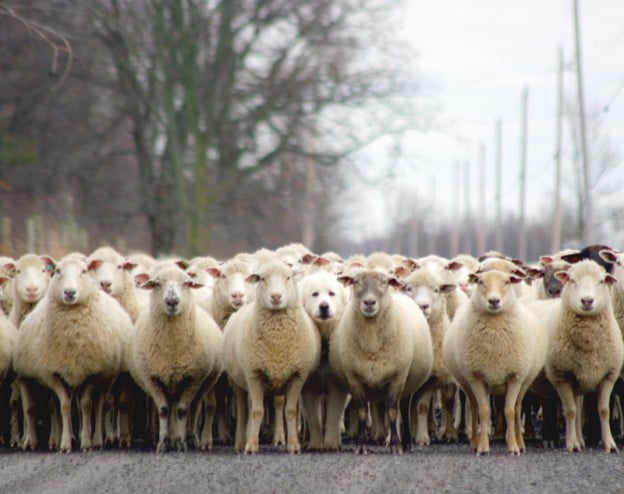 "Rosie Peaking Out". Happy, naturally-raised sheep. Photo credit: Don Tubb and Topsy Farms, Ontario.
Several weeks ago we decided to focus the yarn-arts category of our blog and projects to work more with sustainable and natural fibers such as wool. In researching Canadian sheep farms we quickly found Topsy Farms in Ontario. What particularly stood out was their focus on sustainability and ethical standards in wool production. Their sheep are raised as naturally as possible, without growth hormones and on pesticide-free lands. You can learn more about their environmentally friendly farming practices on their website. Moreover, their wool yarn is chemical-free and washable.
For creative ways to use all that wonderful wool yarn, check out these assorted knitting, crochet and yarn arts DIY projects:
8 Wonderful Benefits of Wool:
Now, for those of you who are not as familiar with wool, you may wonder what's the big deal. Well, as compared to synthetic yarns which are typically produced from petroleum-based products, natural fibers such as wool, cotton and silk may have additional ecological and health benefits. When farmed in an ethical and natural manner there are many benefits of wool: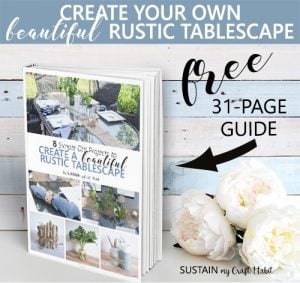 Wool is naturally sustainable (renewed supply each year);
Wool products are durable and long-lasting due to the strength of the wool fibers;
Wool has excellent body temperature regulation properties, keeping heat in or out as necessary;
Wool absorbs 1/3 of its weight in moisture which helps to keep the body dry;
Wool is fire retardant: ignites at a higher temperature than cotton and some synthetic fibers, and doesn't melt or drip so is often used in garments and furnishings in settings with high likelihood of fires;
Wool is resistant to mold and mildew and possesses antibacterial properties;
Wool repels dust mites which find the coarser fibers inhospitable;
Wool is thought to be hypo-allergenic (e.g. less likely to elicit an allergenic response) when the wool is not processed or treated with harsh chemicals.
While there are so many benefits to using wool we were worried about the extra cost of doing so. However, at $7-$8 CAD for a 100g skein of yarn, the price point is comparable to what we would pay for a higher quality acrylic or wool blend yarn in a retail store. You can find 32 rich colours in the Topsy Farms online store.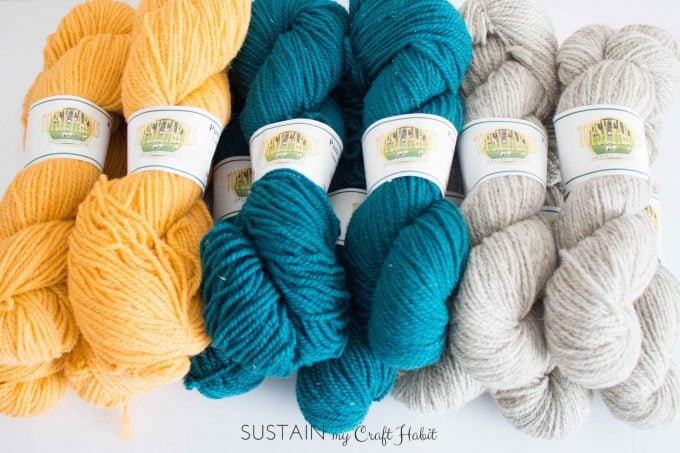 Our Thoughts about the 100% Wool Yarn
The Topsy Farms yarn we received does not disappoint. To be honest, we weren't sure what the yarn would be like. But inside the box was a combination of rich and vivid colours mixed with light and airy neutrals. With so many colour options available, it was hard to decide but we ended up choosing an assortment of light gray, teal and gold sunflower skeins.
Although not necessarily as soft as an acrylic might be, the texture is supple, natural and strong. You can feel the natural lanolin on the yarn which gives the hand a nice moisturized feeling when working with it (lanolin is commonly used in high-value cosmetics as a moisturizer). The yarn does have a natural sheepy smell that will likely diminish with washing and every now and then there are bits of grass/hay/vegetation in the yarn. From the weight and hand feel, I can already tell this yarn will be easy to work with and we look forward to sharing new patterns and projects using the yarn in the coming weeks!
A Little About Roving
Topsy Farms also included some raw and washed wool roving for us to experiment with since we had never tried before. The undyed roving is so soft and plush. It would be great for needle felting (Topsy Farms sells introductory needle felting kits) or to use instead of fibre-fill stuffing in toys for example. The kids really enjoyed feeling it and learning about where wool comes from! We can't wait to play and experiment with it.
Like it? Pin it for Later!
There is something so reassuring to know exactly where this yarn came from and what processes it did and did not go through before it came into our hands. Now onto the fun part…knitting, crocheting and creating!
Do you use wool for your yarn arts?
Sources:
http://topsyfarms.com/home/health-benefits-of-wool