Have you ever come across an old piece of furniture and saw the potential but just weren't totally convinced? Well, the truth is that even we had our doubts over how this refinished headboard would turn out. But thankfully, furniture paint has come a long way and we'll show you how to paint wood furniture the easiest possible way.
Beachy Painted Headboard
Painting wood furniture is not as labor intensive and time consuming as it once was. With many of the products currently available, you can paint wood furniture with little or no sanding or priming.
"Disclosure: We have not received any compensation for this post. However, we have (and continue to) receive products from DecoArt. This post also contains affiliate links (indicated with *) for your shopping convenience. You find our full disclosure here."
Over the last year we've had the opportunity to create and experiment with the DecoArt Americana Decor DIY line of products. Here are a few of the home decor and craft projects we've made using this versatile line of paints which include Chalky Finish, Satin Enamels, Metallics, Outdoor Living and more.
We have recently started a makeover of the second bedroom (the Lakeside Room) of our Graystone Beach cottage. You can find some of the before photos and our decorating ideas for the beach-themed bedroom here.
To give new life to an old and dated dark wood headboard in the room, we used DecoArt Americana Decor Satin Enamel paint as described below. If you are interested in learning about using a chalk-style paint, check out our tutorial on how to paint a dresser without sanding.
Supplies Needed for this Upcycled Headboard Project:
How to Paint Wood Furniture the Easy Way:
Read the instructions on the paint jar before starting. You can find additional directions and tips for using the Satin Enamels paint on the DecoArt website.
Wipe down all surfaces with a cloth and warm soapy water to remove any dirt and grime. Make sure the piece is completely dry before moving onto the next step.

Paint the surface with Satin Enamel. The shape and style of your headboard will determine which type of paintbrush to use. Our headboard was quite intricate with a lot of detail so we used both flat and angled brushes. Let the paint dry fully and then apply a second coat (if needed).

That's pretty much it! Although the paint dries within a few hours, it takes a few days to cure to a durable satin finish. Be careful not to scratch the paint until it's fully cured.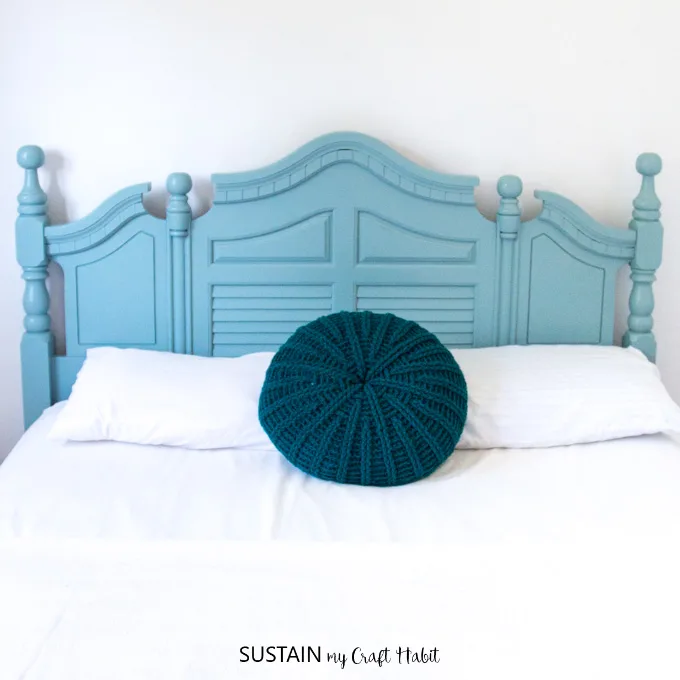 Isn't the Seaside Blue just a perfect color for our beach-themed bedroom? And if you're interested, we have the crochet pattern for the throw pillow as well.
The ease of use and durability of the Satin Enamels paint makes it great for high traffic areas like kitchens and bathrooms. We recently used this same paint to refinish our bathroom vanity in a gorgeous True Teal color.
We really couldn't be happier with how well this piece turned out. The headboard has been transformed from a dated 80s furniture piece to a fresh and modern beachy headboard…all on a budget.
Do you have any tips on how to paint wood furniture?
Like it? Pin it for later!