Have you ever wanted to try refinishing an old piece of wood furniture but were put off by the idea of stripping off the varnish and needing to sand down the entire piece? We were for the longest time until we figured out how to paint a dresser without sanding!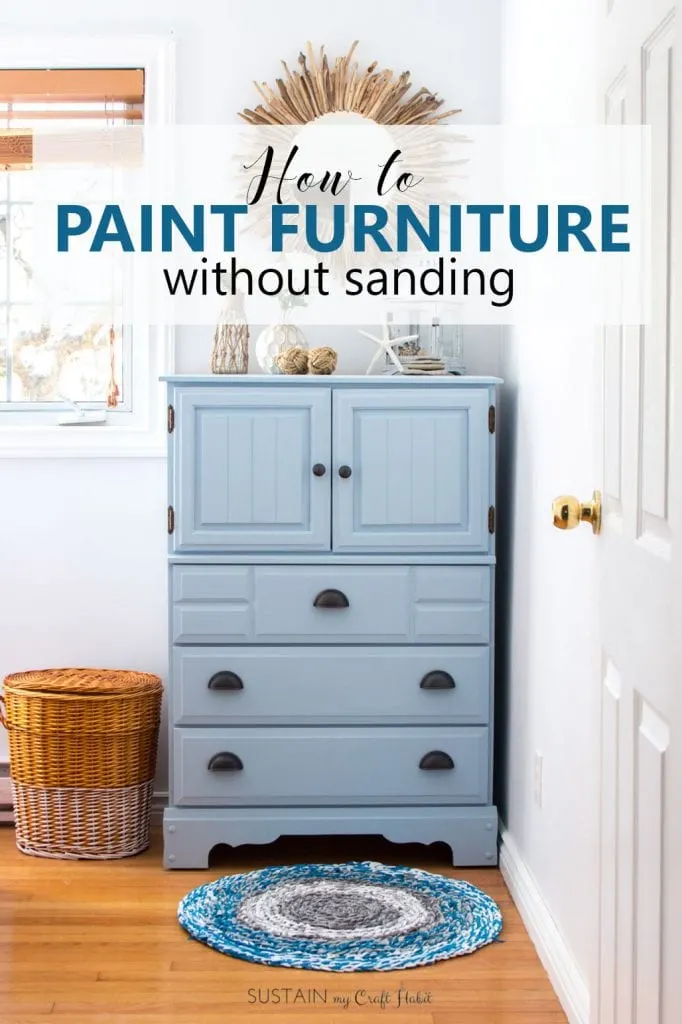 We've been fortunate to get to explore and create with the DecoArt Americana Decor DIY line of products.
Here are a few of the projects we've made using this versatile line of paints which includes Chalky Finish, Satin Enamels, Metallics, Outdoor Living and more:
When we first read that we could paint wood furniture without sanding or using stripping chemicals, we were a little skeptical. But we've had such great results that we're quite addicted now!
When sanding IS necessary: if the piece has a lot of large imperfections, such as deep scratches or uneven surfaces you may want to sand them down and/or fill the holes with a wood filler and then sand it prior to painting. Also, if there is preexisting paint that is peeling off, you'll want to scrape it down prior to painting it again.
So, here we go: four easy DIY steps to painting a tall wood dresser with chalk-style paint.
Note, although we've outlined below the general steps you can use for most wood furniture pieces, you can find the detailed step-by-step tutorial for our coastal dresser project over on the DecoArt blog.
How to Paint a Dresser Without Sanding
Step 1: Prepare the Surface
Wipe the dresser and drawers down thoroughly with warm, soapy water to remove the grime and oils. Make sure that the piece is completely dry before moving on to the next steps. Also, the temperature should ideally be between 10°C (50°F) and 30°C (86°F) or the paint may dry too quickly (if it's really hot) or too slowly (if it's cold).
Step 2: Apply a Stain Blocker
Although not always necessary, this step is important if you are going from a really dark colour of wood to a lighter color, a wood with lots of knots, or a piece that is stained.
The natural tannins in the wood will bleed through your piece over time and a good stain blocker will stop this chemical reaction. We used the Decoart Americana Decor Stain Blocker/Sealer* which dries clear, provides a durable finish and cleans up really easily.
Step 3: Paint
A chalk-based paint such as the Chalky Finish Paint* (we used Serene for our dresser) is great for most pieces. The thickness and self-leveling properties is great for cover small imperfections.
Apply a thick coat of paint with a really soft brush or roller to avoid streaking. Ensure that the first coat is completely dry before applying a second coat if needed. For a smoother second coat, dilute the paint with a bit of water.
Step 4: Seal and Protect
A highly recommended step is the application of a wax to seal and protect the painted dresser. We used the Clear Crème Wax* which is non-yellowing and provides a durable finish. You can buff this wax to a high-gloss sheen or leave it matte as we did.
That's it!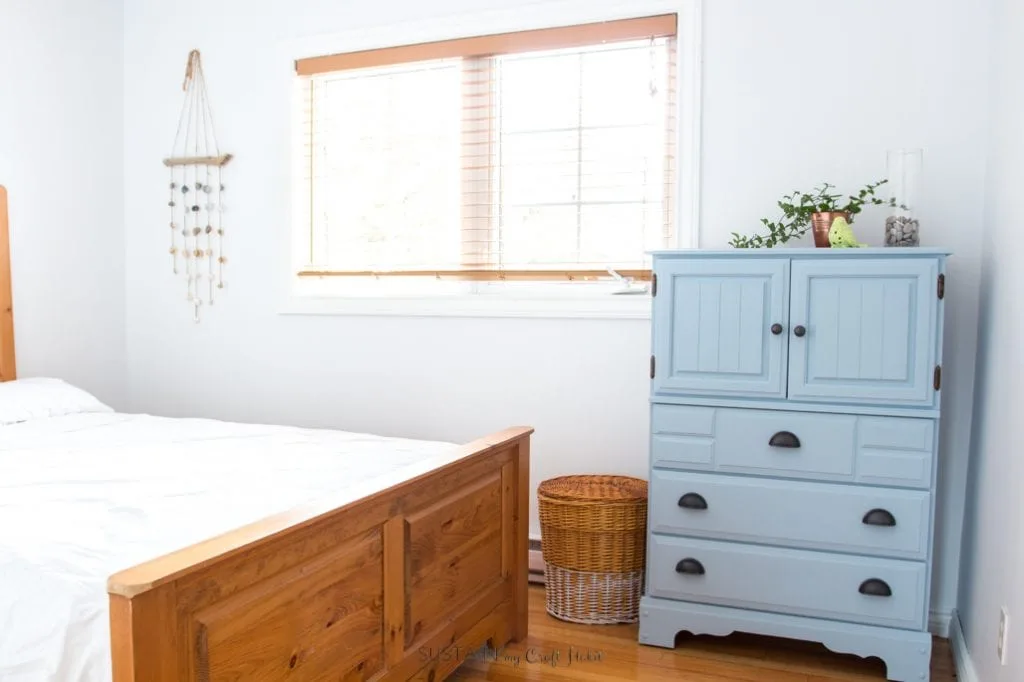 When we first started using the Americana Decor Chalky Finish products for our furniture makeovers we admittedly found it hard to believe that sanding wasn't required.
However, we've now refinished a number of pieces using the paint and they've turned out beautifully. Since the paints come in plastic jars with twist off lids, they're really convenient to use. And since they're water-based, cleaning up is really simple.
We hope you've found this tutorial on how to paint a dresser without sanding helpful. Don't hesitate to leave us any questions you have in the comments below.
Do you have any furniture in your home that you've thought about painting?