You'll never run out of Christmas pinecone wreath ideas if you stick around here!
Here at Sustain My Craft Habit, we are obsessed with upcycling, or repurposing items to turn them into something amazing! We do this with thrift store items as well as nature!
Pinecones are no different. It is great to make a beautiful wreath for your front door- or anywhere in your house!- to add a nice festive touch to the front of your house. Don't go out and buy a new wreath though when you can create a beautiful pine cone wreath!
Christmas Pine Cone Wreath Ideas
Making wreaths may be my favorite craft to make with pinecones. The first thing is, a beautiful DIY pinecone wreath can stand against extreme weather conditions. This is great especially for us in Canada, but great for anywhere in the world as well. Second, wreaths make excellent holiday decor. If you want festive decorations, using real pinecones is a perfect excuse to get out in nature and get crafty! Finally, almost all of these can be outdoor wreaths or indoor wreaths.
Join our crafting community to find more nature-inspired DIYs and upcycled craft ideas. It feels good to repurpose, upcycle and create with nature!
Where can I find the best pine cones?
While a great way to get your pine cones is by taking a wonderful walk, we understand that not everyone lives in an area where there are pine cones everywhere. Don't worry though, you can still have a DIY wreath! We sell pine cones in our Etsy shop as well, which would be perfect for any of these holiday wreaths below.
Find amazing pine cones from Canada here!
Great Christmas Pine Cone Wreath Ideas
We have created a list below of our favourite pine cone wreaths. The best part is that to make a winter wreath with any of the ideas below, you don't need too much more than pine cones and a hot glue gun! Most call for medium pinecones, so nothing extravagant is needed.
Pinecone Wreath (without wire or glue!)
Create a beautiful, natural pine cone wreath without the use of any glue or wire following this simple tutorial.
Check out this project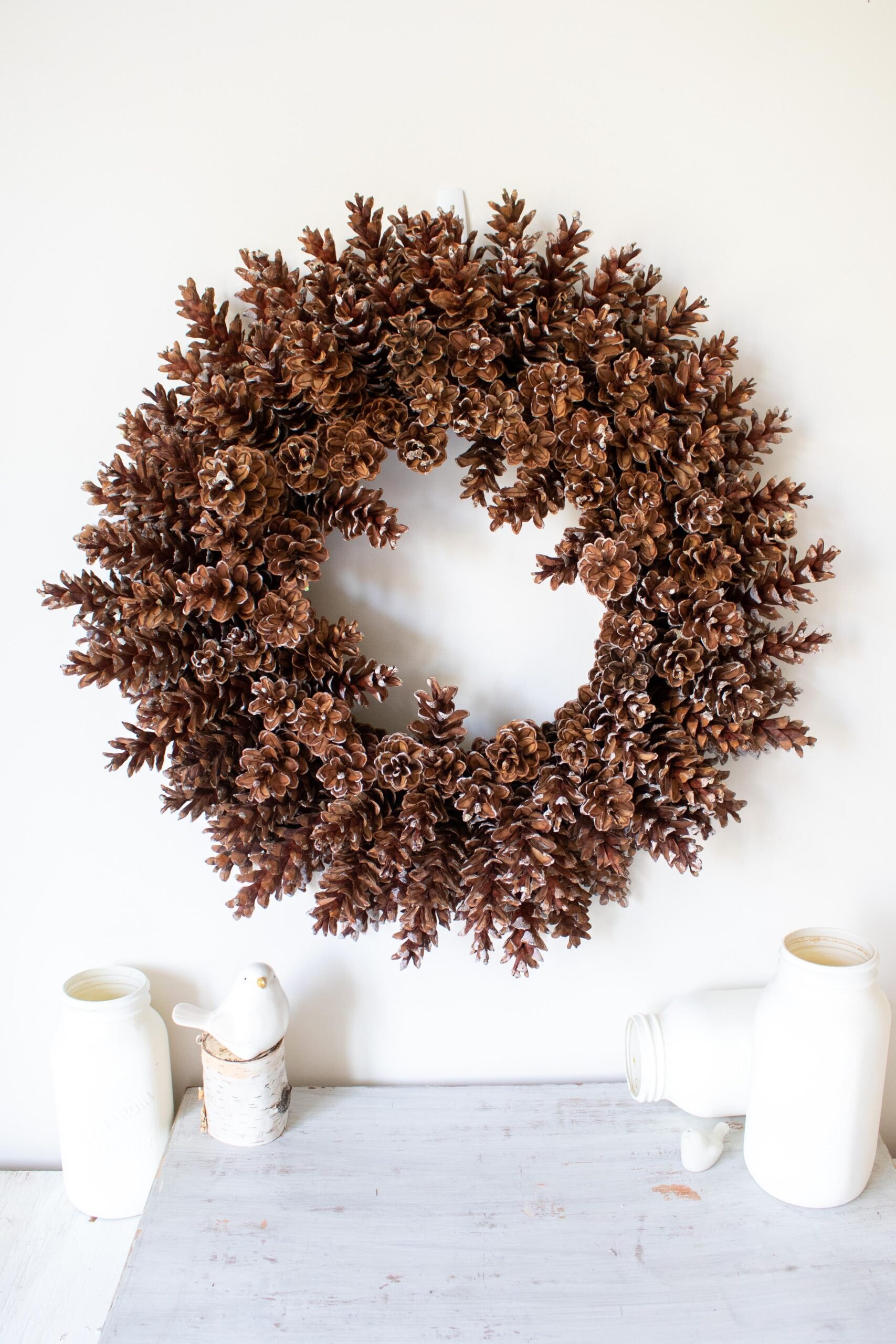 Rustic Christmas Wreath
This is one of the easiest rustic Christmas pine cone wreaths you can make, using dollar store materials.
Check out this project
Rustic Christmas Wreath
Loaded with natural and repurposed touches, this simple rustic pine cone Christmas wreath welcomes all our guests this holiday season.
Check out this project
Christmas Wreath with Pinecones and Metallic Accents
Accentuate natural pine cones with metallic accents such as ribbon, embellishments, and an angel.
Check out this project
When you decide which one to do, make sure to get creative! Do you want giant Christmas wreaths or smaller Christmas decorations? Do you want a classic wreath with natural elements or a grapevine wreath with pine cones and red berries here and there?
Glitter Pinecone and Acorn Wreath
This glitter pinecone and acorn wreath will add a sophisticated metallic touch to your Christmas or winter home decor.
Check out this project
Giant Pine Cone Christmas Wreath
Use pine cones of varying sizes to make this giant pine cone Christmas wreath.
Check out this project
Acorn And Pinecone Wreath
Make an easy acorn and pine cone wreath using a grapevine wreath base and items you can find on a nature walk.
Check out this project
Pottery Barn Knock Off Faux Antler Wreath
Make your own Pottery Barn inspired faux antler wreath using pine cones, moss and antlers.
Check out this project
It is a good thing to think ahead of what you are hoping for. That way, if you need to go to craft stores to stock up on more items such as evergreen cuttings, burlap ribbon, or even a piece of twine it will be there when you are ready.
Burlap and Pine Cone Wreath
Wrap painted pine cones and a burlap ribbon around a grapevine wreath to make a welcoming Christmas wreath.
Check out this project
Easy DIY Pine Cone Wreath
This easy pine cone Christmas wreath is customizable and with step by step instructions it makes the entire process simple.
Check out this project
Winter Pine Cone Wreath
This painted pine cone wreath with berries and glitter can be used from Christmas through winter.
Check out this project
Green Pine Cone Wreath
Make this easy green Christmas wreath with pine cones, cardboard and some ribbon!
Check out this project
Gorgeous Pinecone Wreath with Cardinals
This cardinal wreath is so beautiful, it is hard to imagine that not only is it DIY, but an easy-to-make DIY!
Check out this project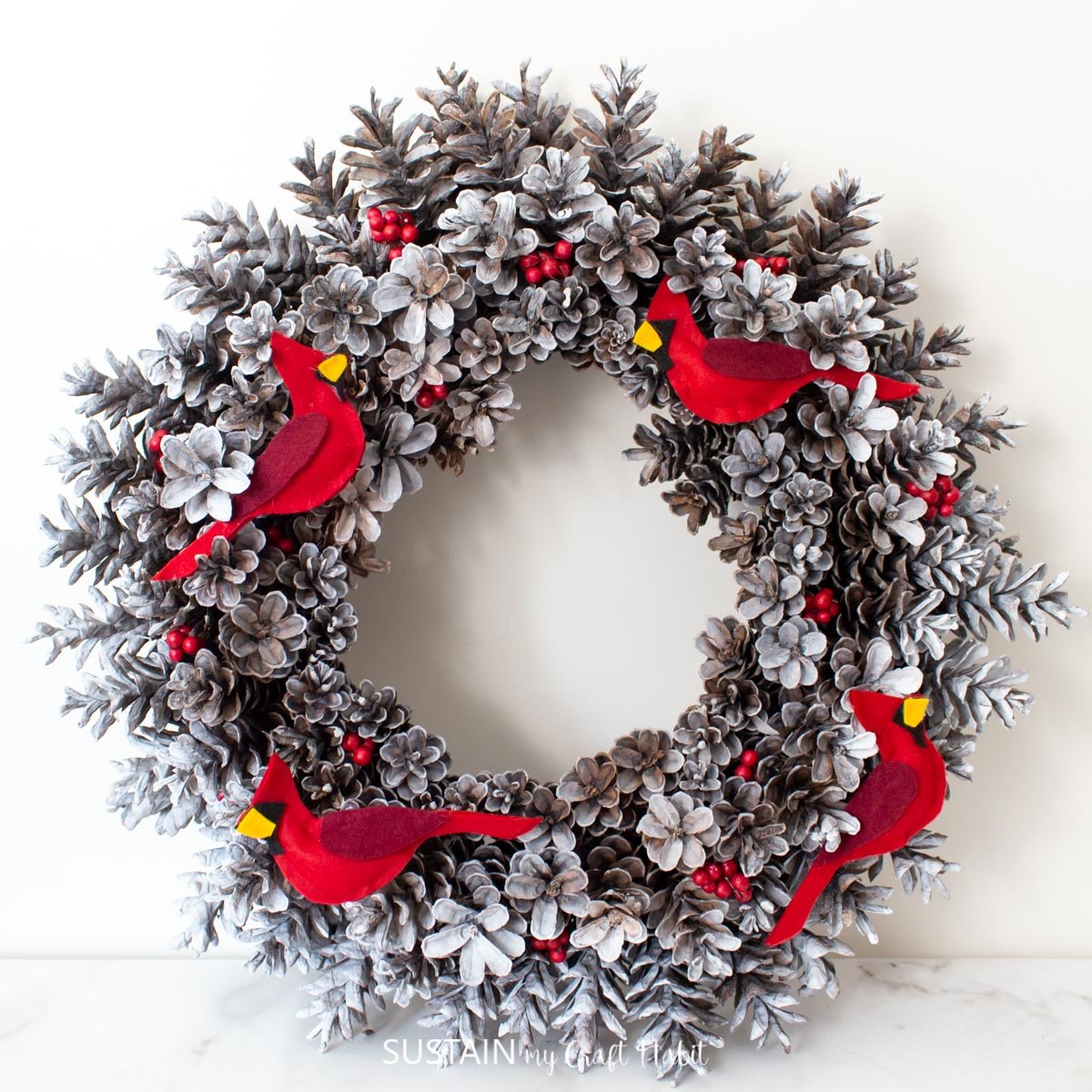 Non-Traditional Wreaths
Here are a few unexpected types of DIY wreaths to check if you're feeling extra creative.
Pinecone Snowflake Wreath
Learn to make an easy pine cone snowflake wreath, it's the perfect snowy season decoration.
Check out this project
Advent Wreath
Although this one is technically a craft, it uses lots of pine cones to make a beautiful advent wreath!
Check out this project
Which of these Christmas pine cone wreath ideas did you end up choosing? No matter what you chose, I'm sure you made a lovely wreath!
Whether you are hanging these outside on your front door or inside in your dining room- or maybe even as a table centerpiece!- these wreaths will not disappoint.
More Pine Cone Christmas Crafts
Why stop at wreaths when there are so many other things to make with pinecones!
Now, the next step is showing it off! Make sure to show it off to us! Tag us on Facebook or Instagram– we can't wait to see it! Happy creating!
Get updates on the latest posts and more from Sustain My Craft Habit straight to your inbox by joining our weekly newsletter. We promise to send you only the good stuff.
Like it? Pin it for later!