Soap making has been high on my crafts to-try list for ages. I was so happy to open up Simply Earth's September Recipe Box to find all the ingredients I needed to get started. Scroll down to order your own recipe box with a special bonus offer.
Disclosure: The post was sponsored by ETI and the Resin Crafts Blog. All opinions are our own. It also contains affiliate links. Should you choose to buy through these links we make a small commission at no cost to you. You can read our full disclosure here.
I still can't believe that I haven't tried making soap. I love seeing all those beautiful artisinal soaps, especially some of these on Etsy.
I guess I've felt pretty intimidated to try, assuming that you need a ton of supplies and time.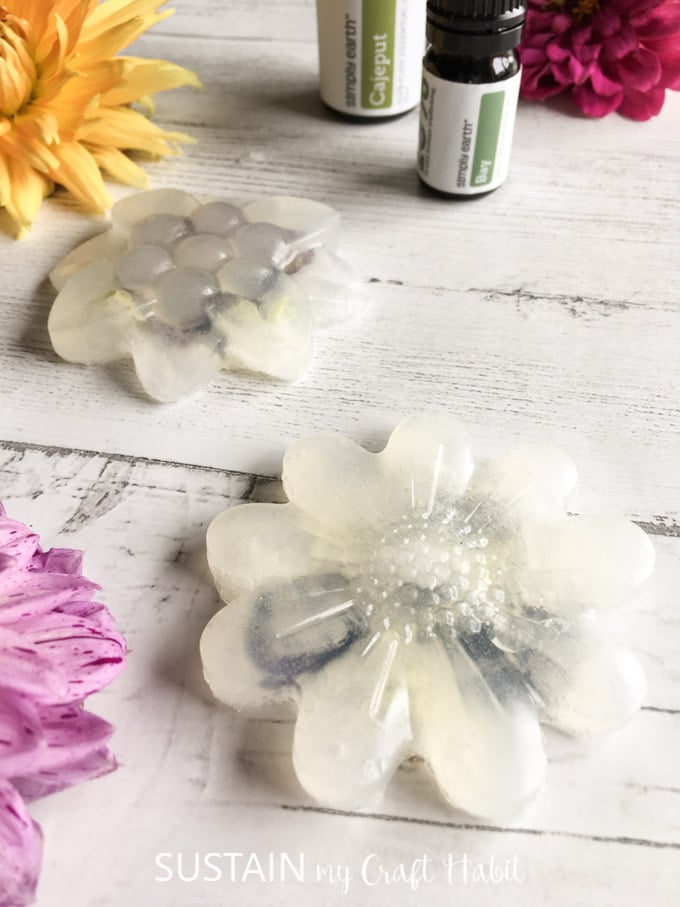 So you can imagine my excitement when I learned that this month's Simply Earth Recipe Box was about making soap!
And they made it so easy – all the items needed were included in the box along with an easy-to-follow recipe card. Fool proof!
So, I set out to make the Flowers, Spice and Something Nice soap. This soap features Cajeput and Bay Essential Oils alone with Simply Earth's Glycerine Soap Base.
These oils smell so nice – earthy and natural which is just what I love!
After watching the quick video they had online I went to it! Although in the end I'm so happy with how my little soaps turned out, I did make a few oopsies along the way:
I didn't appreciate how quickly the glycerin soap gels together. I worked a bit too slowly which and had a bit of difficulty getting my dried flowers into the soap. Next time I'm planning to work faster, pour a bit of soap, add the flowers and then cover with a bit more soap.
I didn't have all the materials I wanted on hand. I ended up changing my mind half way through about the soap mold I was going to use. By the time I came back from hunting it down, my soap had already hardened in the bowl so I had to melt it again. It was fine after all, but I would have preferred not to microwave it twice.
I was heavy-handed with the essential oils. I guess I was impatient and ended up dropping way too much essential oils in the soap base. To compensate, I had to double the amount of base I used, which just meant I ended up with even more lovely soap.
Even with a fool like me, the instructions really were foolproof and I was easily able to make two beautiful floral soaps.
Here are the instructions to make your own:
Ingredients Needed for the Flowers, Spice and Something Nice Soap
You'll find all of these ingredients in the September Recipe Box:
2 tbsp (1oz) Glycerin Soap Base
2 tsp Dried Flowers
2 drops Cajeput Essential Oil
2 drops Bay Essential Oil
Soap mold
Toothpick
Instructions
In a double boiler or microwave (use 10 sec intervals – it melts quickly!), melt the soap base.
2. Once melted, remove from heat and stir in essential oils. Drop them in slowly!!
3. Fill mold with soap base and add flowers. If flowers float to the surface, use a toothpick to push them back in.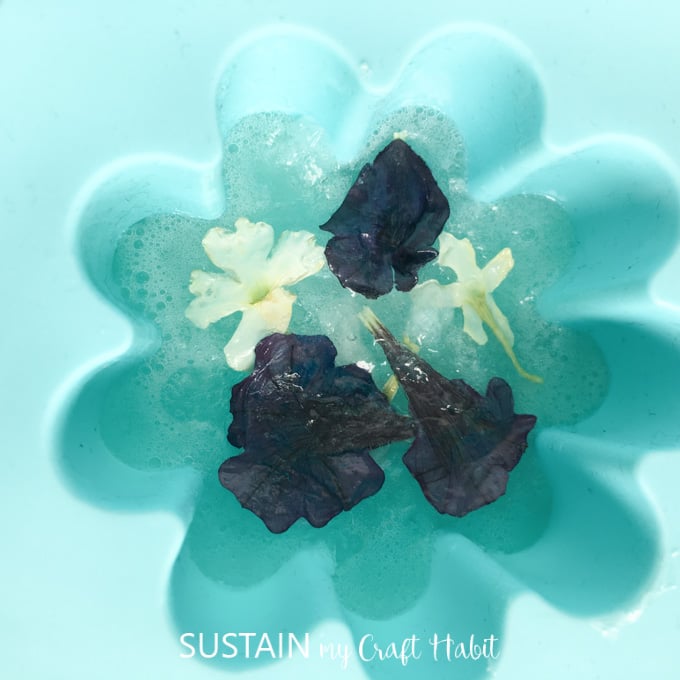 4. Once soap is cooled (about 15 minutes) remove from the mold. It's ready to use!
That's it! Easy peasy and so customizable.
I love the idea of putting little toys in the soap for the kids to find. But note that Cajeput and Bay Essential Oils aren't kid friendly. Simply Earth suggest using Tangerine, Lavendar, Cedarwood or their Sweet Dreams Blend instead.
In the September Recipe Box there are also instructions to make Sugar Scrub Bars and Happy Joy Facial Soap. I'm going to try that one next! There's also a recipe for a soothing homemade compress, roll on and lovely diffuser blend.
So order your September Box before it sells out. And be sure to use the code SMCHFREE to get your own Big Bonus Box plus $40 e-gift card to use towards a future month's box.
You won't want to miss October's Simply Earth Recipe Box which will be focused on candle-making. Just in time to cozy up with the cooler weather.
Interested in more soap-making ideas?
Be sure to check out these fabulous soap-making tutorials from our fellow blogging friends:
Like it? Pin it for later!