From wreaths to ornaments and wall hangings to tabletop trees, we hope this full round up of 25+ pinecone Christmas crafts gets you thinking about all the creative ways to use pinecones!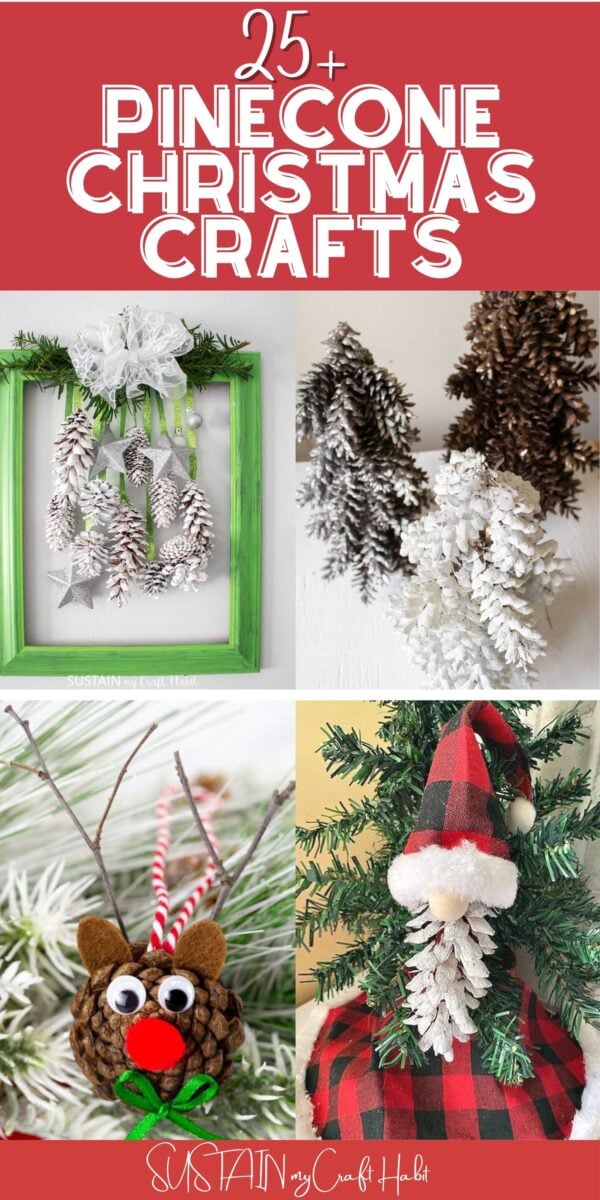 Creative Pinecone Christmas Crafts
Where to get pinecones for crafting?
If you're in need of pinecones for crafting, there are a few options to consider. The first one, if possible, would be to collect your own fallen pinecones from coniferous trees in your area. This of course would depend on the region where you live but often you can find them in green spaces and city parks. For this option, check out our post on how to clean pinecones for crafting so they'll be ready to use.
The second option would be to purchase pinecones from a local craft store or online, such as these pinecones sold on Amazon. We also have a line of craft-ready pinecones that we sell in our Etsy shop which you can check out here.
Beautiful DIY Pinecone Wreaths
Add a touch of classic, natural beauty with a homemade pinecone wreath. Hang them on your front door or use them to decorate your interior, these long lasting wreaths are perfectly rustic and lovely.
Making Pinecone Ornaments
What better reason to craft with pinecones other than for making ornaments for the Christmas tree? We'd love to hang any one of these handmade pinecone ornaments on our Christmas tree this year.
Pinecone Christmas Crafts for Kids
I don't know about you but one of my first memories of crafting as a kid was making adorable pinecone ornaments at school. Here are some of our favorite and creative kid-friendly pinecone craft ideas.
Other DIY Pinecone Christmas Decor
There is no denying the beauty of these Christmas decor pieces made from pinecones. Clearly, the creative possibilities are endless when it comes to the things you can make with pinecones.
We hope you enjoyed this round up of beautiful and inspiring pinecone crafts for Christmas! We'd love to know, which pinecone DIY would you like to make this holiday?
Like it? Pin it for later!