This shop has been compensated by Collective Bias, Inc. and its advertiser. All opinions are mine alone. #CanadianTire #QuakerState #CollectiveBias
This summer, regular trips to and from the cottage were the norm. With a 2 1/2 hour drive and four little kids in the car, preparing for these trips can end up being pretty stressful.
Just packing up and getting ready for the drive takes patience and preparation. Now that the older kids (5-, 8- and 10-years old) can help, I've created a printable checklist of items for them to pack to help us get out the door. It's bright and colourful and helps them focus on the task at hand.
And to keep me on track, I've made a simple checklist of must-do's and must-haves for us grown-ups, to help reduce the stress before the road trip. It includes an overview of the key points we consider before getting out the door, such a making sure the car, home and ourselves are ready. Be sure to grab the checklists for your family below.
Five Family Road Trip Preparation Tips
1. Get the Kids Invovled
Take some of the pressure off yourself and share the responsibility with the kids to pack themselves. Kids 5 years and older can really be very helpful. Give them each a fun and colourful checklist and have them gather up their stuff in advance of the road trip. Assign each kid their own unique and personal travel bag to use and fill up with their personal items.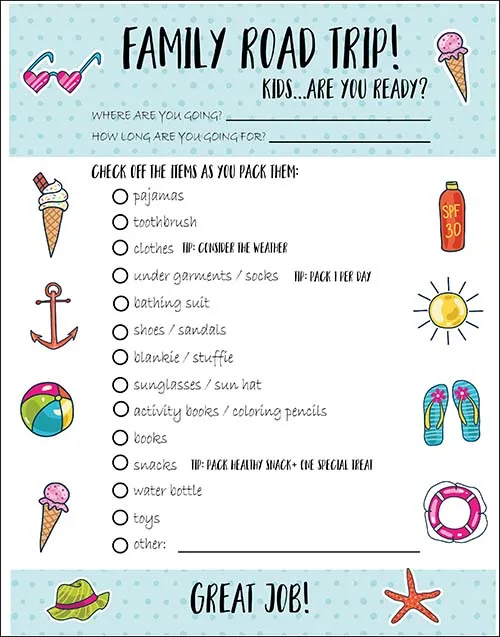 2. Ensure the car is road-ready
One of my biggest fears in driving with a car full of kids is getting stranded with them at the side of the road with a malfunctioning car. Getting the car road-ready is a task that hubby helps with. These are the list of items we try and run through before travelling long distances with the kids:
Does the car need to be cleaned? While there isn't always time to do a full detailing of the van's interior (Canadian Tire has many fabulous products for interior car cleaning), I like to make sure all the kids' garbage and stuff are cleared from the back. I also make sure to have paper towels and extra garbage bags (also available at Canadian Tire) on hand for the trip.
How is the tire pressure? Not only can improperly inflated tires cause them to blow, it can affect the mileage you get on your gas. We check the tire pressure using a tire gauge and if it's too low, we take it to our Canadian Tire gas station to add some air.
Does the oil need to be changed? Fresh engine oil is an important car care step to improve its performance and mileage. Quaker State® Ultimate Durability™ Full Synthetic Motor Oil provide more durability with the help of a fuel-saving additive that keeps the oil fresh. Also, with the inclusion of heat-activated viscosity improvers and anti-wear additives, the Ultimate Durability oil helps to extend the life of your car's engine. And for us here in Canada, it's superior lubrication flow and pumpability in below-freezing temperatures is an added bonus for enhanced car performance in the winter.
It makes sense that Quaker State® oil is available at a great price especially at Canadian Tire, which is made for life in Canada. Always make sure to check your owner's manual to buy the appropriate Quaker State oil for your car. Check your local Canadian Tire stores for availability and refer to their helpful video tutorial on how to change your car oil!
Is the gas tank full (or battery charged for electric cars)? I missed this critical tip a few months ago coming back from the cottage. I literally rolled into a gas station on fumes after not noticing how low I was before leaving. So now it's on the checklist! It's also important to research where the gas stations or charging stations are along your travel route.
Do you have the roadside assistance membership number? If so, make sure you have it on hand and understand the terms of the service. If not, consider purchasing a temporary membership for those longer distance road trips.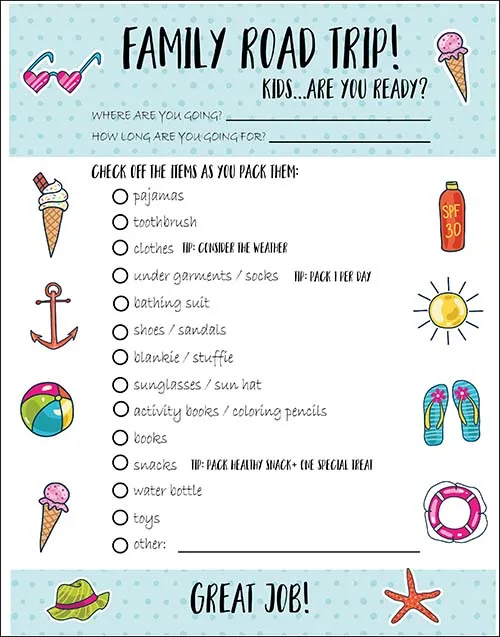 3. Pack the necessities
It's so easy to forget stuff that we need, so I've included on our checklist a little summary of items to pack. I just print it off before each trip and refer to when pulling all our things together. We're lucky to have a few Canadian Tire Stores along the journey to our cottage. They're a great one-stop shop for all of our car, home and vacation needs should we forget something at home. From coolers, beach toys, bug spray, sunblock, snacks and drinks, they have so many more products than just car parts. I know I can stop and find most of what we need.
4. Research the journey and destination
Especially if we're going somewhere unfamiliar, researching the route as well as the essentials at our destination makes all the difference in my stress level. For the journey, we map out the directions and pit stops (why do the kids need to pee so often?). At our destination I like to know where the nearest grocery stores, restaurants, hospitals, animal hospitals (if needed), and gas stations are.
5. Tie up loose ends at home
Especially if we're leaving for more than 3 or 4 days, we take some extra steps to ensure the care and safety of our home before we leave, including:
making arrangements for our indoor and outdoor plants and gardens to be watered;
our pets (the minnows my oldest collected from a local creek last summer) have enough food, or will get fed;
having a family member or close neighbour come in and check on our home to make sure there hasn't been a robbery, basement flood or other emergency. Most home insurance policies state that you must have someone check the property once a week in order for coverage to apply (check your own policy for the terms). Leave your contact number in the home as well as with your family member/neighbour in case of an emergency.
I hope these tips and checklists help you with your family road trip planning and preparation. For additional ideas to prepare for long car-rides, check out our tips for making your commute to work more enjoyable.
With checklist in hand and the varied selection of products available at Canadian Tire I'm confident I'll be ready for our next family road trip.
If you have any additional tips or ideas, we'd love to hear them! Just drop them in the comments below.
Like it? Pin it for later!