The new Cricut Venture is here and if you're wondering what all the excitement is about, we have a complete guide to the what, why, how and more of this versatile cutting machine. Whether you have never heard of Cricut or have several Cricut machines in your collection, we aim to answer all your questions. The new Cricut Venture is here to help you aim higher and dream bigger with your creativity.
This post is sponsored by Cricut. All opinions are our own.
Disclosure: This post contains affiliate links for your shopping convenience. Should you choose to shop through them, we will earn a small commission at no cost to you. You can find our full disclosure here.
The new Cricut Venture is here!
Ever since we started using Cricut products nearly 5 years ago we've been continually impressed by all the things to be made with Cricut cutting machines. You can explore all of the Cricut crafts we've made over the years in our Cricut project gallery – just a head's up, there's over 100 projects!
So when Cricut sent us their Cricut Venture we couldn't wait to jump right in and see what this machine could do. In this post we'll review everything you need to know about the Cricut Venture along with a couple of fun projects.
If you're brand new to Cricut crafting, be sure to check out our post on the best Cricut machine for beginners. It's never too late to start!
What is Cricut Venture?
Put simply, the Cricut Venture is the biggest, fastest, most durable and most precise cutting machine Cricut offers. It cuts a variety of designs from super simple to really intricate in over 100 materials such as paper, vinyl and more.
Up until now, Cricut offered three different cutting machine lines including the Cricut Joy (small, lowest price point), Cricut Explore (mid-range cost and functionality) and Cricut Maker (most versatile, highest price point). Cricut Venture is the largest and fastest machine Cricut has offered to date.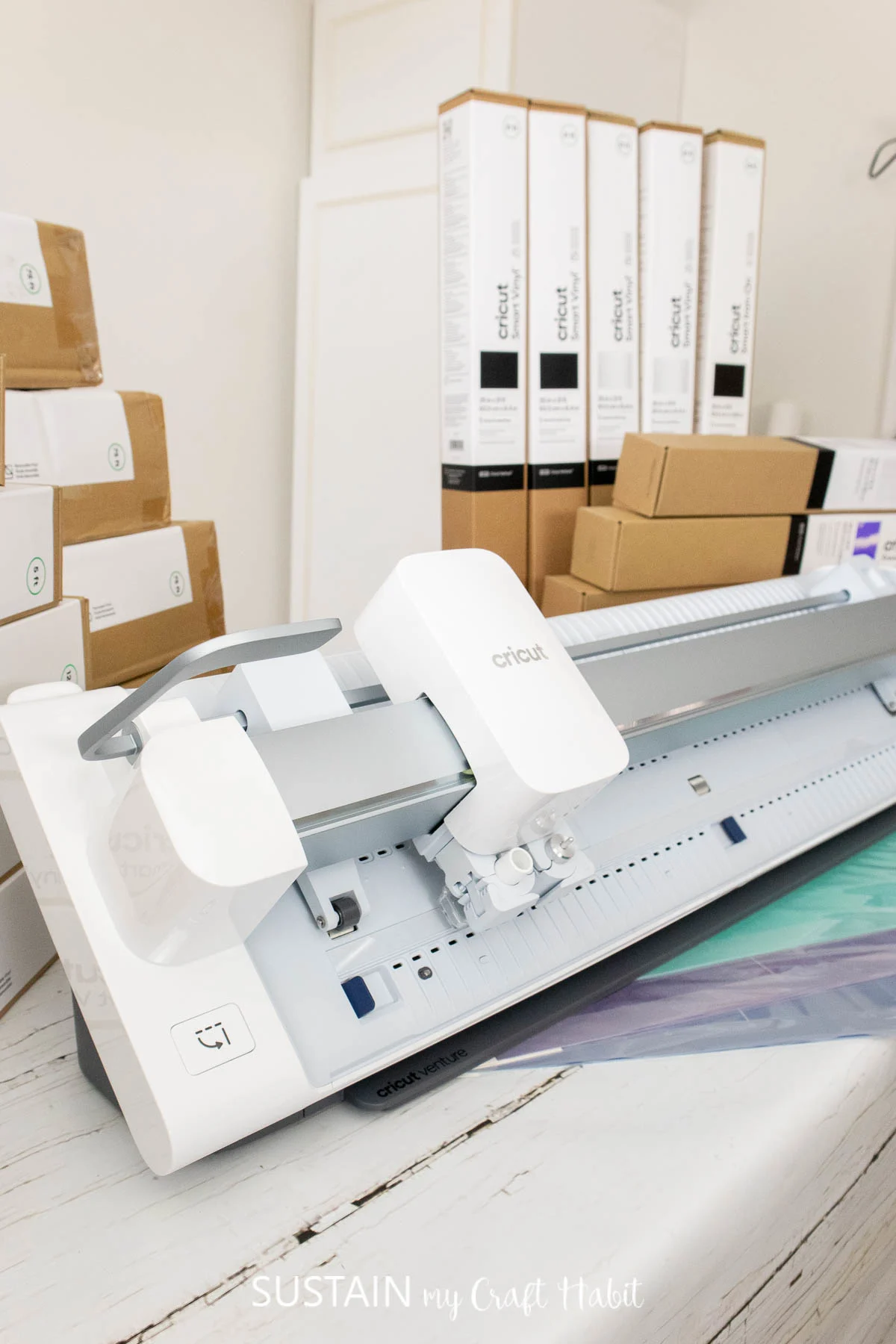 How does the Cricut Venture work?
Like all of the Cricut cutting machines, the Cricut Venture works alongside Cricut's Design Space. You will need a desktop or laptop computer (along with high speed internet) to run Cricut Venture. It is not supported by a mobile device unlike the other Cricut cutting machines (Cricut Joy and Cricut Maker 3).
To get started, you open Design Space and create a new project. There are many free designs and projects available to use so you can just pick one and go.
If you'd like to create a custom project, you can use the thousands of elements available in Design Space to design something from scratch. We chose a couple of templates to make a personalized large-scale vinyl wall decal for our craft studio.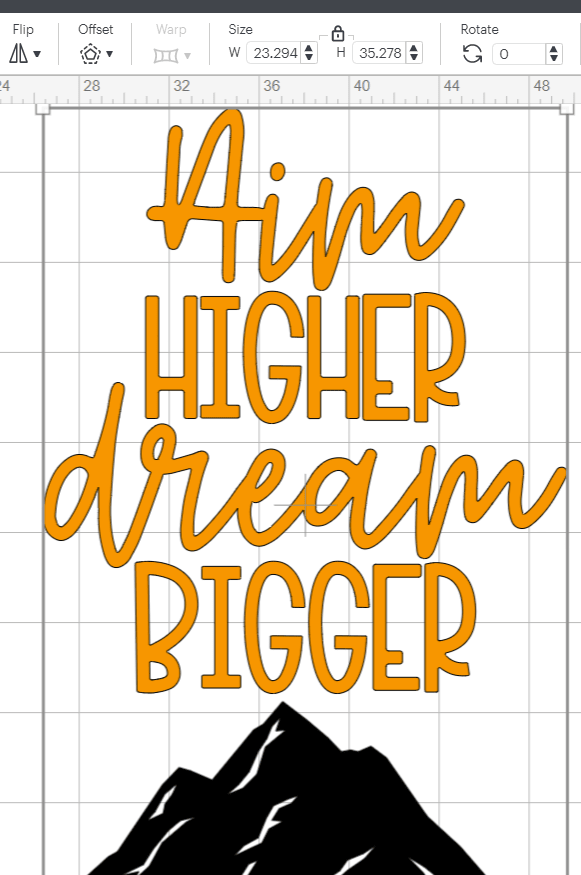 Note, while there are tons of free projects, fonts and illustrations available for free in Design Space, Cricut Access membership opens up even more for you. So be sure to check it out!
Although we'll talk a lot about the Cricut Venture's cutting abilities, you can also use it to draw and write with precision.
How is it different from other Cricut machines?
The Cricut Venture is designed specifically for large-scale and high-volume crafting. This is a dream for small business owners that use several Cricut machines to make their stickers, decals and other creations. It's also ideal for the mom who creates dozens of custom t-shirts for the kids' soccer team each year or any true craft-lovers.
While there are many similarities between the Cricut Venture and other Cricut cutting machines, there are some differences to consider. The Cricut Venture:
cuts and draws up to 24″ wide (twice as wide as other machines) and cuts up to 75 feet long;
operates at commerical speeds – honestly, you'll have to see it to believe it so check out our YouTube video to see it in action!
cuts without a mat using wide selection of Cricut Smart Materials (similar to Cricut Joy and Cricut Maker 3) but is available in 24″ width;
doesn't work with a rotary blade and there are some materials that it doesn't cut, such as balsa wood, onbonded fabrics or engraved acrylics;
comes with its own optional Docking Stand (sold separately) for ease of crafting and a space saving option.
Who is the new Cricut Venture for?
The Cricut Venture is ideal for current Cricut owners who are already familiar with these cutting machines but want to either:
replace multiple machines with one, and/or
be able to cut much larger designs (ie. wall decals, event signs, large paper flowers) with ease, and/or
batch their crafting and cut a lot of materials faster (ie. card-making, custom decals, stickers)
It's also great for craft enthusiasts who love to make all handmade gifts for special occasions and small business owners who create products with a Cricut machine and/or want to make branding materials (such as DIY product tags, labels) for their business. Finally, we see the new Cricut Venture as a fabulous tool for schools to support educators with a variety of projects.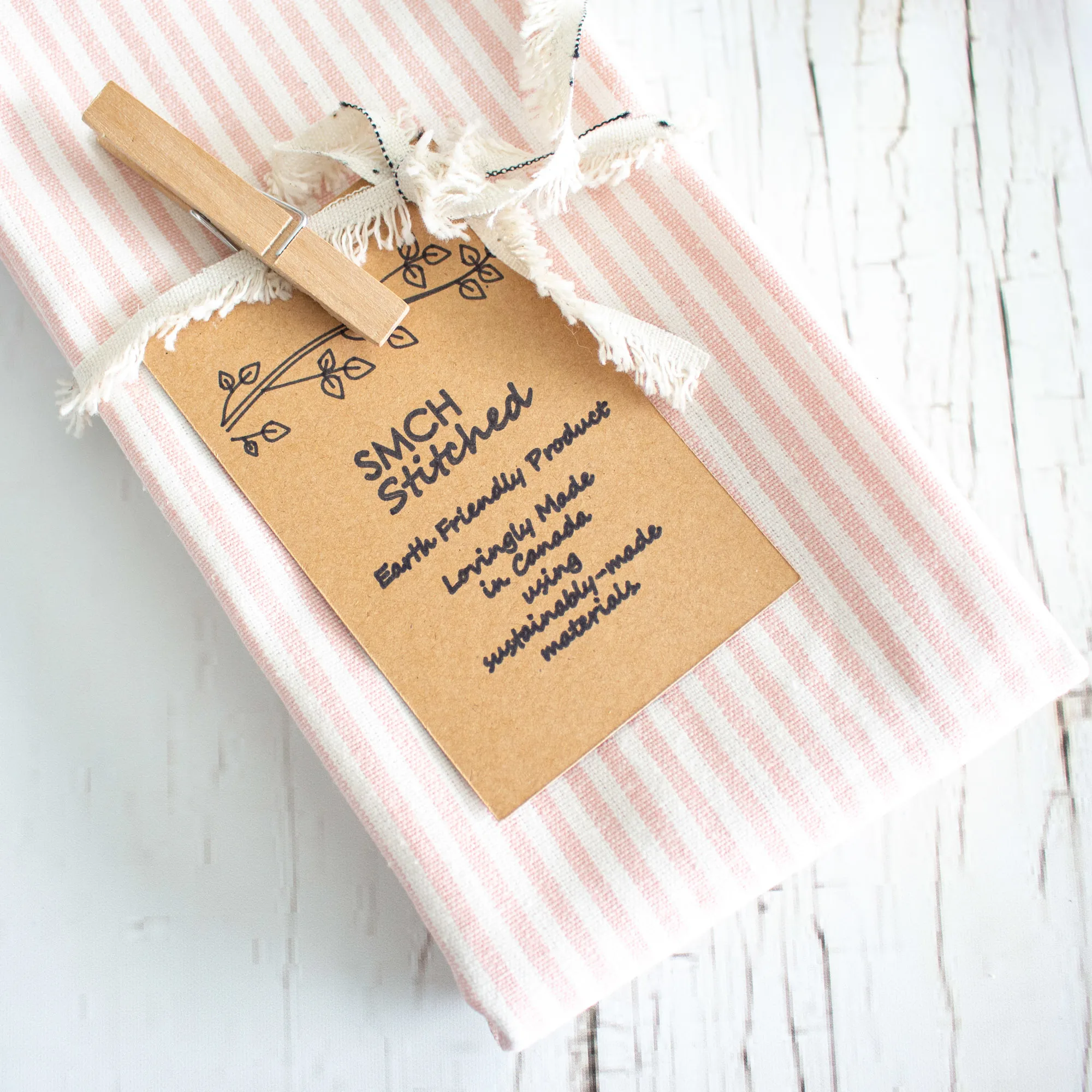 What are the features of the Cricut Venture?
A few of our favorite features include the ability to adjust the cut width for 13″ and 25″ wide Smart Materials™, or use any material size when using the Cricut Venture Machine Mats. Also it's sleek, thoughtful design along with the option to use with a Docking Stand to save more space are huge pluses.
Similiar to other Cricut cutting machines, it has two tool clamps, built-in Bluetooth, Print Then Cut capability, works with Smart Materials and is compatible with 7 tools: performance fine-point blade, scoring stylus, foil tip, pens/markers, bonded fabric blade, and deep cut blade.
What comes in the Cricut Venture box?
In the box we found the machine itself all wrapped up, an accessories box, a sample roll of white and black removable Smart vinyl, and an extension arm for use with the cutting mats. In the accessories box were cables, roll supports, cutoff tool, cleaning tools, set up instructions, warranty and free trial subscription of Cricut Access (for new subscribers). Mounted into the machine was a performance fine-point blade.
What other accessories are needed to use the Venture?
There are plenty of materials specifically designed for the Cricut Venture and which material you need depends on what type of projects you plan to make. There are Smart Materials that come in a variety of sized rolls including 5, 12, 21, and 75 feet!
And if you wish to use non-Smart Materials, then you will need to purchase the compatible Cricut Performance Machine Mats for Cricut Venture as they are different from other machine mats.
In order to use the drawing feature, there are also markers (these are the thickest ones they've made), 24″x24" colored cardstock sheets, and new cutting mats designed specifically to withstand the speed and forces of the Cricut Venture!
How much does the Cricut Venture cost?
The MSRP is $999USD for the machine and $349USD for the docking stand. There are also bundle offers with the machine and stand and/or materials available.
Where to buy?
The Cricut Venture can be purchased online at cricut.com or at your preferred online retailer. The Docking Stand is available on HSN initially but will soon be available across other retailer sites.
How do you set it up?
Start by heading to cricut.com/setup and follow the instructions on the screen. Select Cutting Machine and then download or login to Cricut Design Space as prompted. Once logged in, select Smart Cutting Machine and then Cricut Venture from the options. Next, chose which connection you will be using, either USB or Bluetooth.
You will be asked to make the sample project and simply follow the instructions given. It will take you through each step prompting you to adjust the guides, raise the lever and feed in the vinyl. This cute sample project will ease your mind and get you quickly familiar with the machine.
Our first impressions of the new Cricut Venture
For us, there are three things that immediately stand out about the Cricut Venture:
how super easy it is to set up and begin creating projects – if you've worked with Cricut machines before, then setting this up will be a breeze
the speed at which it cuts materials with perfect precision – realizing how much more we can do in less time is a game changer for our small business!
the sleekness of the machine and stand is thoughtfully designed to make sure it is efficient, durable and long-lasting. It really packs a lot of punch with a space saving design!
We can't wait to create our own branding materials like product tags and banners for craft shows. Additionally, using the Cricut Venture to add elements such as stickers and decals to our craft boxes.
Should you upgrade from other Cricut machines?
If you use your Cricut machine frequently to create large volume of products then upgrading to the Cricut Venture is a definite yes! The amount of time you will save on your creations with the Cricut Venture makes the upgrade worthwhile. You'll be able to create more and dream up even bigger projects.
Our Final Thoughts
In our opinion, the Cricut Venture delivers on value for the dollar. It lets you have a commercial scale machine but with the style and design features to have at home. With it's ability to cut over a hundred different materials it's a great asset in any craft enthusiasts creative arsenal.
Over the coming months, we'll be sharing different project ideas using the Cricut Venture. So whether it's to make things for the family, gifts for the holidays, products for craft fairs or to support our small business dreams, we can't wait to get started. Be sure to join our email list so you don't miss out on these ideas.
If you have any questions at all, be sure to leave a comment below. And as the wall says, let's aim higher, dream bigger! Happy crafting friend.
Like it? Pin it for later!