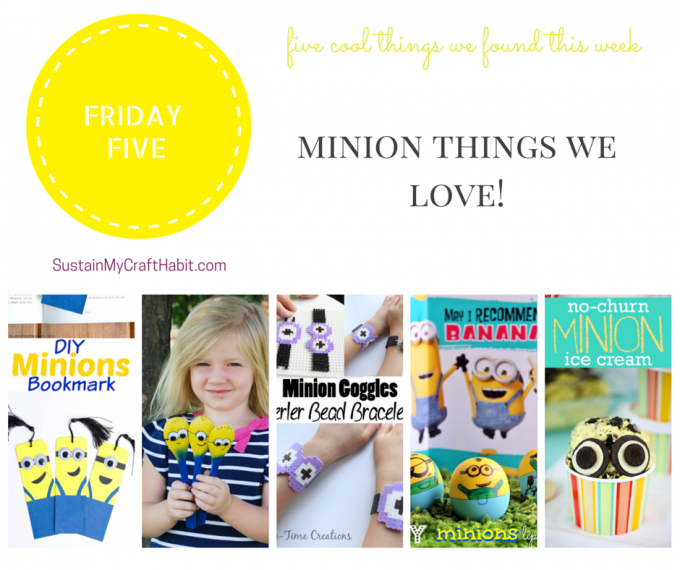 The Minions movie is here! Whoever thought to give these sidekicks their day in the movie spotlight is genius. I was probably one of the last people on earth to see the trailer: I actually snorted out my coffee it was so funny.
We've been seeing lots of great Minion-inspired projects out there and wanted to share our favourite five. Happy Friday!
Sharing some #Minions love with these 5 fab projects! #crafts #DIY
We've seen lots of great flat projects using the perler beads but we like the 3-D nature of these bracelets from Nap-Time Creations. There's a great video in the tutorial which uses the "Banana Song" that my daughter loves: she made me repeat it over and over!
This ice cream from Homemaking Hacks is made with bananas and Oreos! Need we say more? In a peanut free home its great to be able to make our own fun ice cream and this no churn recipe is totally doable.
The idea of a minion care package is so fun but our favourite part of this post by Momma Told Me were the lip balms!
These bookmarks by A Pumpkin and A Princess are such a simple and fun craft that would be great to make with the kids. My older daughter has a small collection of bookmarks going and this would make a fantastic addition (maybe they would motivate my son to read a bit more over the summer too!).
Wooden spoon minions would be great for a puppet show. Although I have flashbacks of my parents threatening me with the wooden spoon as a child, I think I wouldn't have minded so much if they were these spoons!
And be sure to check out our Minion finger puppets craft idea as well!
Did you see the Minions movie? What did you think of it?