Little yellow Minions are super silly and funny, just like kids! These little finger puppets are the perfect Minion craft to play with – use them for a Minion birthday party activity, as a Minion project on a rainy day, or tuck some in to their Easter baskets for an adorable gift idea.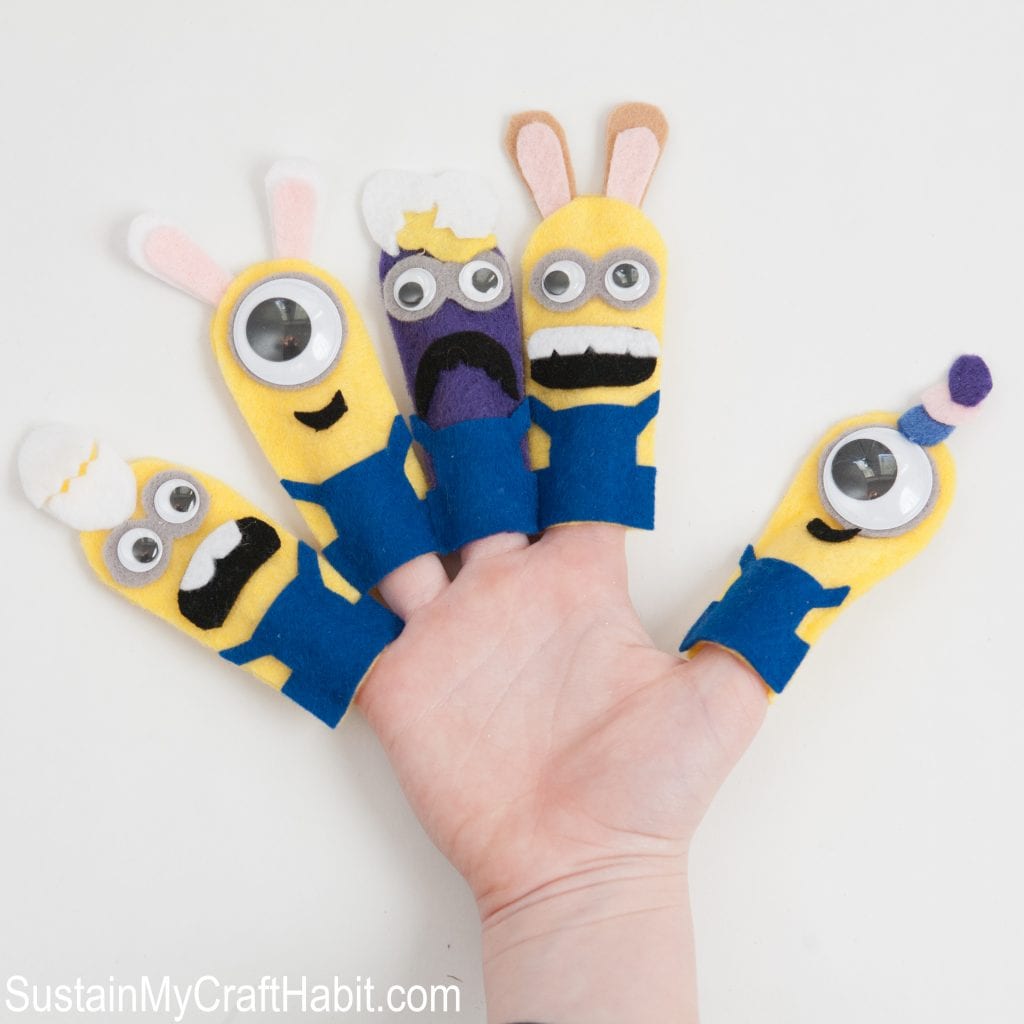 Free Minion Craft Printable
I was going through my fabric stash and discovered a small amount of assorted felt squares I had leftover from a Christmas project. Making finger puppets require very few supplies and it's a great indoor activity to do with the kids. We are pretty big Despicable Me fans, especially those ridiculous minions. So what better minion craft than some fun felt finger puppets?
And if you're looking for addition felt craft ideas you'll love our no-sew felt ocean ornament patterns and woodland animals ornaments.
Supplies Needed for this Minion Craft
To make 5 youth-sized minion finger puppets you'll need:
Puppet body – 6" x 8" scrap of yellow felt (a similar weight fabric can be used as a substitute to felt)
Facial features and attire – Small scraps of assorted colours of felt: navy, grey, black, white
Easter-themed accessories – Small scraps of assorted colours of felt : pink, brown, blue, purple
Googly eyes – assorted sizes
All purpose white glue or felt glue
Scissors

How to Make Silly Minion Finger Puppets
Prepare work space for cutting and glueing and print off the free printable minion template.
Begin by cutting your felt scraps using the finger puppet template guide: Y = yellow; N = navy; G = grey; B = black; W = white; P = pink
Glue the facial features and attire to top layer of the finger puppet. Press lightly and let dry.
Glue googley eyes to center of goggles. Press lightly and let dry. Our minion craft is coming together!
Turn over the front of the minion finger puppet. Glue the back (base layer) to the backside of the front layer by spreading a thin, even line of glue along outer edge of base layer. Lightly press the top layer (right side up) onto base layer. Clean away any excess glue and let dry.
Finally, play with you new Minion finger puppets! These cuties have some adorable bunny ears making them perfect for Easter.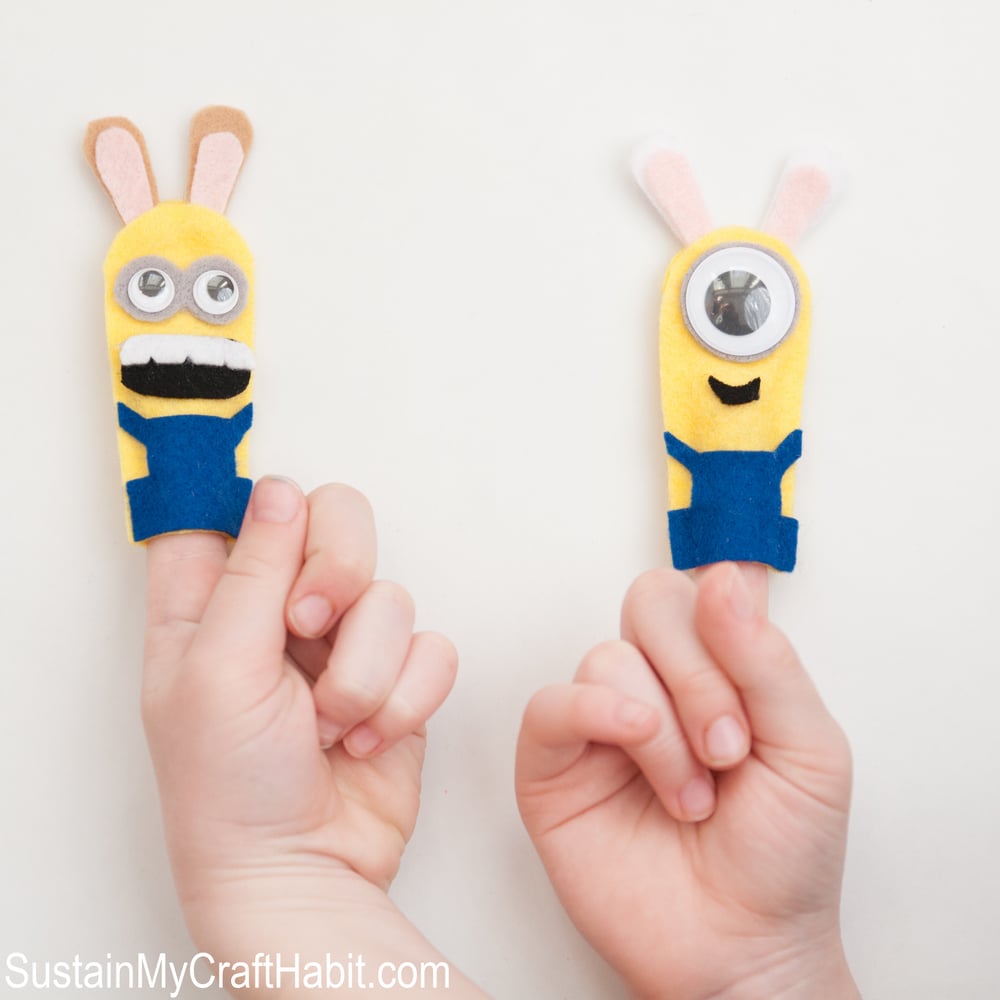 Or how about this little guy who was egged on?
Oh, purple minion doesn't look too happy with egg on his face!
The sky's the limit with this Minion craft idea! You can easily adapt this free printable minion craft template for minion paper crafts, birthday party invitations or even minion Valentines! We may just make a set of these minions felt finger puppets for the kids to give their classmates for Valentines.
And if you're a Minion fan like us, you'll love these additional minions crafts to make!