We're not going to lie: it's was an absolute battle trying to keep the kids off of the screen over the holiday break. If we were to make a New Year's resolution it would be to significantly cut down on the tablet time. So, what a pleasant surprise when I pulled out our new set of Weird But True! books from National Geographic Kids and they dove right in!
Weird but True! Books
Disclosure: We received this product for free from Moms Meet (momsmeet.com) to use and share our honest opinions. This post also contains affiliate links. You can read our full disclosure here.
For a whole half hour they all sat together, sharing interesting and funny facts with each other. Did you know that:
chalk is made from the bones of ancient sea creatures;
the world's largest gingerbread house was a two-story home;
one bride-to-be made her wedding dress entirely out of fast-food wrappers!
My son, who has a particularly hard time engaging in reading, loves these books. Even before receiving this great set he had a bunch of them scattered throughout his room. The weird facts are shared alongside beautiful large pictures and funny anecdotes – he doesn't even realize he's learning. Moreover, all the kids look through them over and over.
Did you know that some towns in Canada use beet juice to melt ice on wintry roads? Now that would be a lot of beets!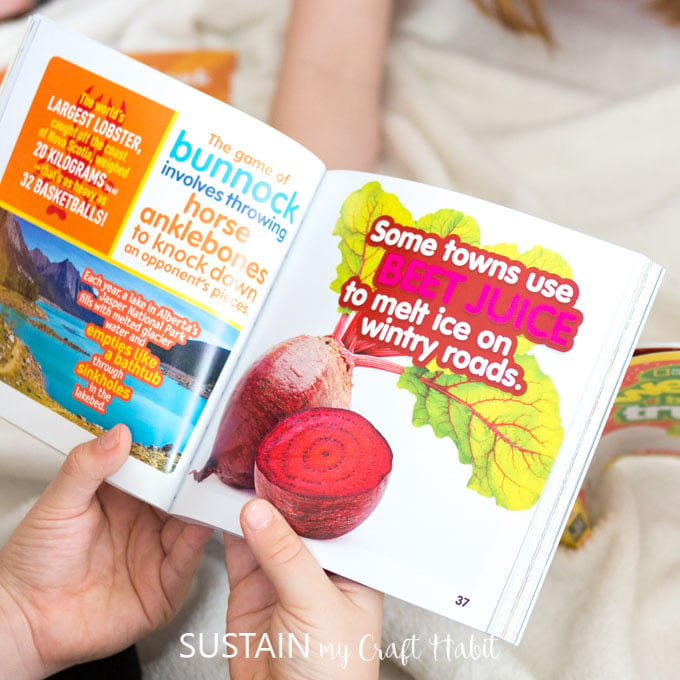 I love that there's a Weird But True! book dedicated to all-things Canadian. Canada is the first country to have it's own Weird But True! book – I guess we're just that fascinating (or weird? Hmmm…). What a great way to learn about all the different facets of our great country. The kids remember these facts and have pulled them out at the strangest times. My son recently shared that Hawaiian pizza was invented in Chatham, Ontario and that it is illegal to scare or play a prank on our queen (the Queen of England)!
Want to contribute your own Canadian weird by true fact?
Kids aged 6-14 are invited to submit their own facts about their hometown, province or country at natgeokids.com/wbtcanada through May 1, 2019. We've been brainstorming interesting tidbits about our own communities to submit!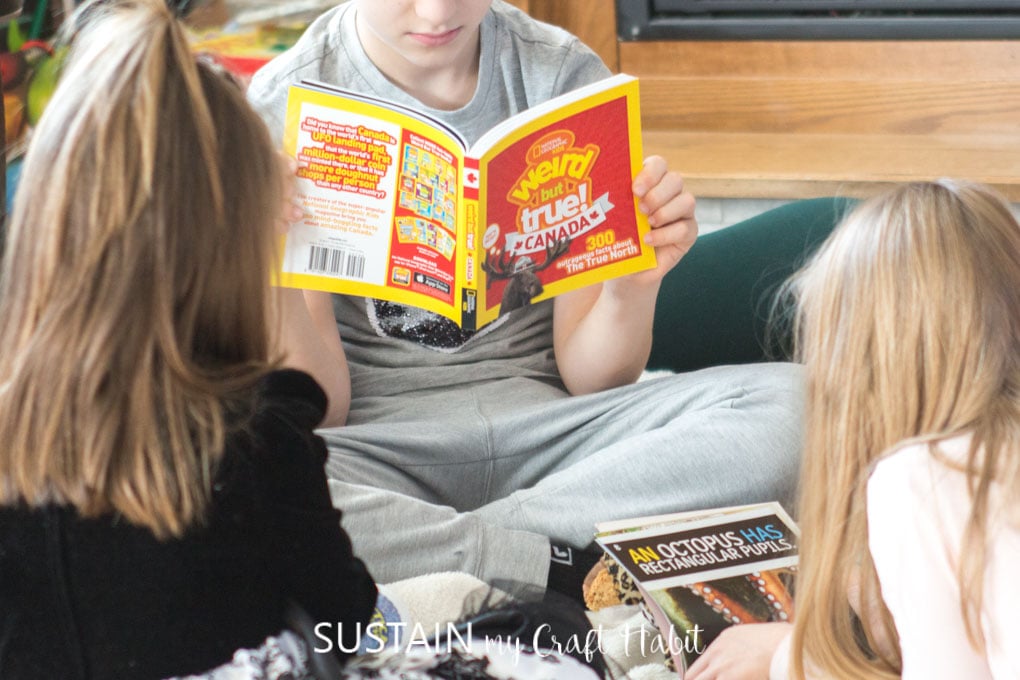 Where to buy the Weird But True! Books?
I highly encourage you to check out this series if you have little ones. It's the 10th Anniversary of the original Weird But True! series and you'll find over 15,000 fun facts across the 10 volumes. The books are perfectly sized for little hands and purses, durable, engaging and come from a trusted brand – National Geographic. You can explore the whole series (there's even a Christmas themed addition!) at natgeokids.com/wbtbooks . They're also available to purchase at Indigo, Barnes & Nobles, Target, Walmart, Amazon and wherever books are sold.
As I was writing this post, my littlest (4 years old) came up and asked if I could read HER book to her (she's claimed 10th Edition for herself whereas her 7 year old sister has claimed the 4th Edition). How cool is that?
For additional activities to enjoy with your kids explore our arts and crafts for kids ideas including minion finger puppets, crafty things to make with crayons, tiny art box or make a Duck Tape pencil case!
Like it? Pin it for later!