As we gear up for back to school shopping, we begin to take inventory of the kids supplies. It brings back memories of our childhoods. Without a doubt, our favourite back-to-school items were fresh packs of lined paper, a cool new binder, and pristine packages of new crayons and pencil crayons. But what to do with those old crayon stubs? Don't throw them out! Here are five creative and colourful ideas for those little nubs.
Crayon Candles
Adventures in Making
Candles, of course! A fun way to reuse those old broken crayon pieces. They can be customized for specific events or holidays by just choosing the right colour combinations (ie. red and green for Christmas; pink and red for Valentines, etc). But keep in mind, these crayon candles are best kept unlit so more for decor purposes.
Kiwi Crate
When those crayons get to be too small to use why not remold them into larger useable crayons of different shapes? And with autumn around the corner, these leaf-shaped ones by Kiwi Crate are so nice. The possibilities are endless…this past year, we used heart-shaped silicone molds to make non-candy Valentine's day gifts for the kids to share at school.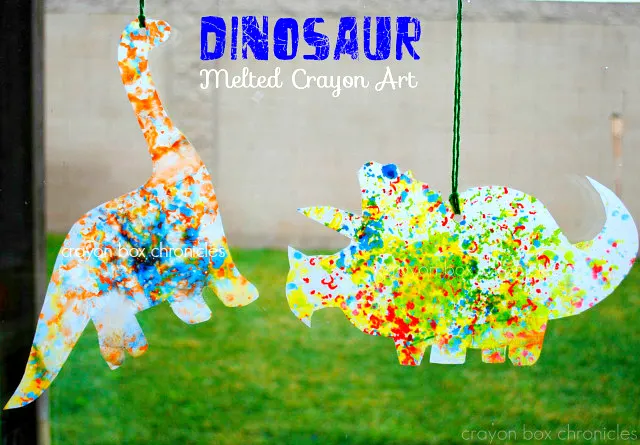 Crayon Box Chronicles
These adorable suncatchers by Crayon Box Chronicles make for a fun project with the kids. I'm envisioning this craft being done at one of my little one's upcoming birthday parties. Adorable dinosaur templates are included with this post but any shape can be used. String a bunch of them on a line or as a single suncatcher and enjoy them hanging in your window.
Crayon Rocks
Say Yes
These crayon rocks by Say Yes are super cute and colourful and make for a really sweet sentiment. When done, using the little crayon rocks also helps the kids to develop their fine motor control.
ReThink Crafts
We love this mosaic crayon art by ReThink Crafts which uses leftover crayons in a unique and sophisticated way. And no melting required! It reminds us of a colourful puzzle that we'd want to hang on our walls. The texture from the varying lengths of crayons is simply fantastic!
In what other ways have you recycled your old crayons?