Wood craft flowers are fun for a variety of projects. There are many creative ways to use wooden flowers so today, we want to provide you with one that is beautiful and sure to impress anyone that stops to see it!
Wood craft flowers at their finest!
Wooden flowers can be used for plenty of art projects. We love these sola wood flowers for several reasons but most obviously because they are just so beautiful!
We've made many crafts with sola flowers which you can tell by our craft library. But I love this frame option because framing the flowers gives an extra step of elegance to the craft.
Do you know what makes this craft a winner though? This craft is super simple to make but looks like a beautiful (and expensive!) piece of art. Good thing it is not expensive to make at all! This is also a craft that you can do with a group of friends or with your children.
Join our crafting community to find more nature-inspired DIYs and upcycled craft ideas. It feels good to repurpose, upcycle and create with nature!
Materials Needed
Disclosure: This post contains affiliate links for your shopping convenience. Should you choose to purchase through them, we will make a small commission at no extra cost to you. You can read our full disclosure here.
How to Make a Fabulous Framed Wooden Flowers Craft
I shared the tutorial for this framed wooden flowers craft on a Facebook Live which you can catch here. All of the step by step instructions can be found in the video. If you have any questions at all, please send us a message!
When you order flowers specifically from Sola, there is an option to order them "raw" (or ready for you to dye) or you can get them already with color. We have found three different easy and effective ways to do so, learn how to dye Sola wood flowers here.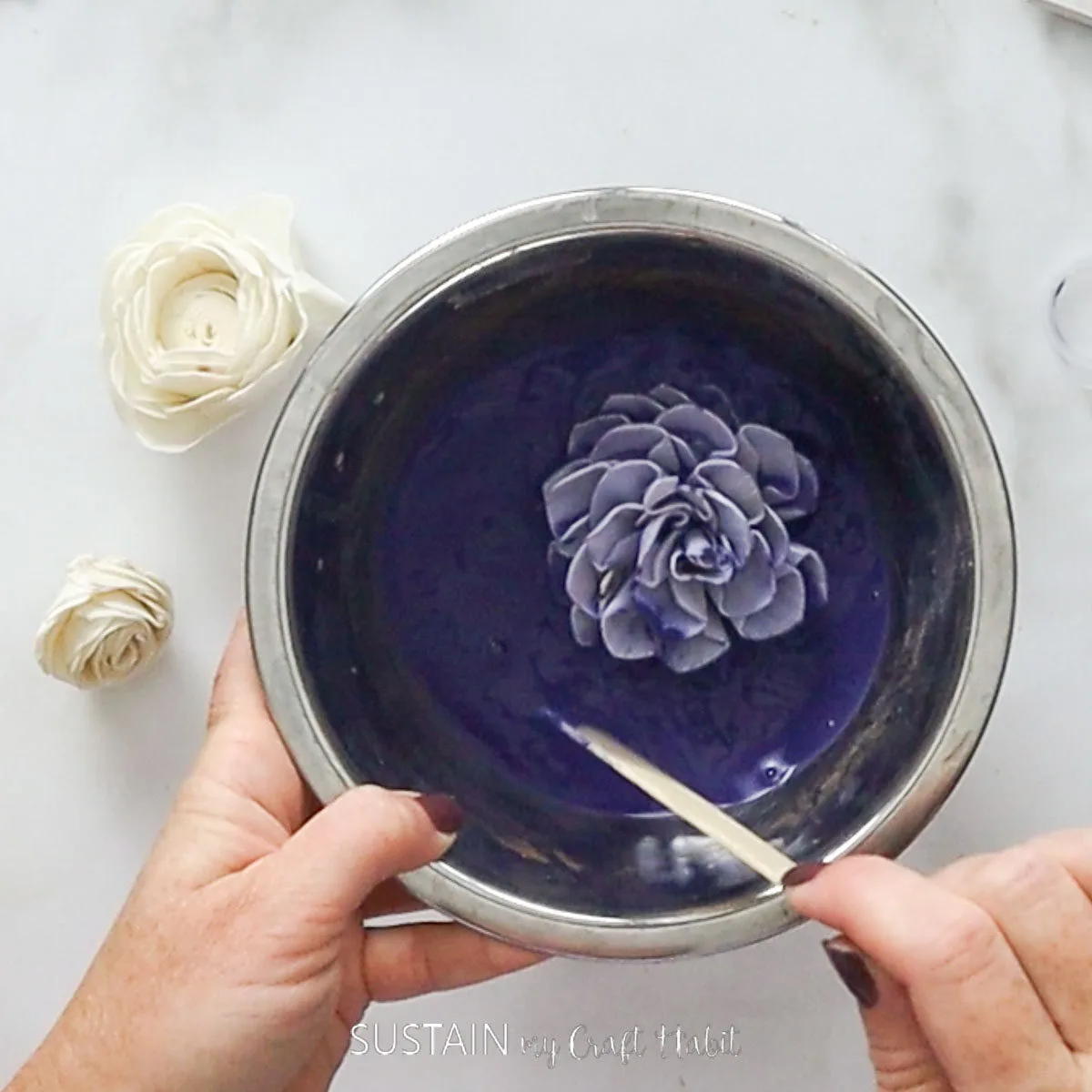 If you're using an old frame that doesn't quite match the flowers, simply give it a quick coat of paint as we did with our thrift store picture frame.
You can also pick the colors of the flowers too to match your house- or your friend's favourite colour if it is a gift!
More Wooden Flower Crafts
How did your flower decoration turn out? We would love to see! Make sure to show it off to us! Tag us on Facebook or Instagram– we can't wait to see it!
Want to receive a ton of inspiration and money-saving ideas for decorating, gift-giving, and crafting? Join HERE!
Like it? Pin it for later!