If you've ever wondered about how to paint a wood dresser, we've got a step-by-step tutorial using Country Chic clay-based paint. With minimal preparation needed, it's a fun way to revive dated furniture. Also, you can feel good about using this environmentally friendly, VOC- and harmful solvent-free paint in your home.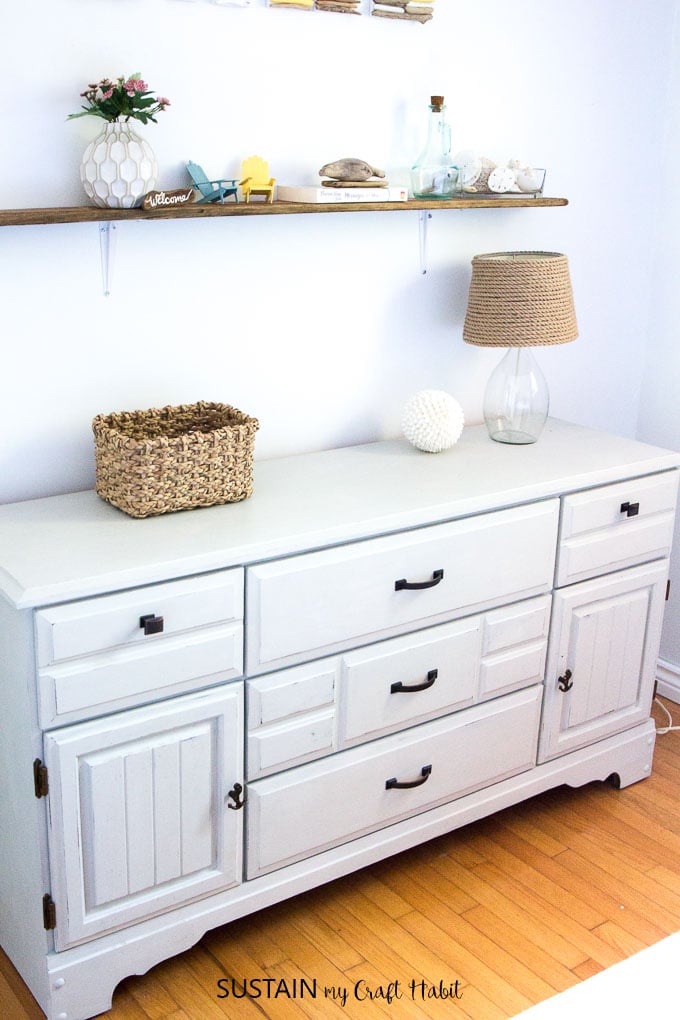 Over the past few months we've been renovating the bedrooms in our small family cottage. In the process we've split apart a dark wood bedroom furniture set and painted the larger pieces in different finishes.
We painted the 5-drawer tall wood dresser in a light blue coastal colour:
We gave the wood headboard a bright, beachy makeover:
Now we're on to the large dresser which we've chosen to paint a soft gray colour for our Lakeside Room of the cottage renovation. Here is what the wood dresser looked like before…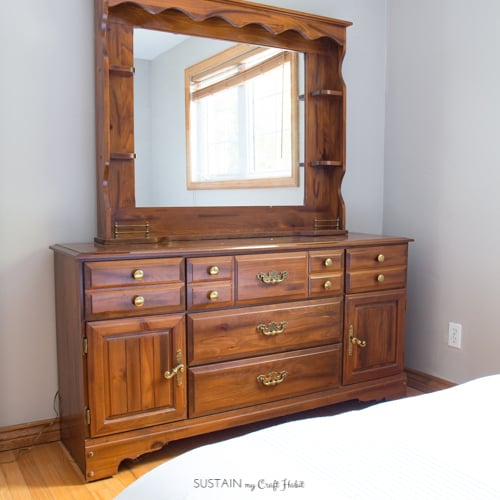 …and here she is now…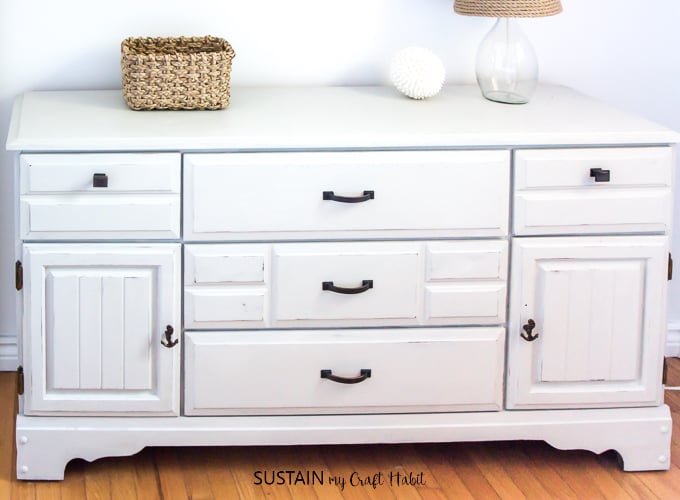 How to Paint a Wood Dresser
We received this lovely Lazy Linen All Purpose paint from Country Chic Paint. We were curious to try it out as we'd seen so many beautiful furniture makeovers with it. They have a fantastic YouTube channel with tons of great tutorials on furniture painting.




Supplies Needed to Paint a Wood Dresser using Country Chic Paint:
"Disclosure: We have not received any compensation for this post. However, we have receive products from Country Chic. This post also contains affiliate links (indicated with *) for your shopping convenience. You find our full disclosure here."
How to Paint a Wood Dresser using Country Chic Paint:
Remove all the existing hardware and knobs. Put aside for safe keeping if you plan to reuse them later.
2. Remove all drawers and dresser doors and place on a well protected surface.
3. Clean the surfaces of the dresser with warm soapy water to get rid of any dirt and dust.
4. Shake the paint can or jar well before opening (about 1 minute) and then once open, stir the paint well until it's thoroughly blended (about 2 more minutes). Dip the clean paintbrush into the paint. Ensure you get a good amount of paint on the bristles but avoid over saturating it to the point that the paint drips off.
To get a nice smooth finish always paint in one direction. Work in one area at a time to apply the first coat. For better adhesion, it's preferable to apply repeated thinner coats of paint rather than thick coats. Ensure your first coat is fully dry before applying a second coat of paint (normally 30-60 minutes but will depend on the environment such as temperature and humidity). Tip: avoid painting in sunlight or when humidity levels are over 80%.
5. Once the first coat is fully dry, begin to apply the second coat. Leave the dresser to dry completely. After the second coat is fully dry, repeat with an additional coat if necessary or repeat until you achieve desired coverage.
6. To get a distressed look, gently sand the corners and edges of the dresser and drawers using a 220 grit piece of sandpaper.
7. To protect the finish of your newly painted dresser, apply a sealer such as the all-natural beeswax sealer from Country Chic Paint.
NOTE: We moved ahead and painted the dresser without priming. While the drawer and door surfaces turned out beautifully, there was some bleed through of the wood tannins on the top and sides of the dresser. As directed by the helpful team at Country Chic Paint, we removed the wax sealer with rubbing alcohol then applied an all-surface primer (Bulls Eye 1-2-3) before repainting it with the Lazy Linen paint.
Re-apply the existing hardware or new hardware if you like, such as these fun brass anchor knobs from Country Chic Paint. We think they look pretty perfect with our beachy-themed bedroom decor! Come and see how the entire Lakeside beach bedroom makeover turned out, including the addition of a rustic DIY shelf with driftwood.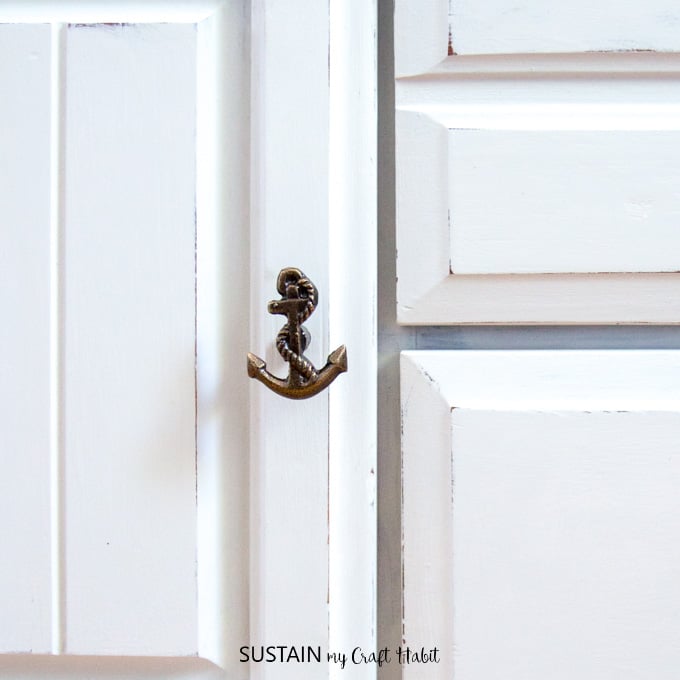 In case you missed the pre-renovation tour of our Graystone Beach Coastal Cottage, you can view it here:
We are loving the changes of our family coastal cottage makeover! So far we've completely transformed the orchard view bedroom into a coastal oasis and the one and given the only bathroom a beach themed remodel.
Be sure to join our weekly updates of all the beach bedroom decor ideas and other nature-inspired DIY and craft ideas. Members also receive exclusive freebies such as monthly floral note card printables.
Do you have any additional tips for how to paint a wood dresser?