We don't run marathons. BUT…we can relate to how it must feel to a runner as they cross the finish line. In one word…exhausted.
Welcome to week 6 of the One Room Challenge – the final reveal! We can in all honesty say this has been the busiest of the entire beach themed bathroom renovation. And it's not at all that we procrastinated until the very end. Living 2 hours away from the reno site meant that we had to pack in the projects on the few weekends we were all able to make it up there.
For those of you new to the One Room Challenge, here's a refresher: it was created by Linda of Calling it Home to challenge designers to complete a room makeover in 6 weeks, sharing their progress along the way. This was our first time participating and today, we've made it to reveal day!
If you missed the previous weeks you can catch up here:
Week 1: The Before Photos and Video
Week 2: The Inspiration, Design Plans and our Sponsors
Week 3: Small Bathroom Remodel Tips
Week 4: DIY Wine Cork Bath Mat
Week 5: Upcycling the Bathroom Vanity
Week 6 (we are here): The Final Reveal!
Grab a coffee and visit all the other Guest Participants' final reveals here as well as the final reveals for the 30 Featured Designers for the challenge.
Here's a reminder of what the bathroom of our Graystone Beach cottage looked like before…
We are LOVING the new beach themed bathroom. It's light, fresh and oh-so-coastal!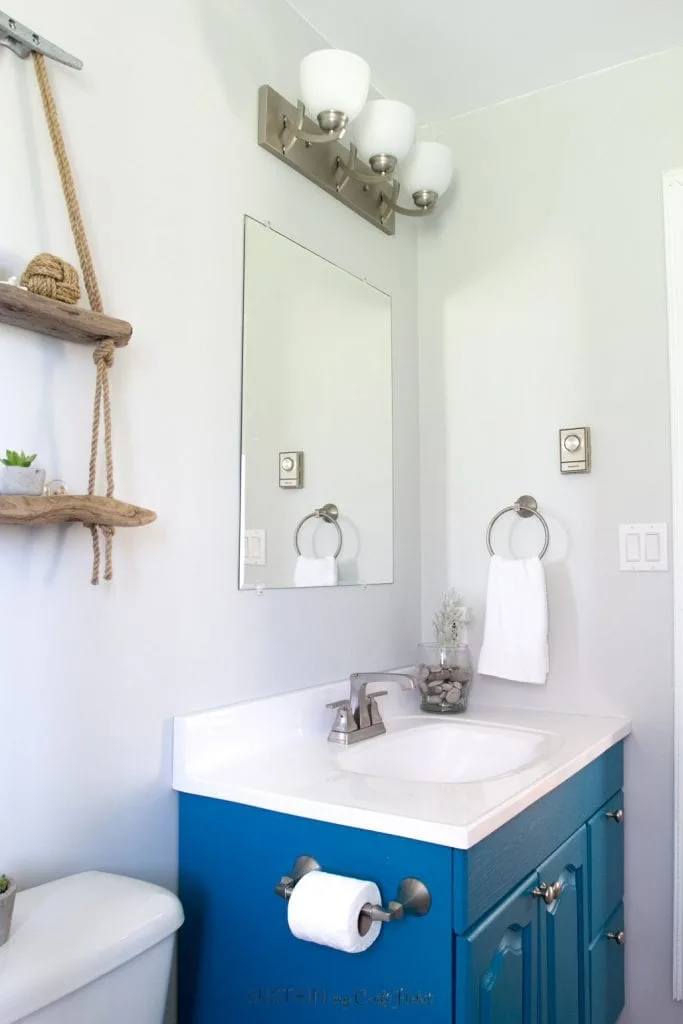 Come on a video tour with us through the new coastal style bathroom:
We managed to stay within our tight budget by patiently doing all of the DIYs ourselves. In the end, we spent less than $3000 for this complete coastal cottage bathroom reno, inclusive of product received from our generous sponsors: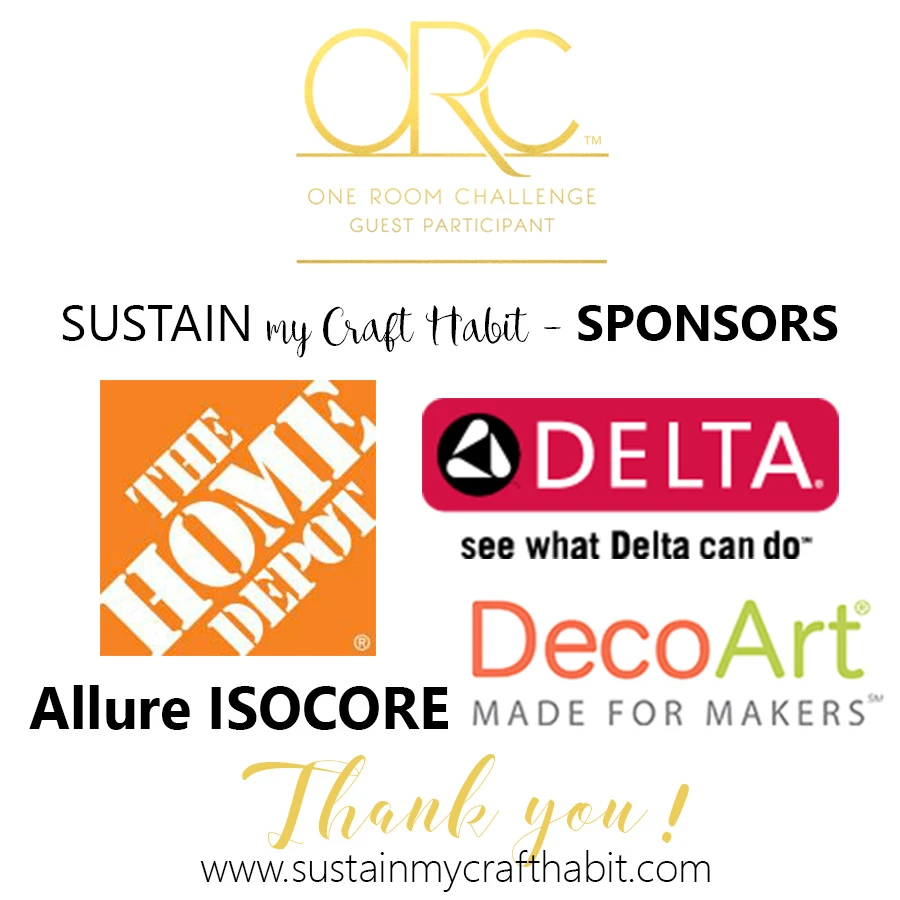 DIY Projects Completed for this Beach Themed Bathroom Remodel
Installation of a new plank vinyl floor
We installed Allure ISOCORE brushed white plank vinyl flooring. Allure ISOCORE is a Home Depot Advantage product and exclusively available at the Home Depot. This waterproof flooring is just beautiful and extremely functional for a bathroom. Moreover, we were able to lay the large planks directly over top of our existing ceramic tiled flooring. You can appreciate what a huge benefit that is if you've ever tried to remove tile before! You can find our full how to install vinyl plank flooring tutorial here (includes a video!).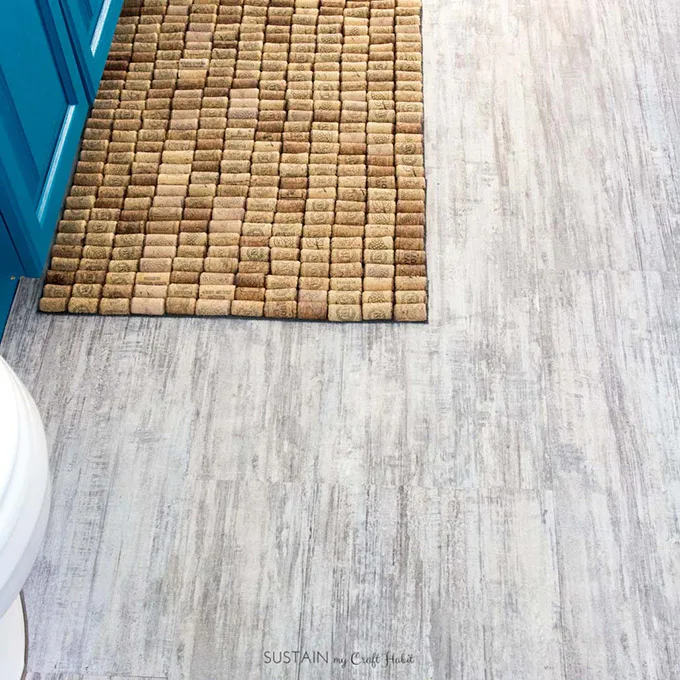 The DIY wine cork bath mat was a bit of an experiment: one of those crafts that you see and would love to try. Well, we did it and are pleasantly surprised with the result. You can find our full DIY wine cork bath mat tutorial here along with updates on how it's holding up over time!
Upcycling the existing vanity
We saved some money by updating to the existing vanity rather than buying a new one. We gave it a pop of colour with True Teal Satin Enamel paints by Decoart. It's the perfect paint to use for a bathroom vanity and it covers over the existing wood stained vanity without any priming. We replaced the old vanity top which was rust-stained and the hardware to give the piece a complete coastal refresh!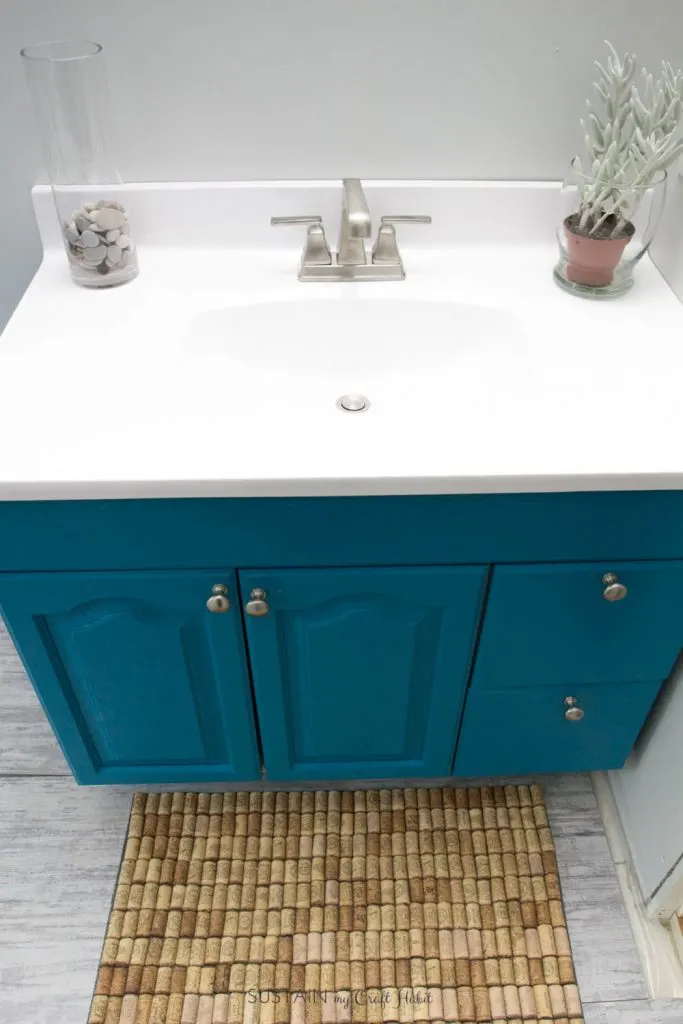 New Faucets and Hardware Fixtures
We updated all of the faucets and fixtures in the room with pieces in the Brilliance® Stainless finish from Delta Faucet Canada. They generously provided us the vanity faucet, the shower faucet, hand-towel ring, and toilet roll bar from their Ashlyn Collection as well as a toilet tank lever and new towel bar from their Tesla Collection. These pieces were just the classic yet modern style we were envisioning.
Installation of a new shower enclosure
We installed a new corner shower unit, the Mirolin Sorento Neo-Angle 38″ enclosure, which was the bulk of our bathroom remodel budget. Our parents had installed these shower enclosures in their home and are completely thrilled with them.
We saved a lot on other costs by accessorizing with DIYs and thrift store finds. We'll be sharing the full tutorials for these projects over the coming weeks including:
A white washed stacked crate storage unit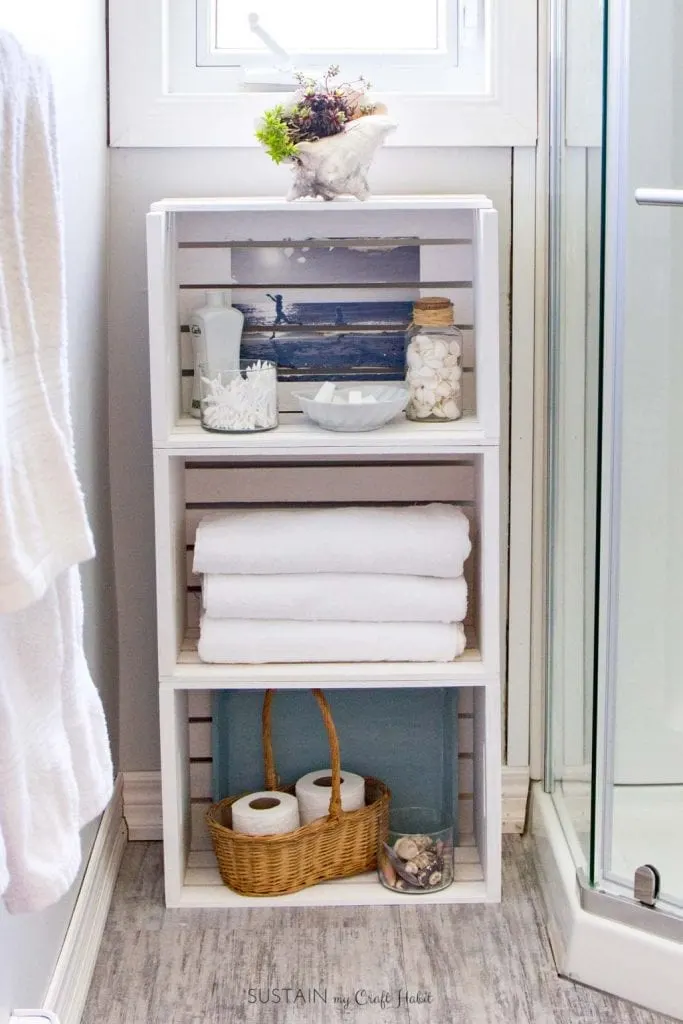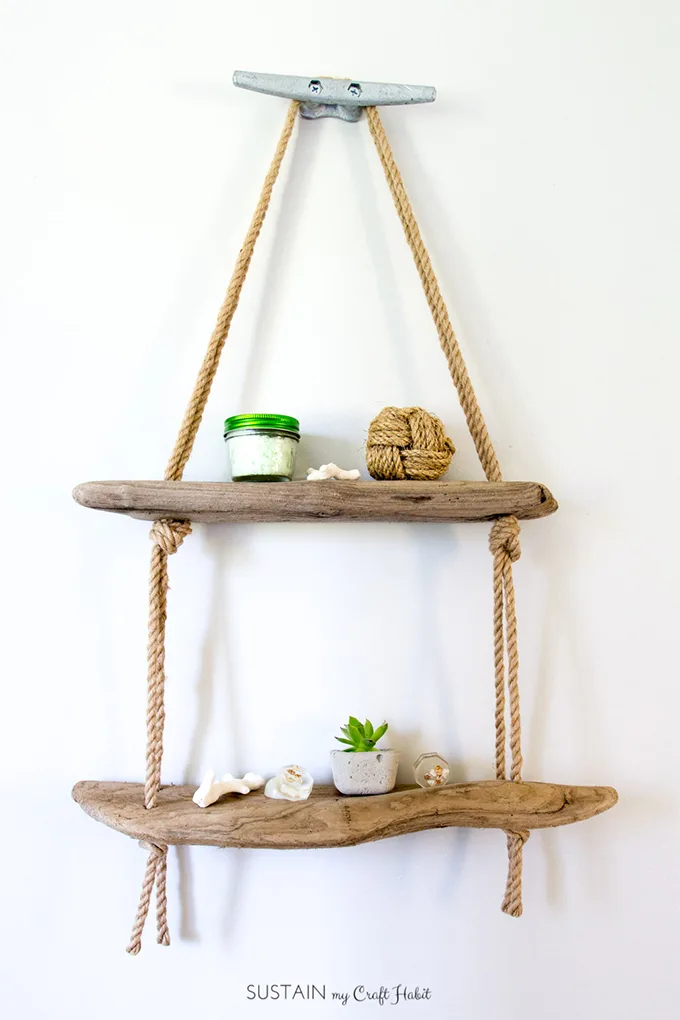 Fisherman knotted twine plant hanger
Rust-Toned Coastal Watercolor Art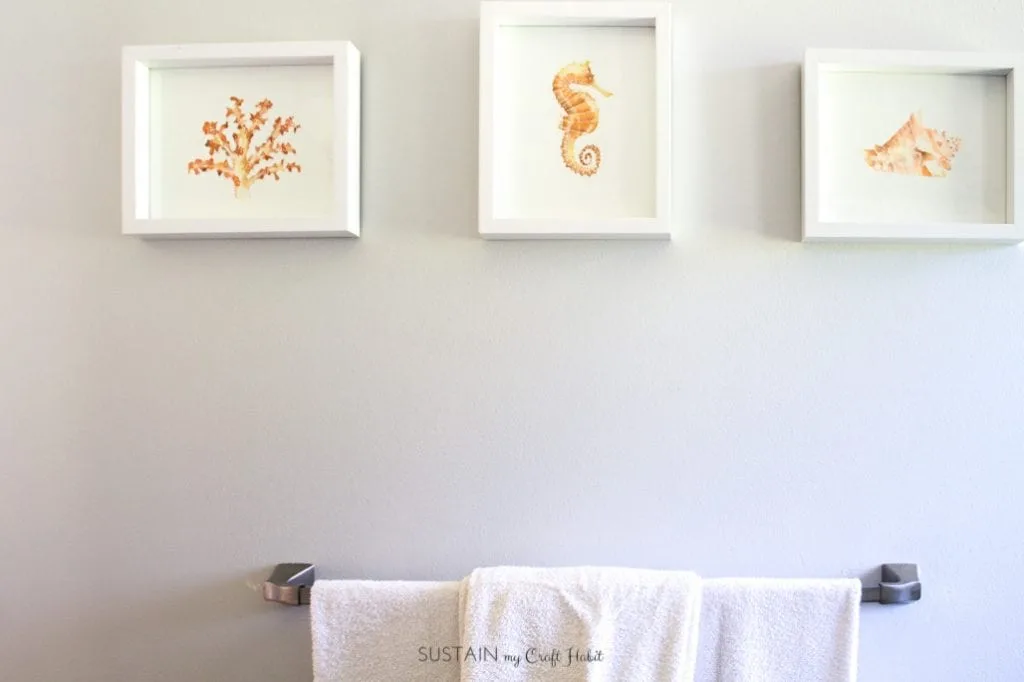 Jane painted these and has named the seahorse Rusty 🙂
Whew, that's it! We still can't believe we did all this. To be completely honest, we weren't really feeling it until we added in all the fun accessories at the end which just seemed to tie everything together and bring us the beach themed bathroom feel we were striving for.
We're going to take a bit of a renovating rest now, but not for too long as we'll soon be starting a whole new makeover: the cottage's Lakeview Bedroom! Be sure to subscribe to follow along with all the coastal cottage reno fun (and get our free Rustic Tablescape Guide as a thank you)!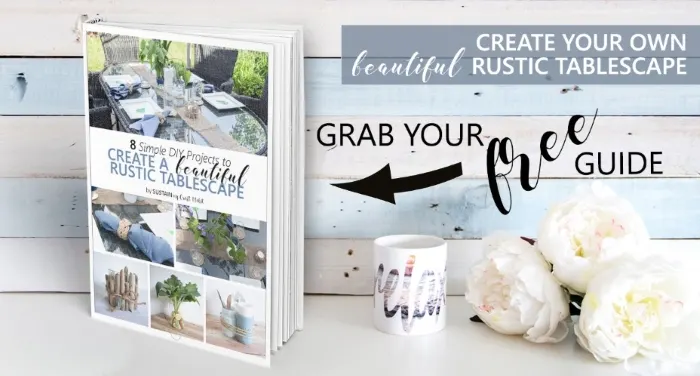 Like it? Pin it for later!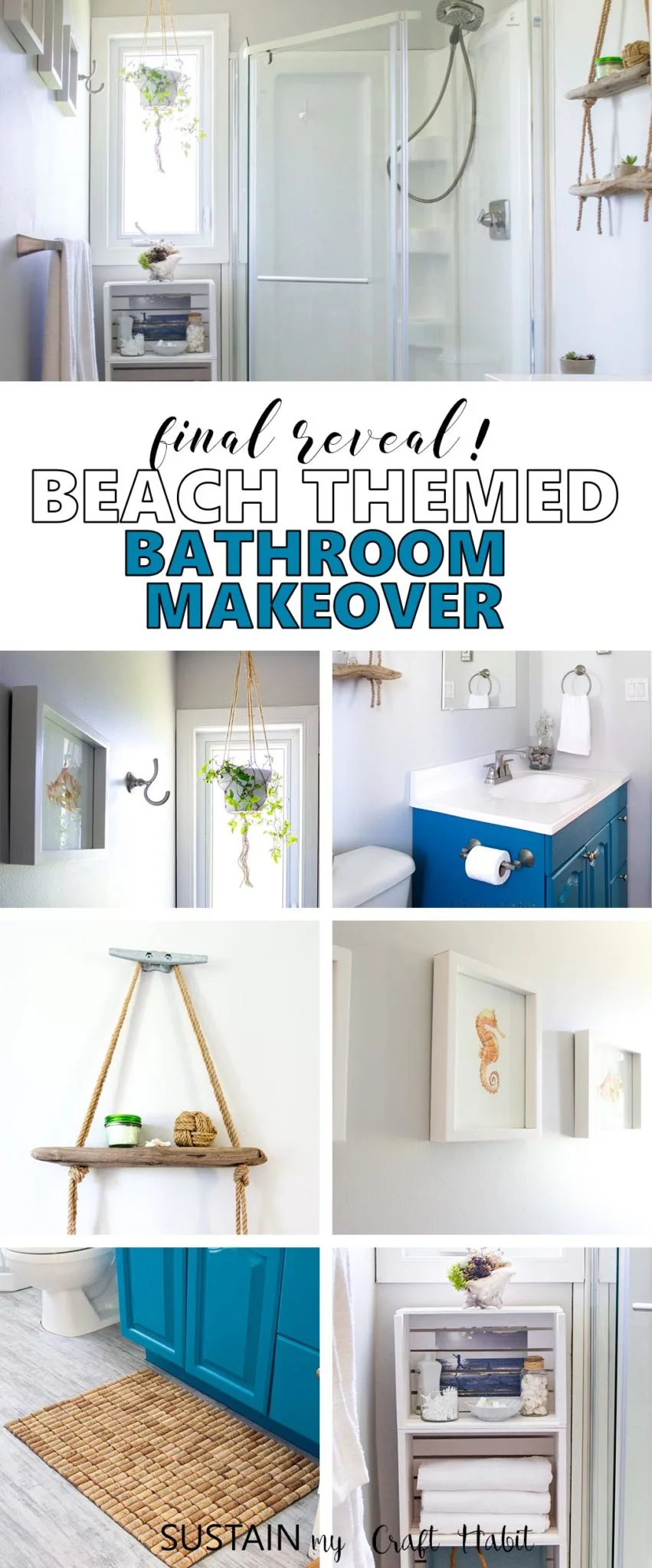 If you could choose any room in your house to renovate, which would it be?
Shared at these great Link Ups: The Creative Gallery