Crafting for Halloween has never been sweeter than when making all these tiered tray decor ideas. Having a place to display so many Halloween themed ideas, gave me the motivation I needed to totally DIY this impressive centerpiece.
Decorating a Three Tiered Tray for Halloween
The truth is I'm not one to normally deck the house for Halloween but this year I decided would be different. I've given myself one little corner of my house to go full out and decorate. And each of the pieces I'm putting out for display are crafts I made during a series of Facebook Live videos. You can see the process of putting together this three tiered tray for Halloween in this video here.
Now that Halloween is literally around the corner, I'm so excited to have this one spot in my house that feels so festive and fun. And now I'll have all this sweet decor to enjoy next year as well!
Halloween Crafts to Make for a Three Tiered Tray
Halloween Burlap Characters
These decorative characters make an adorable addition to a Halloween tray.
Check out this project
Stacked Books Decor for Halloween
You can use wooden blocks to make an adorable yet creepy stacked books decor for your Halloween tray.
Check out this project
Although this acorn garland was initially made for my Fall themed tray, I ended up making a second one in a moody metallic gold and black combo with raffia tassles on the end.
How to Make an Acorn Garland
Get outside and start foraging those acorns to create your own beautiful, nature-made acorn garland in your favorite Halloween colors.
Check out this project
Easy Mini Witch's Broom Craft
This adorable miniature witch's broom craft idea with raffia and twigs is an easy way to add a touch of magic to your Halloween decor!
Check out this project
Painted pinecones (and even non painted pinecones) are a great addition to the tray, giving the overlook a pop of color and texture and filling in the empty spots in between.
DIY Halloween Pine Cones
Add some sparkle and glamour to your Halloween tiered tray with these DIY pine cone flowers.
Check out this project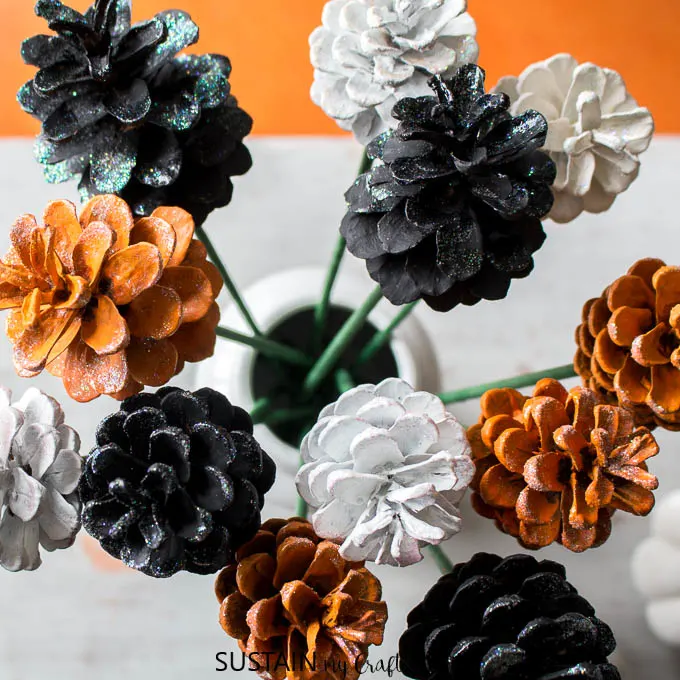 Punny DIY Witch's Potion Jars
Make your very own playful witch's potion jars using our free printable along with the step by step tutorial.
Check out this project
Salt Dough Halloween Houses
Step by step tutorial for making and decorating salt dough houses for Halloween.
Check out this project
Lastly, I added some painted maple leaves throughout the tray. You can make your own by pressing the leaves to dry and than giving them a coat of black acrylic, matte paint.
Fill in any empty spots with some fluffy batting and other embellishments like mini plastic spiders and you're set. Time to enjoy your DIY centerpiece for Halloween!
More Three Tiered Tray Decor Ideas
Now that you're set for Halloween, check out our three tiered tray for Fall with more fun upcycling crafts. And if you want to look ahear for Spring, you can even check out how we decorated the same three tiered tray for Easter.
Happy Halloween, friends!
Like it? Pin it for later!