Using a beautiful wooden three tiered tray as the base, we're sharing all of the tutorials for making each and every one of these DIY tiered tray decor ideas for putting this gorgeous Fall-themed centerpiece together.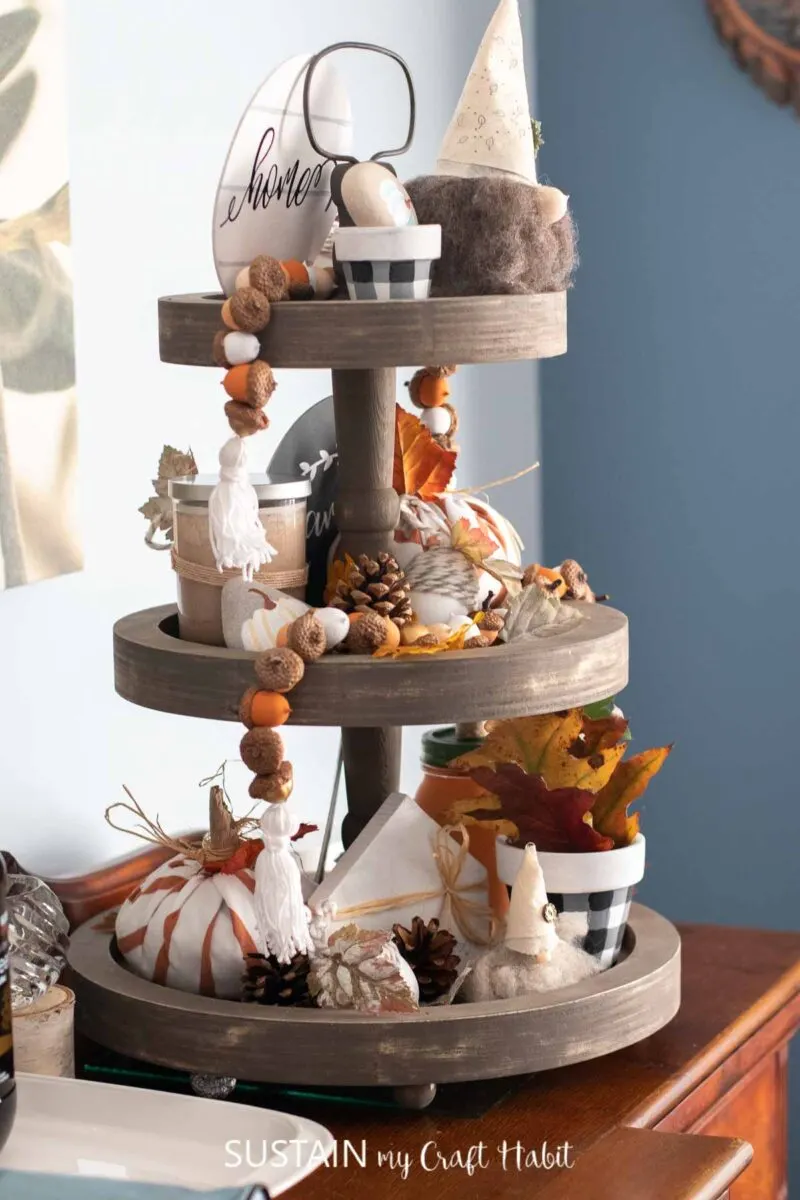 When Jane first told me she was going to do a full series of Facebook Live videos making crafts for her Fall themed three tiered tray, I was pretty excited. I love watching along as the creative process unfolds. Each night she shared a new craft idea and added it to her impressive three tiered tray. And believe me, it's even more of a show-stopper in person.
Jane used this same tiered tray in the Spring and filled it with adorable Easter-themed crafts and DIYs. You can check out that video here on our YouTube channel.
Making Tiered Tray Decor for Fall
Using supplies from her craft room along with other found materials such as acorns, pinecones and rocks, Jane crafted each one of these pieces for the Fall themed tiered tray. Which one of these DIYs is your favorite Fall craft idea?
Crafting with Nature
How to Make an Acorn Garland
Get outside and start foraging those acorns to create your own beautiful, nature-made acorn garland.
Check out this project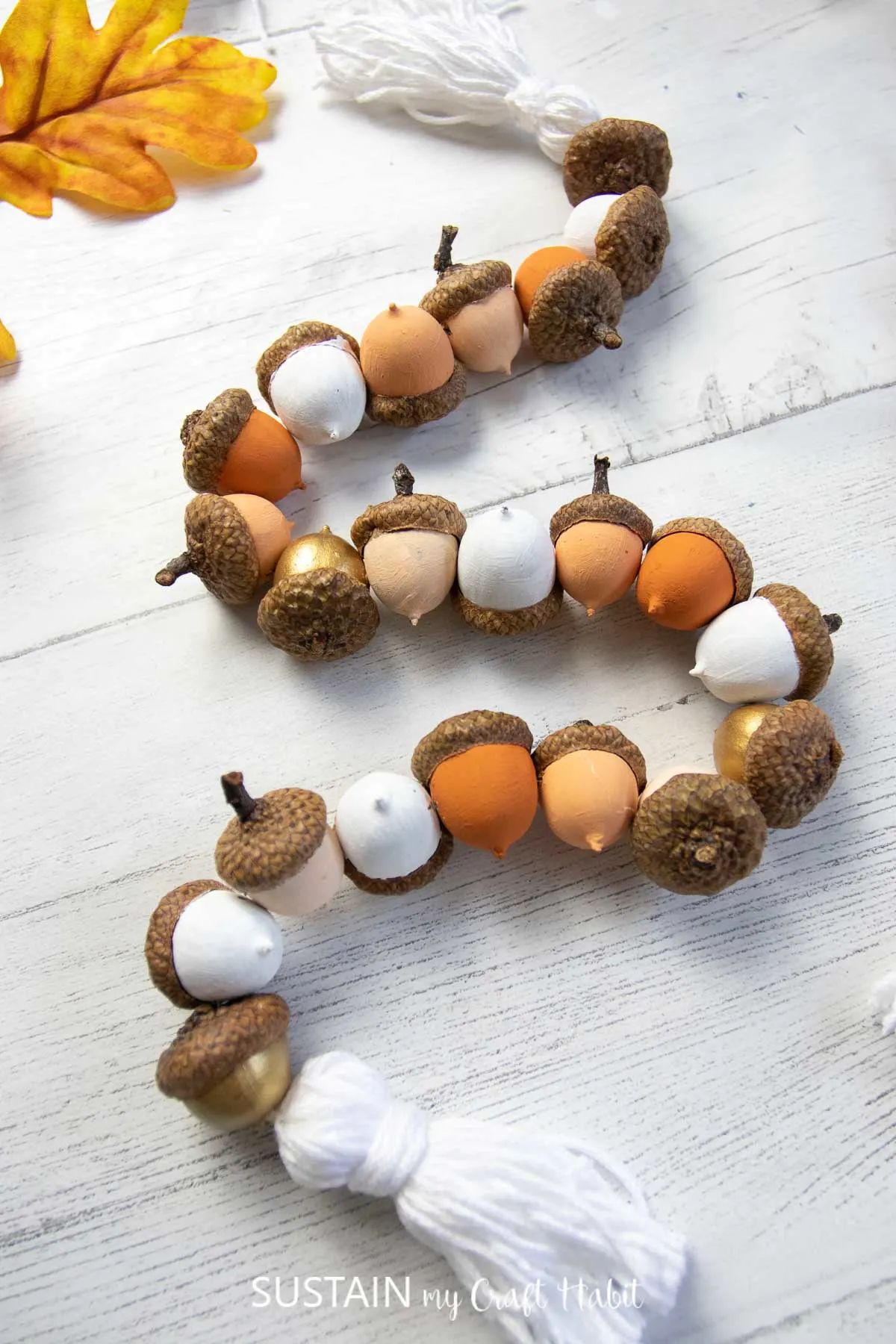 Painted Pumpkin Rocks
Turn ordinary stones into adorable little pumpkins. These watercolor-inspired painted rock pumpkins are a fun and versatile decoration to add to a fall tiered tray.
Check out this project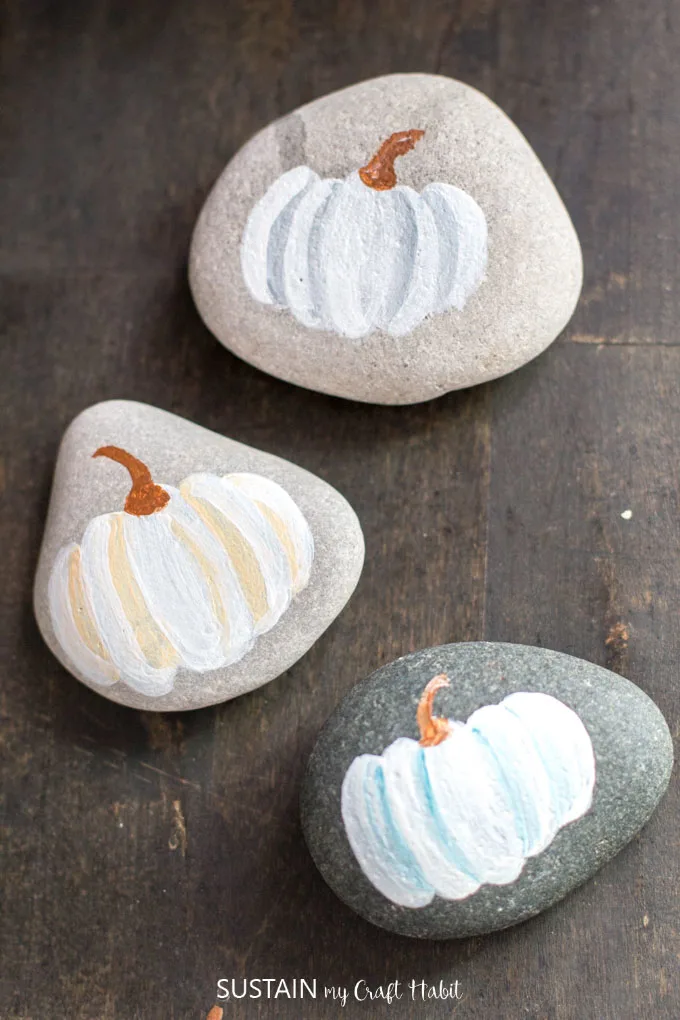 Upcycled Crafts
Upcycled Plastic Egg Acorn Ornament Craft
Combining Fall crafting with upcycling by transforming old, plastic Easter eggs into pretty, decorative acorn ornaments.
Check out this project
Easy No-Sew Gnome Decor
Using mostly supplies from around the house, we're making easy, no-sew gnome decorations for Fall.
Check out this project
Easy No-sew Fabric Pumpkins!
Make your own adorable no-sew fabric pumpkins with ease using an assortment of scrap fabrics and a few other household supplies.
Check out this project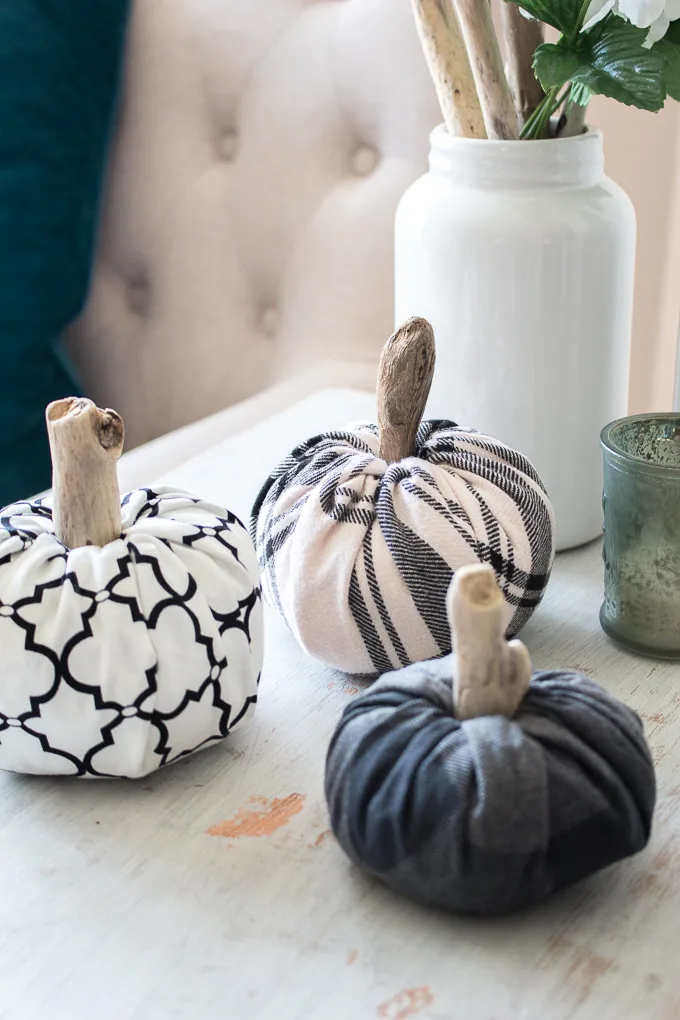 Mason Jar Crafts for the Fall: Pretty Pumpkin Decor
It's pumpkin season! And why not celebrate it by making your own set of pretty perfect pumpkin decorations with some mason jar crafts.
Check out this project
DIY wood signs
Farmhouse Inspired DIY Round Wood Sign
Making these reversible farmhouse-inspired round wood signs using a Cricut cutting machine.
Check out this project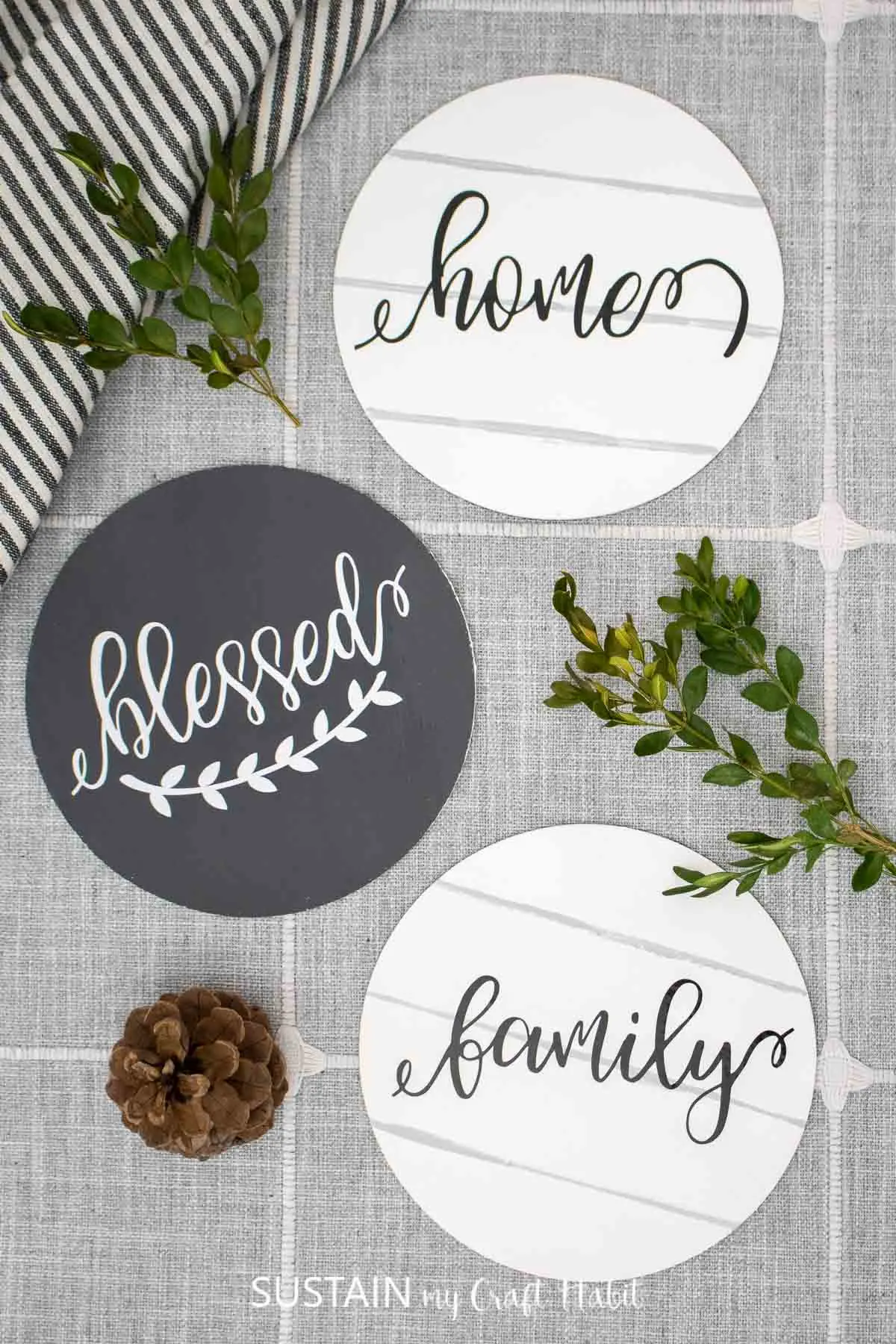 Making Decorative Scrap Wood Houses
Transforming leftover wooden fence boards into adorable, decorative scrap wood houses.
Check out this project
More DIYs for Fall
She even managed to make this beautiful large chalkboard art for her room using an old picture frame found at the curb! We'll share the tutorial for making that DIY soon. In the meantime, you can make these magnetized fall leaves using our free watercolor printable.
Magnetized Fall Leaves Craft (with Printable!)
Add a touch of autumn to your tiered tray with this fall watercolor leaves printable.
Check out this project
DIY Scented Fall Candle
See how easy it is to make your own DIY fall candles with just a few materials. You'll love the look and smell of these scented candles.
Check out this project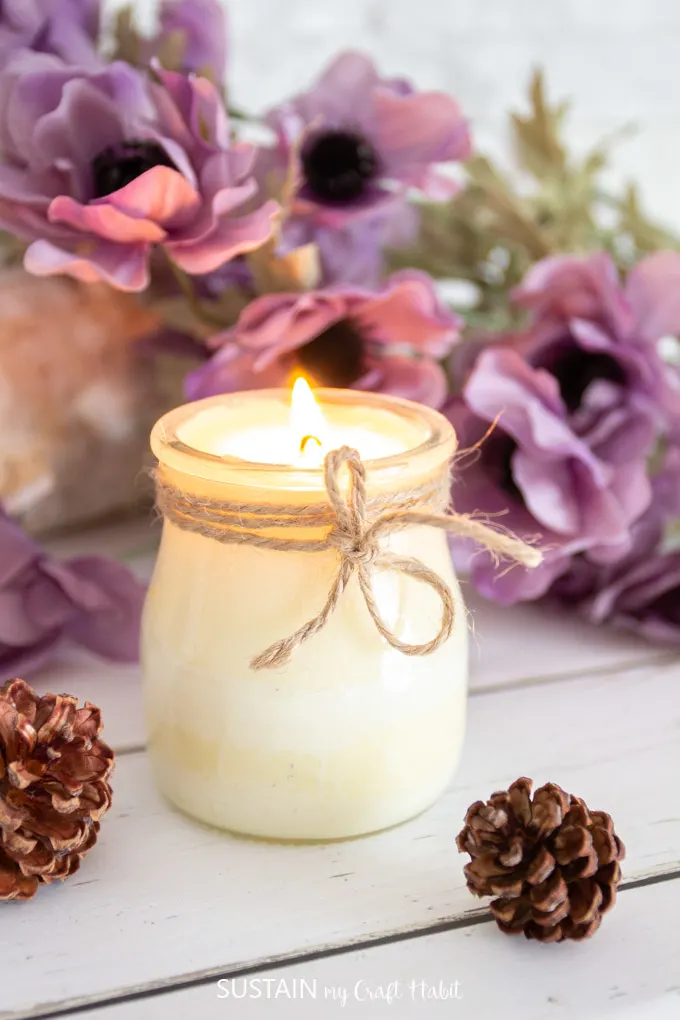 We'd love to know, which one of these Fall crafts will you make for your tiered tray? Tell us in the comments below.
Like it? Pin it for later!