During a recent road trip in the country, and during one of my spontaneous moments, I stopped to check out a yard sale in front of a large, old farm house. (I'm starting to get the yard sale bug. You can find our previous transformations of some barstools and a mirror found at a garage sale).

One of the best finds at this yard sale was an old beaten up window frame. They seem to be all the rage lately. I had seen so many great ideas for old window frames such as this chalkboard and art piece by Heather in Heels, beautiful and versatile photo displays by My Daily Randomness and Home to Heather, and these gorgeous mirrors by Making it in the Mountains. So I jumped on the chance to have my very own. It cost me a whopping $5! And don't worry if you can't find an old window frame. Just check out this helpful post from Time with Thea on how to make a faux rustic window pane with a plastic photo collage frame.
As you can probably tell, our frame needed some serious TLC. To start, I pulled out all of the old rusty nails, chipped off at the crusty old paint and than I gave it a good wipe down to get rid of the caked on dirt and dust. Using a medium grade sandpaper, I began to scrub away at the loose paint chips until the surface was smooth but the top layer of paint was still visible. I love how the base colour shows through!
The final step was to spray the window frame with a few coats of shiny lacquer.
To be honest, I am having a hard time deciding what to do with this window frame. Not because of a shortage of ideas but because there are so many ways to display it. We love how it looks as simple wall decor in the bedroom, but you just may see some reinventions of it in the coming weeks. I think this indecision is a sign that I need to go on a hunt for more rustic window frames to upcycle! Check out these other five ways to re-purpose old frames or these yard sale find transformations.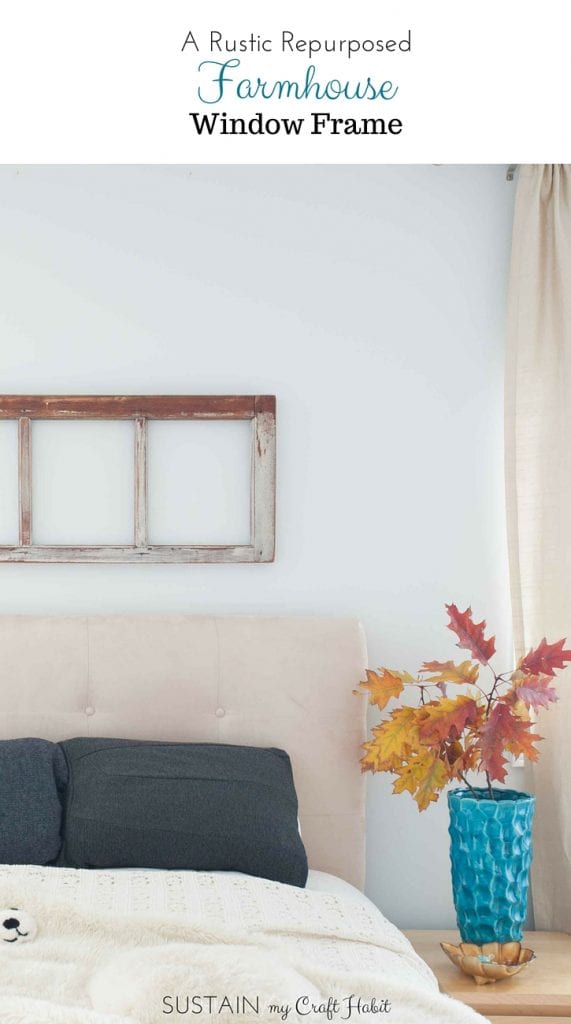 What is your favourite yard sale find?