Looking for some creative yard sale finds before and afters? On a recent yard sale adventure I picked up a bunch of goodies, including a mirror and bar stools which I upcycled into pretty pieces for my home.
I spent a recent sunny Saturday morning roaming various yard sales in my neighborhood. I'd have to say my expedition was successful: for $50 I collected an assortment of home furniture/decor, toys, games and other items.
To be honest, I was hesitant to go. I'm not a regular yard sale goer. I was worried about insulting an owner if I would leave their sale without buying anything. But fortunately, I was relieved when that feeling quickly vanished the moment I found my first deal…a $2 oval shaped brass framed mirror with loads of potential and a $5 barely used game of Cranium. Score! I was hooked.
Out of all the items I selected, that mirror and a pair of bar stools were going to be my next upcycling project.
The mirror had a great oval shape and was a nice large size. I wasn't crazy about the ornate gold frame though.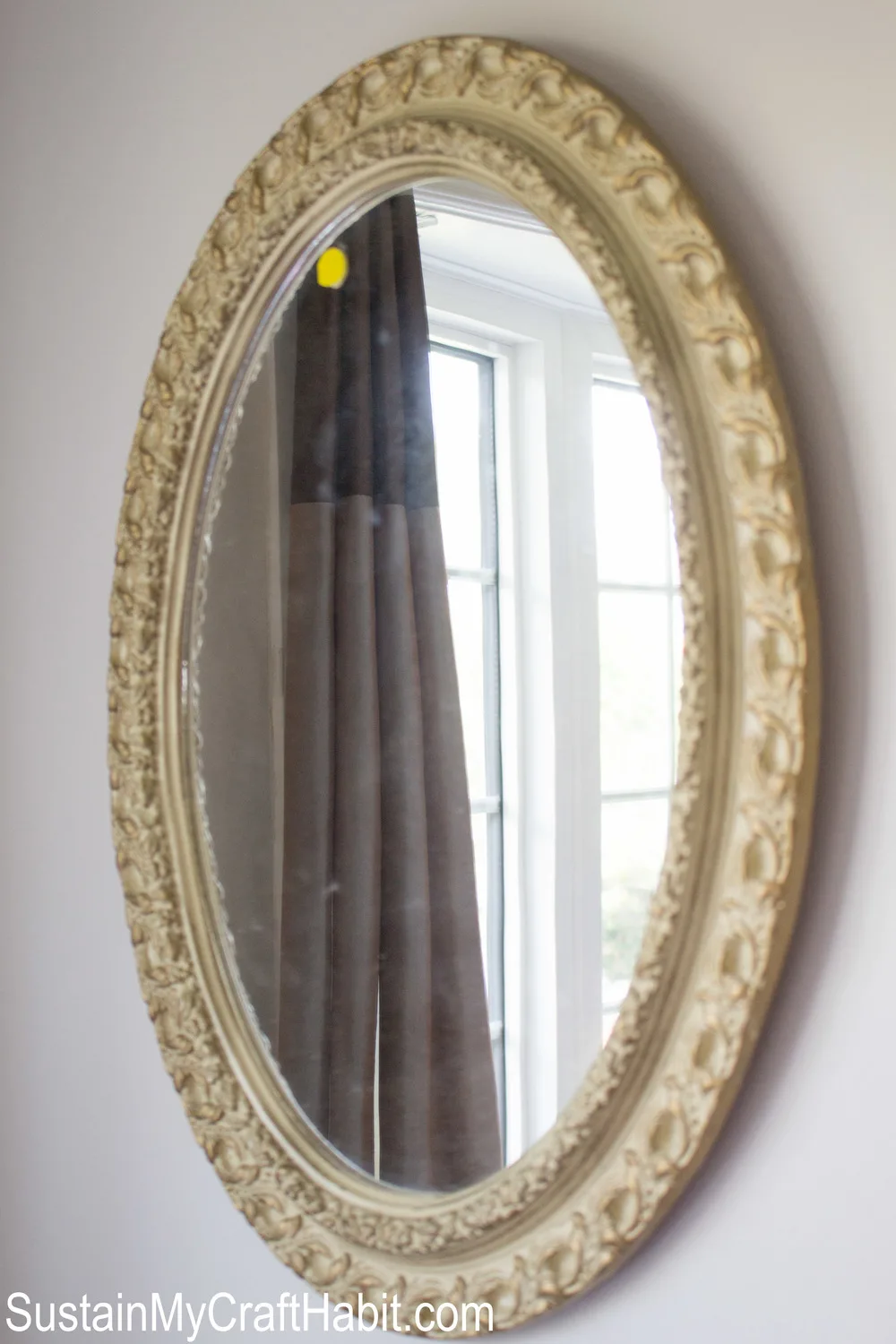 The barstools were very sturdy and would fit perfectly at my kitchen island. However, the upholstery looked quite old and the dark wood legs wouldn't work in my bright, white kitchen.
DIY Upcycled Mirror
The mirror needed a paint job: I taped along the inside edge of the frame and painted one coat of light primer.
After allowing time to dry, I added a couple more coats of white trim paint using a foam brush. I removed the tape, allowed time to dry fully and gave the mirror a good cleaning before hanging. And voila…a boutique style decorative mirror!
This mirror found a home in my refreshed French Country style guest bedroom.
Bar Stool Upcycle
The bar stools, which I purchased for a steep $2 each, needed reupholstering and a paint job. We used a similar process to the in our how to reupholster a chair seat tutorial.
I removed the old upholstery and foam from the bar stools making sure to keep them intact to use as my template for the new cover and foam.
I chose a heavy weight denim I had on hand and cut out exactly the same sizes and shapes. I notched the circle at four evenly spaced spots along the perimeter in order to align with four evenly spaced notches I had placed along the rectangular piece.
I sewed the 2 pieces together and set aside.
I cut out a circle of the same size from new foam padding.
It fit snugly into the new sewn denim cover.
For the legs, I primed them using a foam brush and followed up with several more even coats of white trim paint. Finally, I stapled the new cover and foam padding to the stool.
I'm definitely looking forward to my next treasure hunt. What great treasures have you found at yard sales?
Like it? Pin it for later!