Add some unexpected citrus decor to your home this Summer with these quick and easy to paint lemon and lime painted rocks.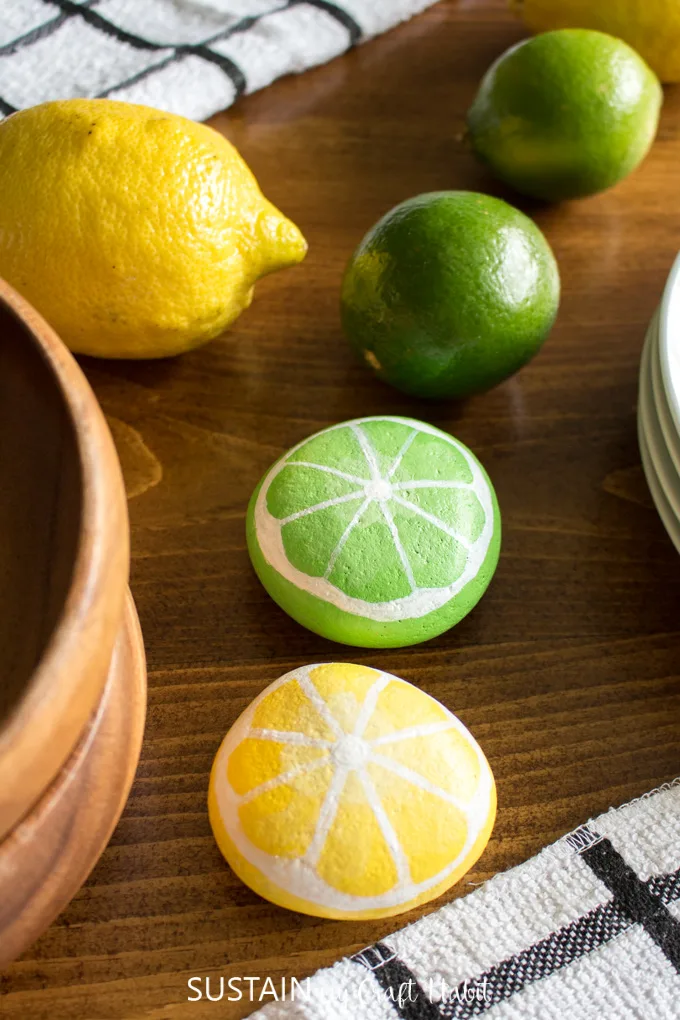 Zesty Citrus Painted Rocks
One of our favourite crafts here on the blog is rock painting, which you can clearly see from our gallery of painted rock projects! If you've yet to try this crafting craze, it won't take you long to understand why it's such a hit. From relaxation to creativity, there are many reasons why painting rocks is so enjoyable.
Ever since we painted these sweet rock strawberries, we've been wanting to paint more fruity designs for Summer. There is an abundance of inspiring options to choose from such as watermelons, kiwis, oranges and grapefruits. However, we decided to kick it off with painting lemons and limes which for us is a sure sign that Summer is in full swing.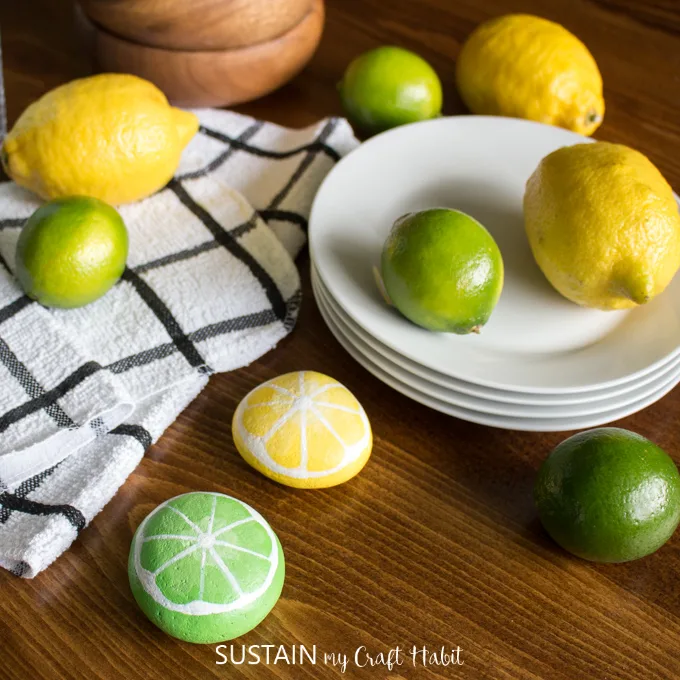 Although you couldn't slice up these lemons to put in a homemade linden tea on ice, it would look adorable as part of your outdoor patio decor. Additionally, you could make these DIY lemon and lime candles and go for a citrus themed party!
Supplies Needed:
This post also may contain affiliate links for your shopping convenience. Should you chose to purchase through these links we make a small commission at no extra cost to you. You can read our full disclosure here.
How to Make Citrus Painted Rocks:
A few rock painting tips to get you started:
Wash the rock and let it dry completely before painting.
Protect work surface with a sheet of newspaper.
Allow paint to fully dry between steps and when changing to a new color.
Repeat each step as needed for additional coverage.
Paint the entire surface of the stone in the base color: apple green for the lime and canary for the lemon.
For the painted lemon rock, mix cotton ball in with the canary to make a pale yellow color. Paint the center of the rock in this pale yellow color. Add more canary to the mixture creating a slighter darker shade and paint the area surrounding the center.

Using the back end of your paint brush, dip it in cotton ball and dab it in the center making a white dot.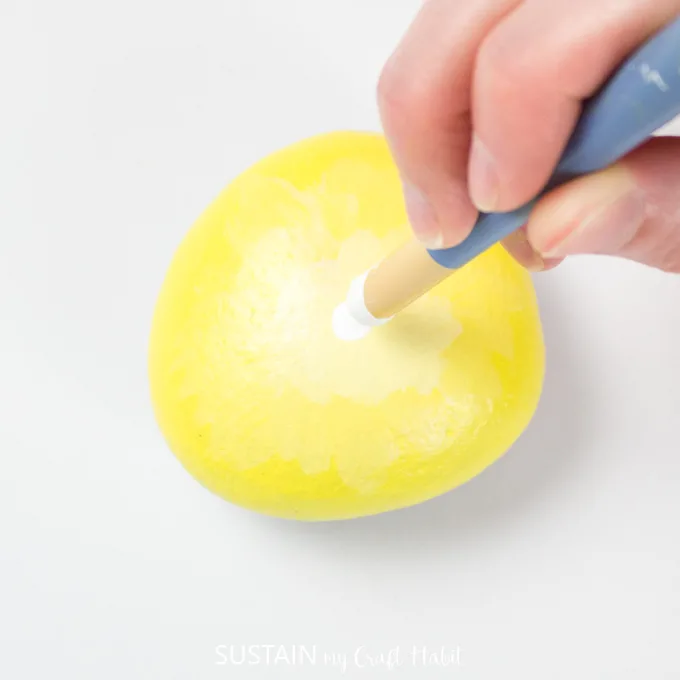 Mix cotton ball with water to create a washed out hue and with a fine tip paint brush, apply four intersecting lines on the rock as shown.

Connect the lines around the perimeter of the rock with scalloped edges. Fill in the perimeter with a thicker line using more cotton ball paint.
Using a toothpick, dip it in cotton ball and add white lines over top of the washed out intersecting lines for a 3-dimensional effect.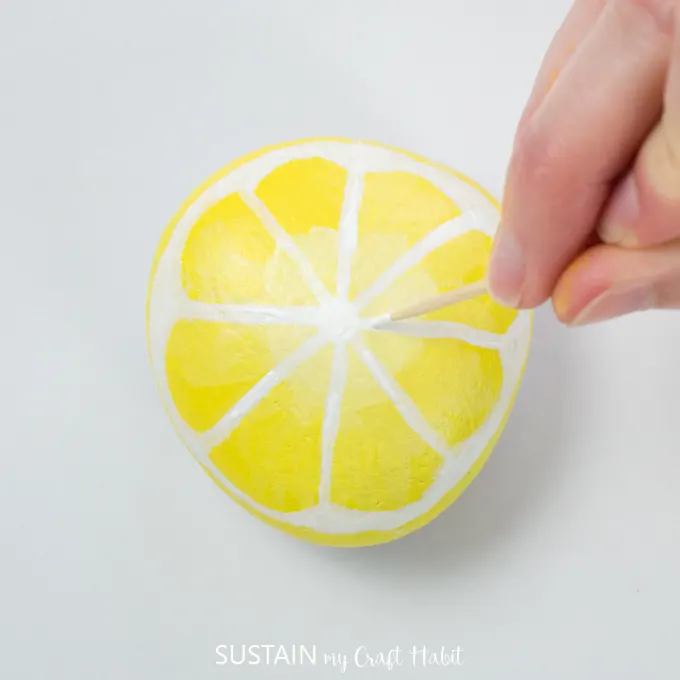 Apply any touch ups that are needed. Repeat these steps for painted lime rock using apple green and cotton ball.

If you know someone that would love this type of craft, then consider making them a crafty rock painting kit and this Rock Painting for Beginners book available on Amazon. Simply assemble some paints, paintbrushes, rocks and loads of inspiration to get them started!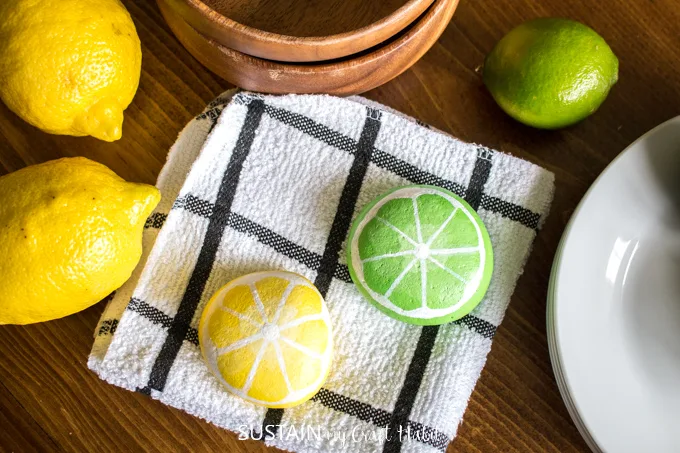 For even more rock painting inspiration, check out these fun DIY ideas that can be done in 30 minutes or less!
Like it? Pin it for Later!