I am a stickler for punctuation and completing projects on time so when we surpassed our 6 week one room challenge timeline, I was feeling the pressure! So it's with a great sense of satisfaction that I can finally share the reveal of our completed cozy contemporary main bathroom makeover.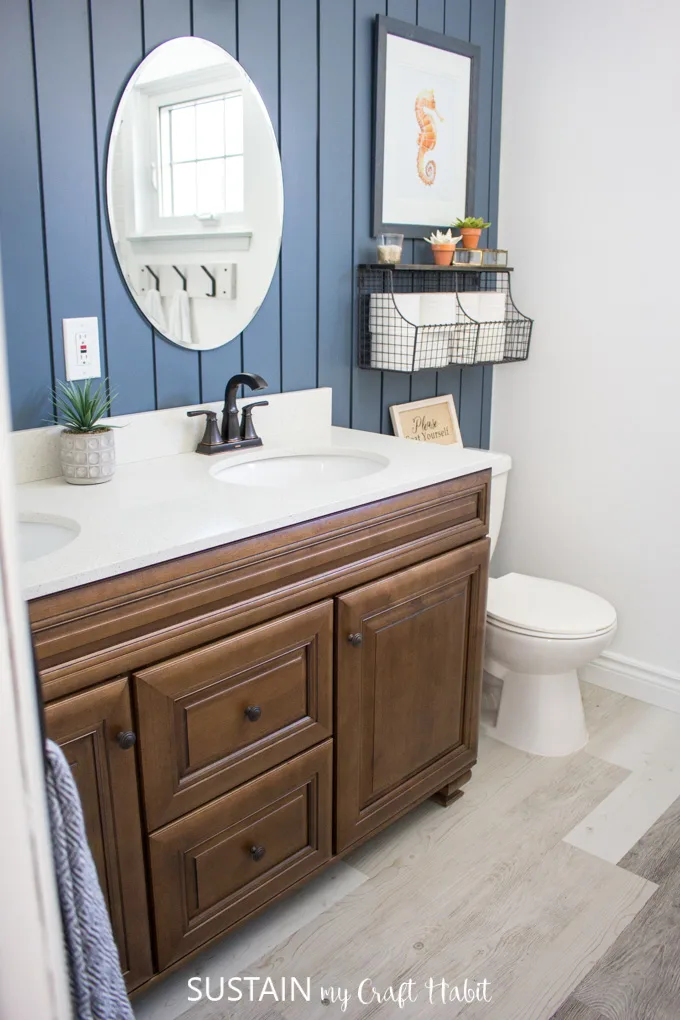 A Cozy Contemporary Bathroom Makeover
Signing up for the One Room Challenge, I was fully aware of the challenges we'd face in renovating our main bathroom in such a short amount of time. But if you don't ever start, you'll never finish. So with a good plan and lots of hope for a smooth-sailing project, we continued on. From installing our new bathroom shower and tub at week one to installing shiplap and contemplating flooring at week 4, I'm amazed we ever finished!
Seven weeks ago I shared my bathroom remodel ideas for our main bathroom renovation. Now I can step back and appreciate all the work we did to complete this room which has now become my favourite room in the house. This could be why participating in the One Room Challenge is such a good idea and somewhat addictive despite the challenges. It allows you to tackle one room at a time, transforming it into the space of your dreams. And well, I guess they don't call it a challenge for nothing.
This is what our bathroom looked like before the makeover. Yikes.
And here it is fully transformed into a new, bright, cozy and inviting bathroom. Ahhhh, I feel like I'm at the spa!
DIY Projects completed for this bathroom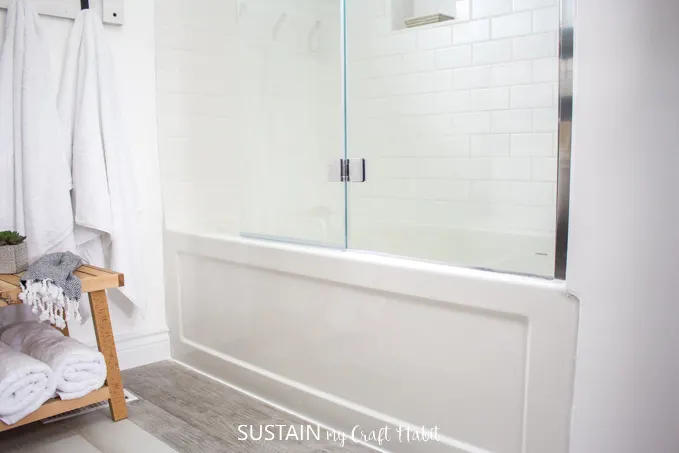 After completely removing the original bathtub and surround, we installed a new relaxing Mirolin Tucson soaker tub. And instead of hanging a shower curtain or installing a sliding door, we opted for this modern Maax duo tub shield.
Tiling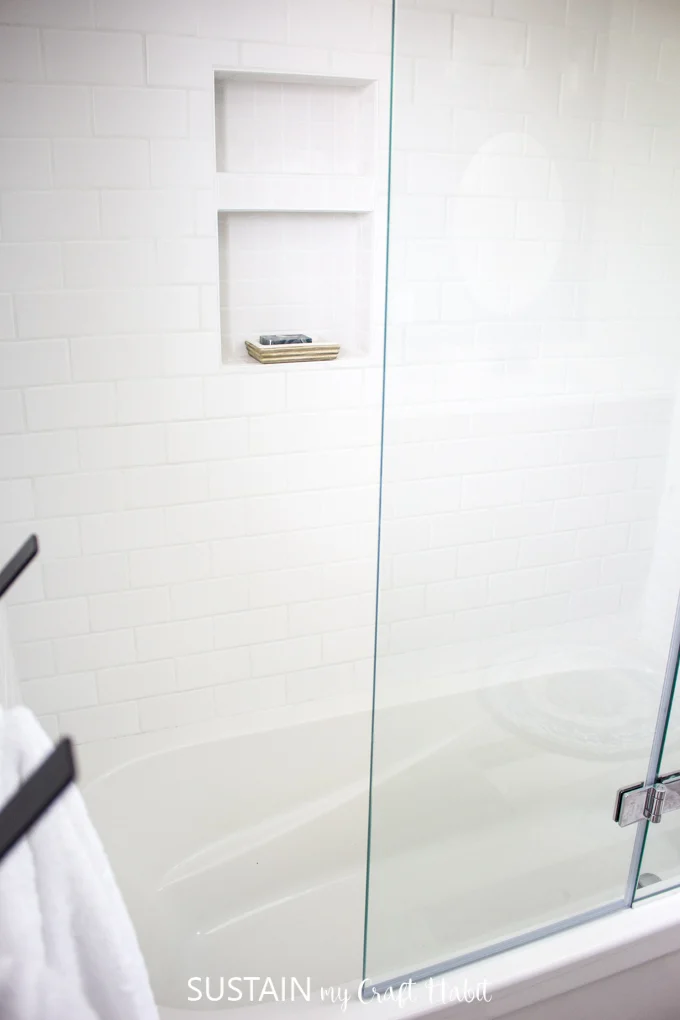 We selected a standard matte white 4×6 subway tile for the bathtub surround with matching 1×1 square tiles for the tub ceiling and DIY bathtub nook. It was no easy task but what a big difference itmakes!
Installation of a new vanity and double sink countertop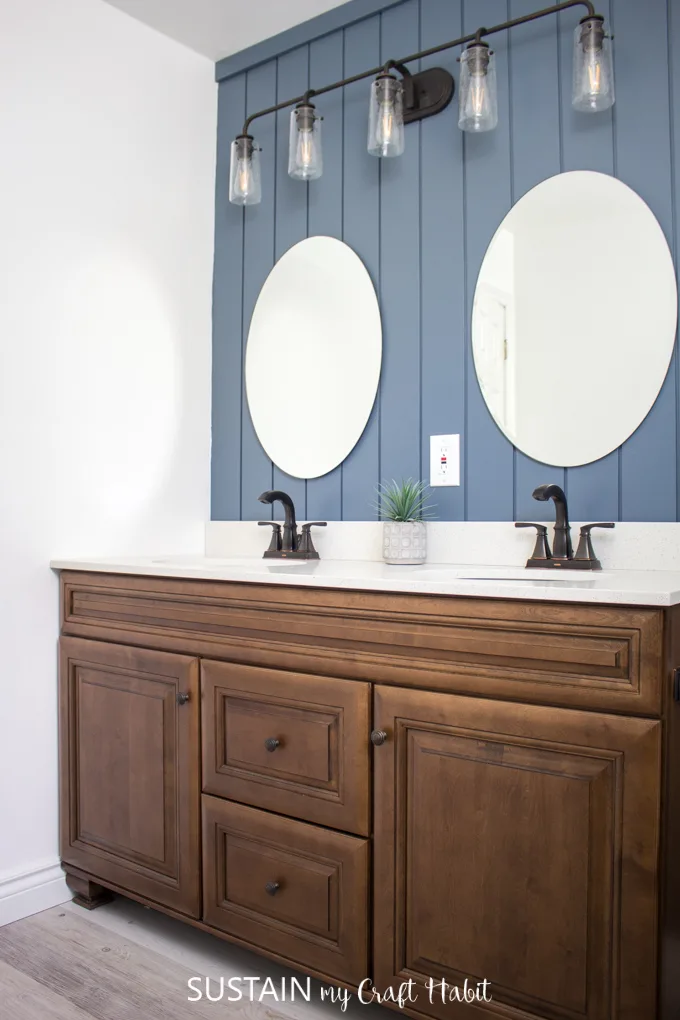 Since there was plenty of space in this bathroom, we selected a double sink vanity top instead of the original single sink countertop. My daughter has claimed the left side as her zone and I get the right side! The vanity is in a natural wood finish and I LOVE the warmness and sturdiness of this piece! The two oval shaped bevelled edge mirrors from Amazon were also a great find for this space.
Installation of a luxury vinyl plank flooring
What a difference the flooring made in this bathroom! We didn't want to remove the original ceramic tiled flooring so we chose this Lifeproof 100% waterproof luxury vinyl plank flooring in a frosted oak finish to lay over top of the existing floor. We are beyond happy with the results having turned out even better than we expected! A BIG thank you to Home Depot Canada for sponsoring this DIY project. You can check out how we installed these planks over our existing ceramic tiles here.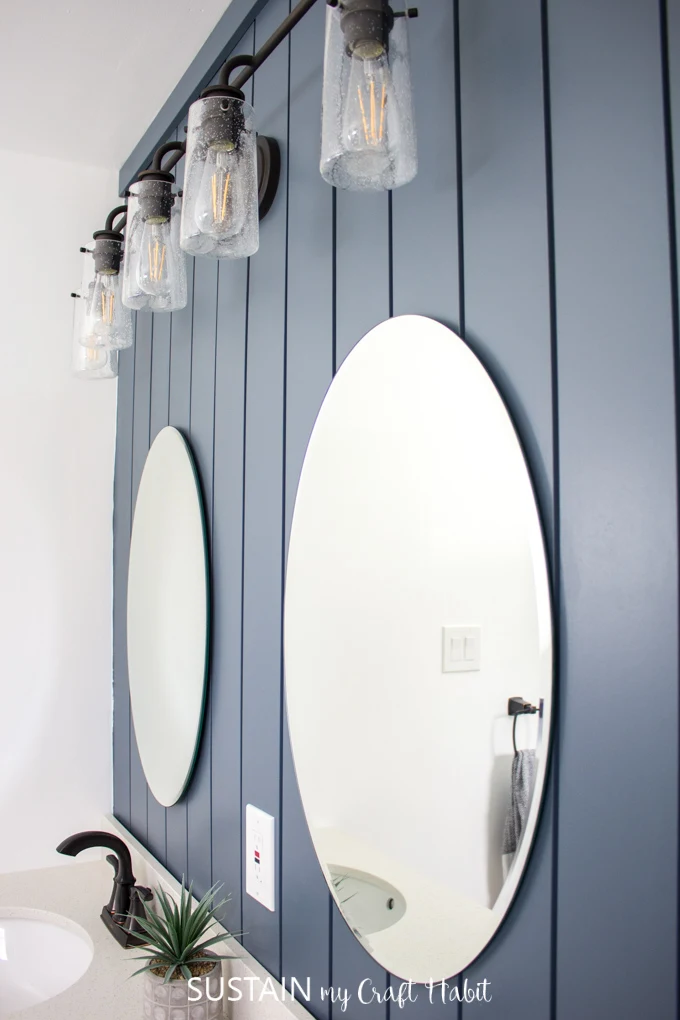 Having always wanted to install shiplap on a wall, this bathroom was the perfect space to do it in. The wall itself was not large but what an impact it makes! It's no wonder Joanna Gaines used shiplap in so many of her designs! You can check out our tutorial for installing shiplap vertically here. We painted the walls using Premier Infinity Interior Paint in Polar Bear and Twilight for the shiplap accent wall.
New lighting and fixtures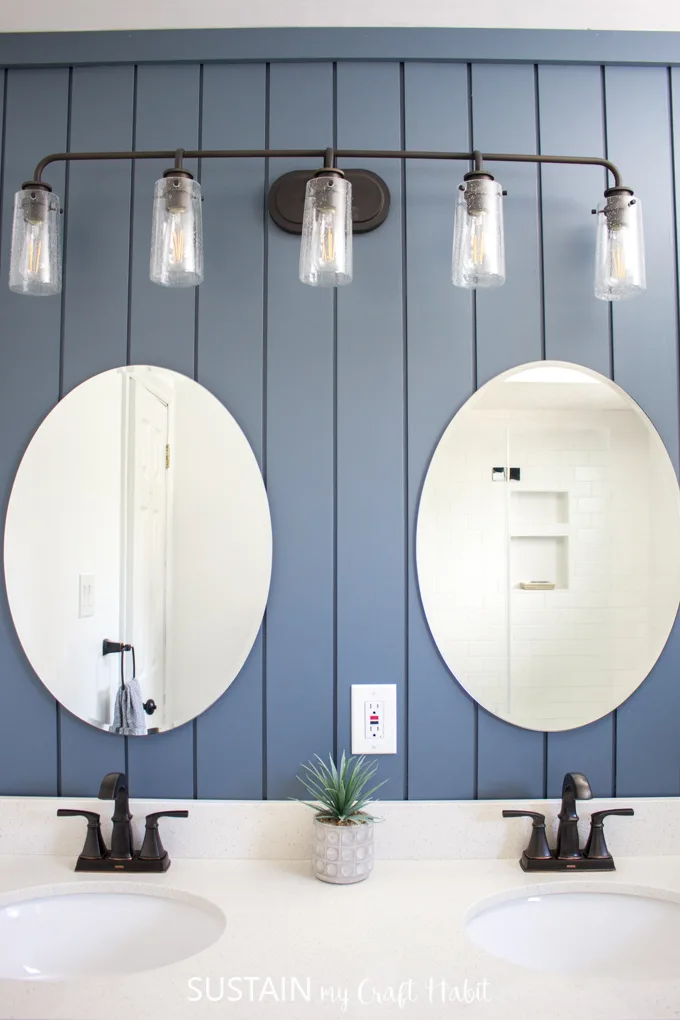 We selected antique bronze finished fixtures and lighting to compliment the cozy contemporary feel of the space. I spent a lot of time searching for the perfect light fixture for this bathroom so when I discovered this Scandia 5-light vanity light from Wayfair.ca it was love at first sight!
DIY towel rack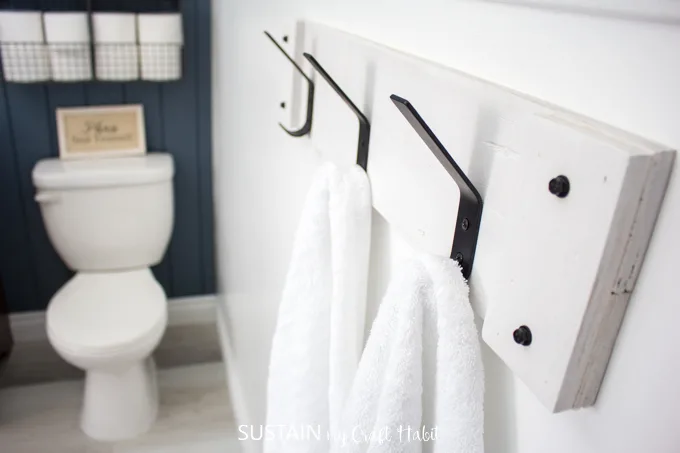 Using scraps of wood from the countertop crate packaging, I made this modern rustic white washed (and inexpensive) DIY towel rack. We'll be sharing this fun tutorial here soon.
Silly DIY bathroom sign
We just had to make a silly sign for the bathroom using our Cricut Maker. For instructions on making your own silly bathroom sign, head over to this tutorial.
The fun part…Accessories
We purchased a small teak shower bench to hold towels and knick knacks as well as this wired hanging storage basket for over the toilet. Our potted felt succulents look pretty sweet placed on the wall shelf. And the luxurious white cotton bath towels and Turkish cotton hand towels were all purchased from Wayfair.ca.
In the end, the project cost us $5500 inclusive of product received from Home Depot Canada for the flooring. But by doing the entire project on our own, we saved thousands of dollars! It was definitely a big undertaking but now that the job is complete, we can really appreciate all the hard work.
Other spaces we've completed for past One Room Challenges include our cottage beach-themed bathroom makeover and our coastal cottage kitchen. And we can't forget about our relaxing beachy bedroom makeovers. Time to think about which room we'll take on for the next challenge?