I don't think it's a secret but I find decorating to be completely overwhelming. All the options and possibilities completely paralyze me and I tend to overthink things. I love that Terrra Greenhouses has made creating a fabulous fall porch ridiculously simple!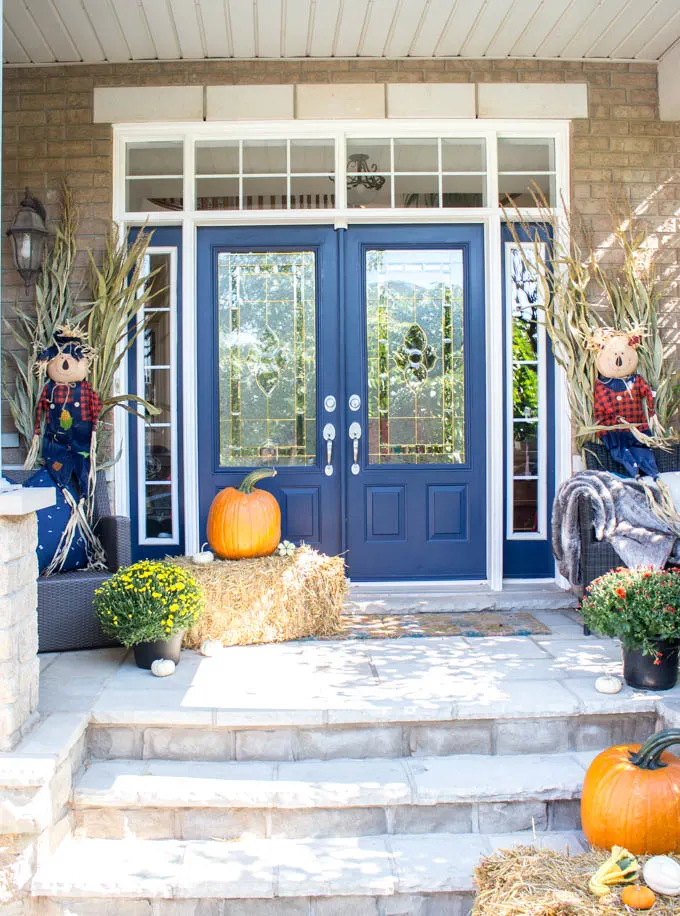 Disclosure: This post is sponsored by Terra Greenhouses. However, all opinions are our own. You can find our full disclosure here.
Last weekend I went to my local Terra Greenhouse – a beginning of the season tradition. I love to take in the new plants, arrangements and decor for each season. And we must admit that it makes some great backdrops for photos. Sonja and I took these lovelies in the spring!
So I went in to Terra last weekend to pick up some pumpkins and flowers to decorate my front porch. The timing was great as they were hosting their Fall Fun Fest! The kids enjoyed the corn on the cob, photo display and fun corn maze (ok, I may have gotten lost in there myself).
I plan to head back in the next couple weeks to enjoy the Paint a Pumpkin Workshop with the kids! It's only $5 to register and then you receive a $5 coupon to use for your same-day purchase at Terra. Fun for mom and kids 😀 .
Fabulous Fall Porch Decor
OK, back to my fall porch decorating mission…
Stepping into Terra I didn't quite know where to start. From plants for DIY arrangements to cornstalks, hay bails, pumpkins and so much more I was a bit over-excited.
But then I turned the corner and I saw it! The creative and thoughtful designers had put together a porch decorating package with all the elements to make my home look like a designers!
Each package came with:
cornstalks
an adorable scarecrow
a ginormous (and heavy!) pumpkin
a large hay-bale
fall mum
So I brought two of these kits home, and then, in less than 10 minutes my front porch was transformed into a cozy, festive, fall harvest oasis!
Here's how I put together my fall front porch decor in 5 easy steps:
I started by framing my front door withe the cornstalks and scarecrows (there's a boy and girl!).
I then placed the hay bales, one at the top of the steps and the other at the bottom.
I set each of the large pumpkins on top of the bales.
I placed the mums to fill in any gaps.
Finally, I added some finishing touches including throw pillows, a cozy blanket to make my porch extra inviting.
All in less than 10 minutes! It took me longer to clean out the hay from my van (note: bring an old blanket to catch the bits of straw during transport!).
I did also add a few mini-pumpkins and gourds which I picked up while there. I plan to use the white ones to make our mini-pumpkin vases for Thanksgiving.
I just love how my porch looks now – the natural textures, orange and navy coordinate perfectly with my blue front door which I painted last year.
I've never had it so festive for fall before. I hope the little scene puts a smile on my neighbours faces as they walk by as well.
Thank you Terra for helping to make my fall front porch decorating really easy and fun.
Friends, do you typically decorate your front porch in the fall?
Like it? Pin it for later!