Are you considering flooring options for your next renovation? Here's our experience of installing Lifeproof vinyl plank flooring over ceramic tiles for our bathroom renovation.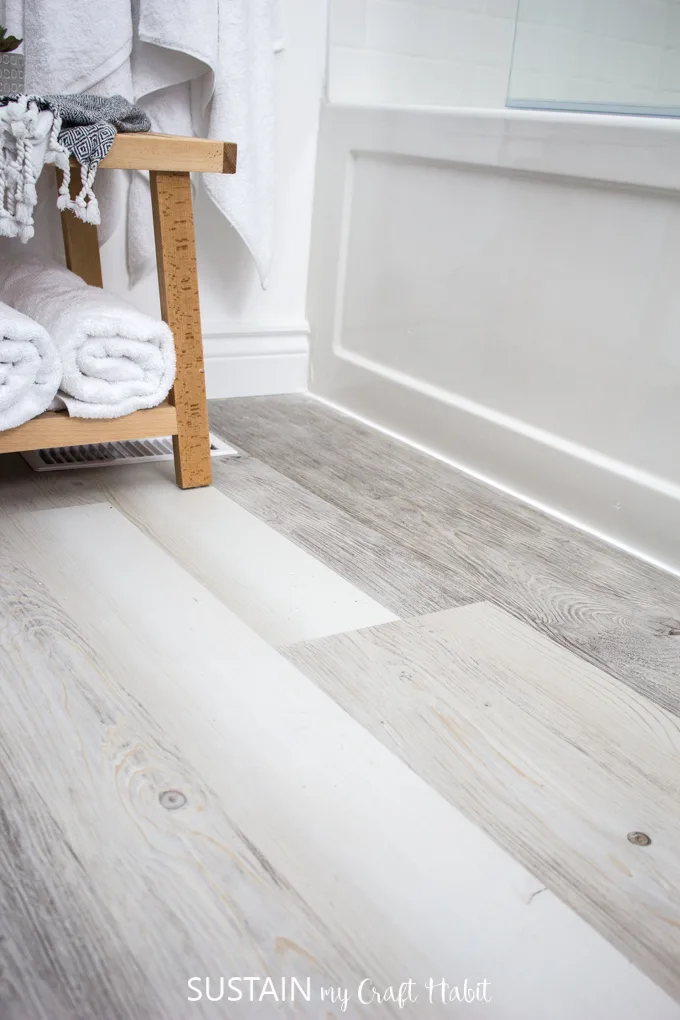 Lifeproof Flooring Installation over Existing Ceramic Tile
Yes, that's right, OVER existing ceramic tile. Installing floating vinyl plank floors over our existing tiled floor was definitely the right decision for our bathroom home improvement project.
We couldn't be happier with the look and quality of our finished new flooring. Starting the bathroom renovation two months ago, we knew we didn't want to tackle the removal of our current ceramic tiles. Just imagining the demolition with all its mess, dust, noise and back breaking work made me anxious.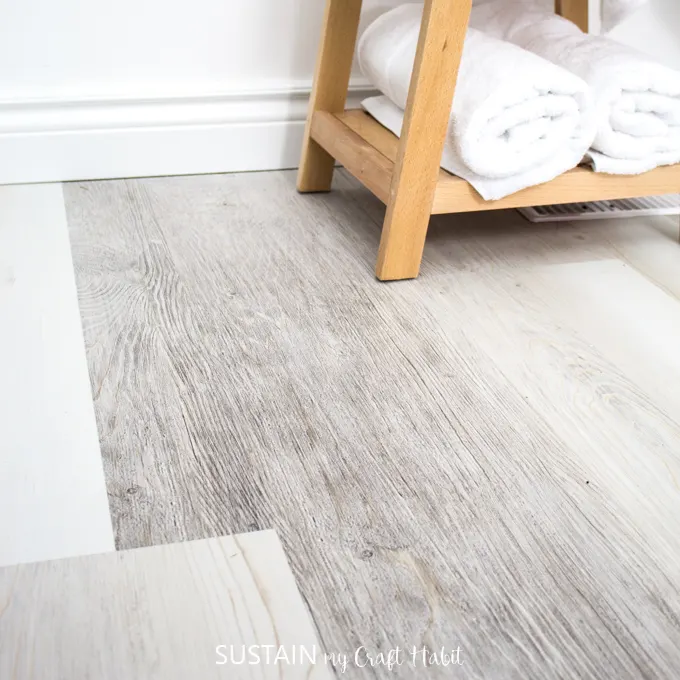 Having installed vinyl plank flooring in our family's beach-themed bathroom several years ago, we were confident this was the best type of flooring for our bathroom. We began looking for the right one to place over top of the tiles and came across these multi-width vinyl planks in a frosted oak finish by Lifeproof.
Why we chose Lifeproof vinyl plank flooring and why it's a great option:
100% waterproof which is ideal for a bathroom where there's bound to be water spillage.
Can be installed over existing flooring. This includes ceramic tiles like ours as well as other vinyl, concrete and even wood flooring.
Easy installation with its tongue and groove interlocking edges so no need to fasten or glue to the floor below, or worry about lining pieces perfectly (such as with other vinyl peel and stick options).
Vinyl flooring feels comfortable and warm so no more hard, cold ceramic tiles against our feet in the mornings.
The transformation is pretty impressive, just check out the Before and the After: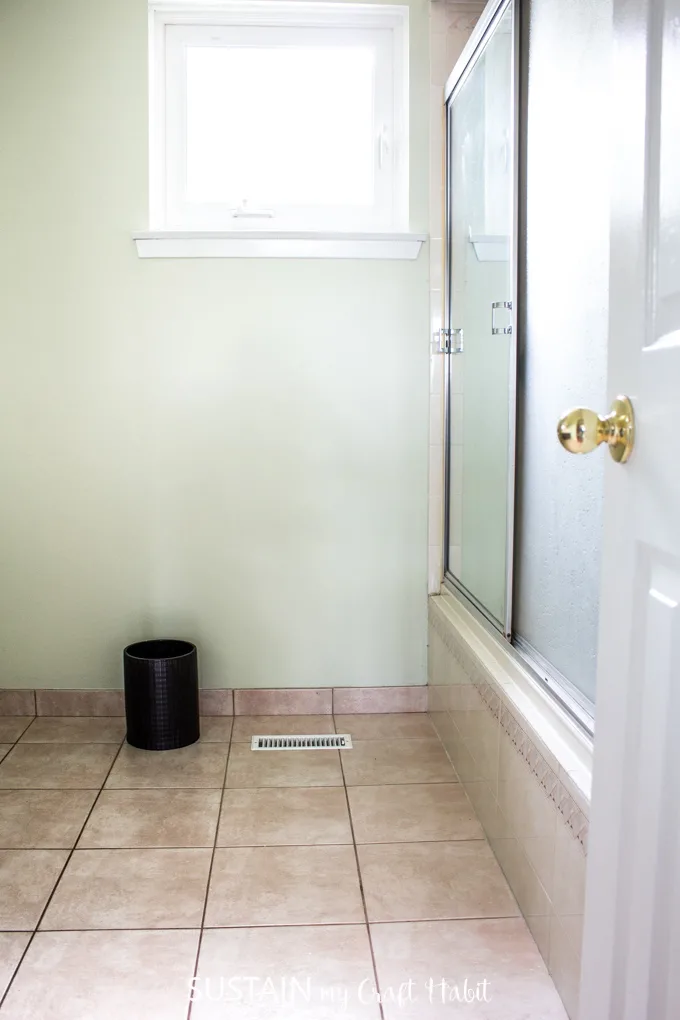 Lifeproof flooring is available exclusively at Home Depot. Thank you to Home Depot Canada for sponsoring this DIY flooring installation.
Materials Needed for Vinyl Plank Flooring Installation:
Tapping block
Soft faced hammer
Metal 90 degree Square Ruler, Pencil
Measuring Tape
Utility Knife or alternatively a Miter Saw and Jigsaw
¼" spacers
Paper for creating cutting templates
Our Lifeproof Flooring Installation Experience:
Prior to installation, we cleaned the existing floor, removing all dirt, dust and uneven edges.
TIP: Ensure your floor is completely free of debris before starting to lay the vinyl planks.
Following the manufacturer's instructions, we started in the left corner of the bathroom along the bathtub edge with the tongue edge facing the tub.
We opened up several vinyl plank flooring boxes and sorted them by color and size to ensure we got a good mix of color and texture.
With these multi width planks, we took extra time to figure out the pattern and layout we wanted. We started with a loose lay, placing down several pieces on the floor to plan out a few rows at a time.
TIP: Unpackage several boxes of the vinyl planks and plan out your pattern before installing the flooring.
We placed 1/4" spacers around the perimeter of the room and between all vertical objects (tub, toilet, etc) to leave an expansion gap.
Working from left to right, we soon needed to cut our first plank to fit around the not-so-square tub and wall area. We used several pieces of paper to create a template for cutting.
With the pattern marked out, we found that using a utility knife to cut the planks (as recommended by the manufacturer) was possible although difficult for lengthwise cuts and for smaller more precise cuts. Instead we found using a jigsaw to cut out the excess vinyl worked best for us.
TIP: A jigsaw and mitre saw will be a good friend of yours during installation of the vinyl plank flooring.
The actual installation of the Lifeproof vinyl flooring was quick when there weren't too many cuts needed. It was a matter of joining the tongue on one plank with the groove of the other plank and using a tapping block and soft faced hammer to click them together along the long edges. Then we just tapped (with a soft faced hammer) on the short edges to slide the piece in place.
Throughout the installation, we measured and marked the cut lines working one row at a time.
For the area around the toilet, we created another paper template to help with the cuts making sure we left a ¼" space around the edge of the toilet. Afterwards we filled the gaps around the toilet (and bathtub) using a kitchen and bath adhesive caulking.
TIP: Create templates with paper to help with cutting around more complicated areas.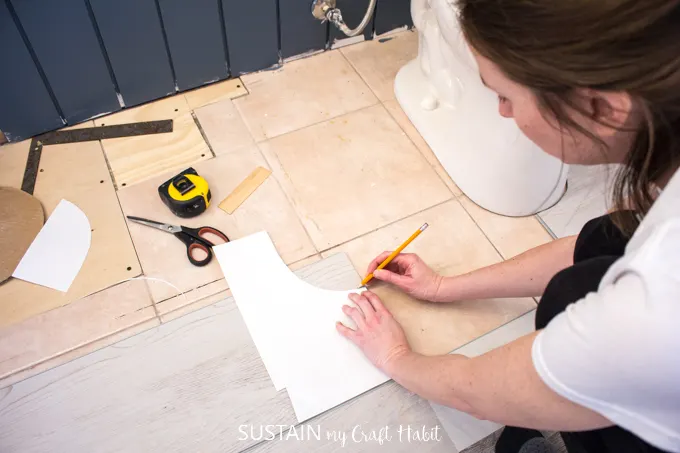 The Beautiful End Result!
It took my husband and I one full working day to install the Lifeproof Rigid Core Luxury Vinyl flooring in our 50 square foot bathroom using a miter saw and jigsaw for all the cuts. Had we used a utility knife for cutting instead, I would expect the installation to take another half to full day.
Now that the bathroom is finished, the flooring with its mix of colored planks and natural looking textures is one of my favourite features. This renovation was full of DIY projects: you can check out our final cozy contemporary bathroom makeover reveal here.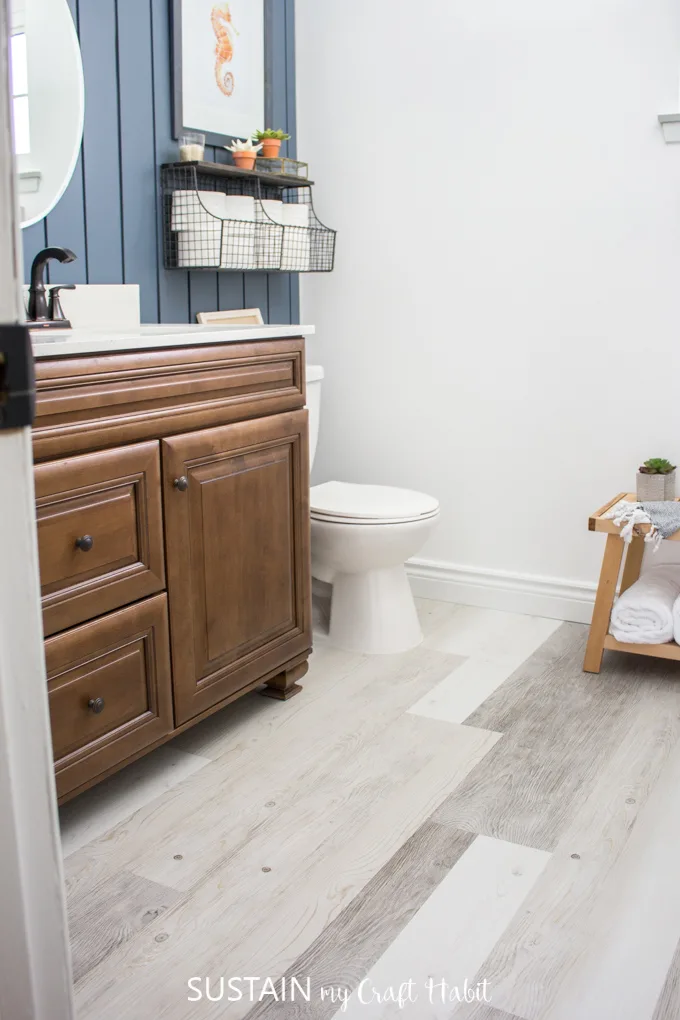 Having two successful vinyl plank flooring installations, we plan our next project using this floating floor option to be in our parents' unfinished basement over top of the concrete. We can't wait to share that with you soon!
We hope this tutorial will help you should you chose to install vinyl flooring. Or do you have any experience with installing vinyl plank flooring to share?
Like it? Pin it for Later!