Christmas is around the corner. Today we're so happy to share with you not only my own traditional family Christmas tree, but gorgeous trees from 40 of our fellow blogging friends. Be ready to get catch the Christmas decorating spirit friends!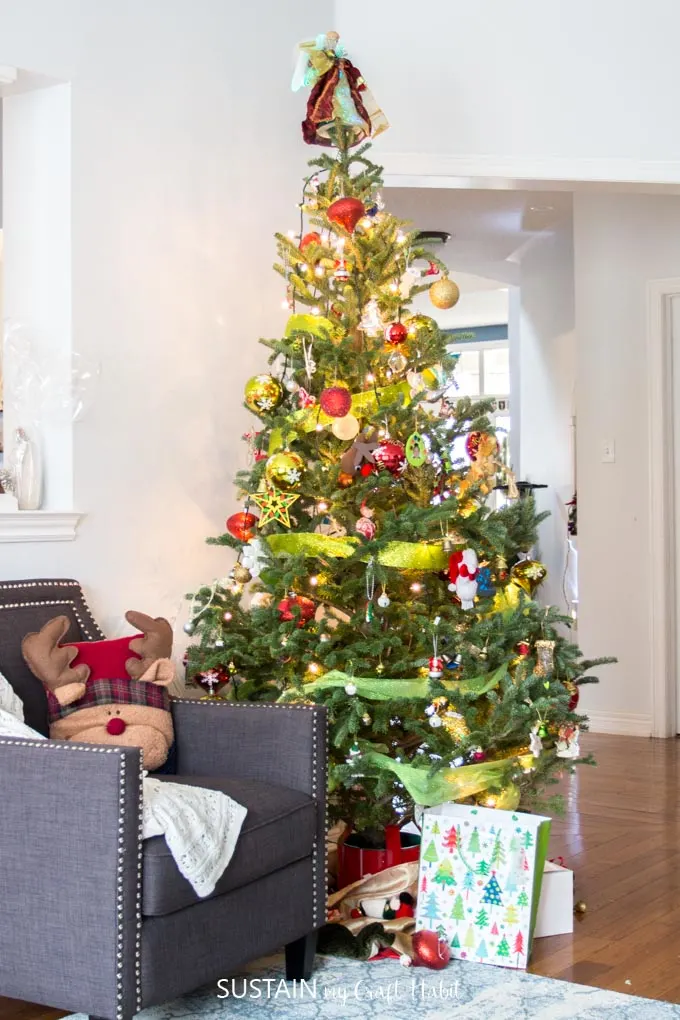 Our Traditional Family Christmas Tree
Every year before Christmas I start thinking about what "theme" I'm going to make our tree. I make a plan to go through the ornaments, group them by colors or styles and then surely the inspiration will strike.
But…
Once I start opening the boxes and carefully packaged ornaments from years gone by, the memories start flooding back. "Oh yeah, I remember when so-and-so gave me this one". "D made this one in Kindergarden".
They just make me so happy that I can't NOT put all up all the ornaments. Especially when the kids get in there and start to help and find the little treasures that they made.
So, this year we again went with our traditional tree, filled with memories, handmade creations and some goodies I've collected over the years. The over-sized red and lime green ornaments I picked up a Pier One a few years back seem to just perfectly tie everything together.
The tree also has lots of our DIY ornaments including:
Hand-Painted Canvas Ornaments
Felt Nativity Ornaments
Driftwood Reindeer Ornaments
Glittering Wood Slice Ornaments
I like to place the tree in our living room. In this position you can see it when you come in the front door as well as from the couch and kitchen.
We always get a live tree so we don't get to put it up too early. But we also spend much of the holidays at the cottage where mom and dad put up their own tree. So we love to enjoy ours during the first few weeks of December.
I also add a few decorations to the fireplace mantle – Sonja bought us these adorable stockings years ago at a sample sale. They just have so much character and details, we love putting them up and filling them with these stocking stuffer ideas for kids!
The only thing missing is the luscious red tree skirt Sonja made last year. I may need to pull a grinch and snatch it from her soon 😀 .
I can't wait to start putting all the gifts under there. I've started making a couple items for hubby from this list of gifts for him with the Cricut Maker. Our dad is getting a fun personalized throw pillow. And I've placed a couple of orders from this collection of handmade gifts for mom.
Thank you for taking this little tour of our traditional family Christmas tree with me. How do you like to decorate your tree?
Now it's time for more tree inspiration from our fellow blogging friends! Get ready for some beautiful Christmas eye candy friends!
Welcome To Our Third Annual Christmas Tree Decor Blog Hop!
Looking for Christmas Tree decorating ideas? We are sharing 40 absolutely beautiful Christmas Trees from some of your favorite home decor bloggers.
It's the third year of the Christmas Tree Decor Blog Hop hosted by Our Crafty Mom.
You will find holiday inspiration for just about every Christmas tree style.
The fun starts on Friday, November 29th and continues through Saturday, November 30th.
We hope you will visit the talented bloggers linked below. This blog hop is something we look forward to every year and we hope you do too.
Grab your favorite beverage and settle in for some beautiful Christmas Tree decor inspiration!
Let's get started!
Friday
Christmas Home Tour from Kippi at Home
Christmas Tree With Traditional And Rustic Colors from Tribe of Burton
Blue and White Chinoiserie Holiday Tree from Simple Nature Decor
Colorful White Christmas Tree from Creative Ramblings
A Farmhouse Style Christmas Tree from Simply Beautiful by Angela
Christmas Trees 2019 from Virginia Sweet Pea
Red Plaid Christmas Tree from 2 Bees in a Pod
Christmas Tree Decor from Create and Babble
DIY Luke 2 Christmas Tree from To Work with My Hands
How To Decorate A Rustic Neutral Christmas Tree from One Thousand Oaks
Simple and Elegant Country Class Christmas Tree Redneck Rhapsody
Traditional Family Christmas Tree from Sustain My Craft Habit (that's us!)
Christmas Tree Decor from Teadoddles
Christmas Tree Decorating Ideas from Celebrate and Decorate
Beautiful Minimal Christmas Tree Decor from Sonya Burgess
Christmas Tree Ideas from Welcome to the Woods
Christmas Tree Inspiration Ideas from My Life On Kaydeross Creek
How To Put Ribbon On A Christmas Tree from Upright and Caffeinated
Saturday
Rustic Plaid Woodland Christmas Tree from Zucchini Sisters
A Buffalo Check Flocked Christmas Tree from Weekend Craft
Cozy Minimal Christmas Tree from Northern Feeling
A Peppermint Striped Christmas Tree from County Road 407
Elegant Flocked Christmas Tree With Blue and Silver from Our Crafty Mom
Fabulous Tree in Blue, Rose Gold and Copper from Across the Boulevard
Mini Beachmas Tree from My Pinterventures
Plaid Decorated Christmas Tree from Intelligent Domestications
Red Truck Buffalo Plaid Christmas Tree from Modern on Monticello
Christmas Tree Decor from Southern Yankee DIY
Christmas Tree Decorating Tips from First Day of Home
Pink and Gold Christmas Tree from From House to Home
Christmas Tree Home Tour from Just That Perfect Piece
Christmas Tree Decorating Ideas from Red Cottage Chronicles
Farmhouse Inspired Christmas Tree from Daily DIY Life
Decorated Flocked Christmas Tree With Homemade Ornaments from Thrifted Nest
Farmhouse Christmas Tree from Domestic Deadline
Third Annual Christmas Tree Blog Hop from A Life Unfolding
Red and Green Flocked Christmas Tree from Oh Fiddle Dee Dee
Blush and Rose Gold Flocked Christmas Tree from Happily Ever After, etc.
We hope you've found all sorts of inspiring ideas in this blog hop. We'd love to see your tree as well! Be sure to share and tag @sustainmycrafthabit on Instagram or Facebook!
Happy decorating friends!